Angie's List surveyed over 1,000 highly rated remodeling professionals to identify the latest bathroom remodeling trends. What they found is surprising.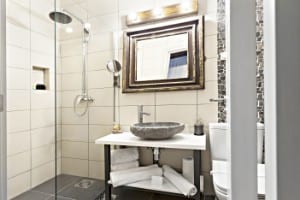 Customers no longer want to update the bathroom with the traditional bathtub/shower-toilet scheme. Instead, many homeowners are looking for walk-in showers with rain-style faucets. These walk/roll-in showers provide accessibility and comfort to age in place. And the newly-designed rain-style faucets can enhance the showering experience while also reducing water flow.
Our experience with clients at Gordon Reese Design Build supports this trend. In addition, we see our clients adding adjustable shower heads that provide the luxury spray for all members of a household. These faucets have the ability to be positioned for the tallest household member, a growing teen, a small child and someone with limited mobility.
Homeowners who choose to have a tub, typically select free-standing bathtubs. The most popular tub styles are contemporary or those with antique claw-feet. At Gordon Reese Design Build, we typically recommend to clients to include a transition space/ledge. This feature provides access for a homeowner in a wheelchair or with limited mobility. You can imagine home uncomfortable it would be to sit on a skinny ledge to slide yourself into and out of a tub. Ouch!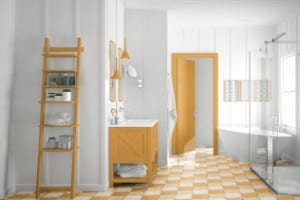 Color in a bath can add interest and style, like this giraffe-themed one to the right. A framed mirror, accent lighting and contrasting complementary colors in the orange and yellow tones give this bathroom pop as well as style. The gray walls serve as the perfect backdrop. We've heard that gray is the new beige, and gray is the new white. One thing is for sure, we see selective homeowners using gray hues to decorate their walls in unique and inviting ways.
One of the last trends we've noticed in a bathroom remodel – the popular 12″ x 24″ tile. Staggering the larger size tiles on floors or shower walls creates a wonderful, elegant presentation.
Gordon Reese Design Build specializes in 3D design. We are certified through the National Association of the Remodeling Industry in Universal Design. We work with interior designers, if you want, to make sure you are choosing colors and features that work well together, and work for you. We can take your ideas, put them into photorealistic mock-ups, and create your dream bathroom within your spending limit. We make it as easy as 1-2-3.