Home Remodeling Services in Alamo, CA
For over 33 years, we've been working closely with clients to turn ordinary houses into one-of-a-kind homes. With over a hundred award-winning projects to our name, we are all-too happy to bring our expertise to growing families and homeowners just like you. We offer a wide range of remodeling services to suit residential structure of all kinds.
If you live in the poplar tree-lined suburb of Alamo, CA, give us a call! At Gordon Reese Design Build, we're driven by the desire to turn dreams into realities.
Are you ready to love your home?
Kitchen Remodeling
As the center of activity in almost every Alamo, CA home, your kitchen deserves some extra attention. It's the source of warm meals cooked with love, enjoyable, end-of-day family dinners, and fond, carefree culinary messes.
That's why you should settle for nothing but the very best. From bland and boring to bold, brave, or beautiful, we can help you breathe life into your kitchen through remodeling.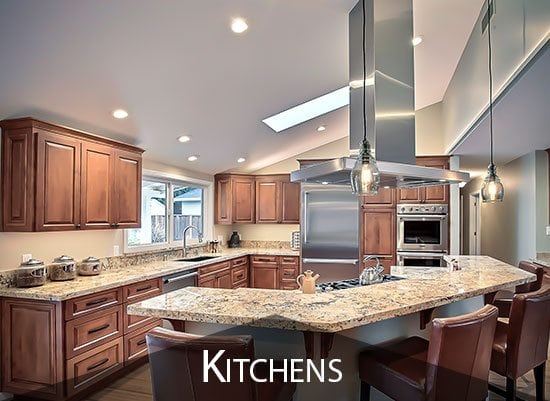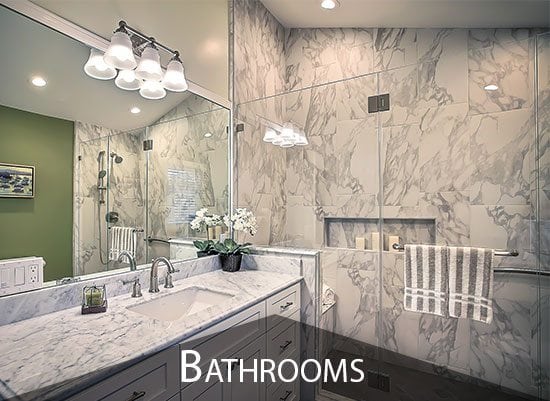 Bathroom Remodeling
We highly recommend that every homeowner experience a bathroom remodel. It's one of the most worthwhile home improvement projects you can invest in.
The bathroom is the one space in your home that is really, truly your own private space. That being said, we believe that it should be fully customized to suit you: your taste, your preference, your aesthetic. Whether you prioritize class over comfort or functionality over fun, you—as the homeowner—should dictate every aspect of your bathroom.
Whole House Remodeling
For the homeowner who believes in jumping in with both feet, a full home makeover might be just what you need. Rather than take it room by room, why not tackle the whole picture? It makes for a fun, interesting, and unmistakably rewarding experience.
With over 33 years of residential remodeling and design, we at Gordon Reese Design Build are more than equipped to handle home improvement projects of such scale. In fact, that feeling of successfully transforming an ordinary cookie-cutter house into a fresh, unique, one-of-a-kind home? We revel in it.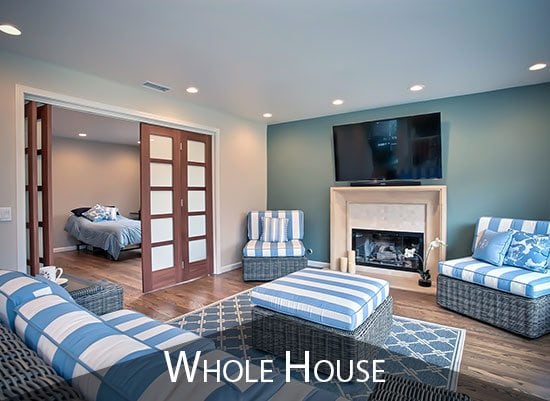 Home Additions
Is your home in the cheery suburb of Alamo, CA starting to feel a little cramped? Is your sweet teenage baby now asking for a room of her own? Do you long to transform the kitchen from a walk-in closet to an actual usable room?
Home additions are similar in scale to whole house remodels. And like whole house remodels, our team at Gordon Reese Design Build is fully equipped—and experienced—to handle such a project. We invite you to take full advantage of our extensive knowledge base regarding design build and home addition renovations.
Outdoor Remodeling
Alamo, CA, is known for its gorgeous skyline, deliciously warm weather, and beautiful poplar trees. If you want to fully enjoy the natural wonders that go hand-in-hand with this suburb, then we highly recommend giving your outdoor areas some attention.
Whether you want to host barbecues out back, initiate pool parties every week, or simply make the usual family dinner just a little more interesting, an outdoor remodel may very well be something you can benefit from.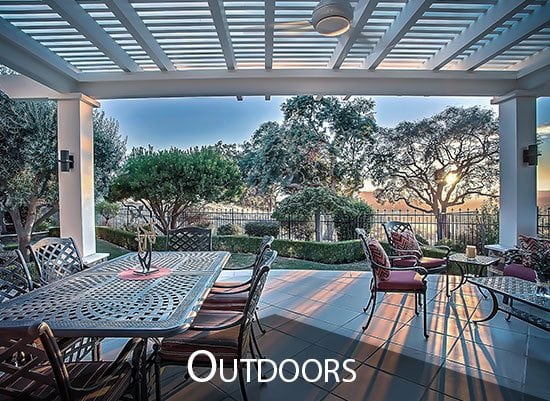 Take advantage of our free Home remodeling guide!
3D Design
When you picture your home, room, or outdoors remodeled … how do you see the scene? Is it flat and two-dimensional, or does it have a richness to it—color, depth, texture? Do you see lines and silhouettes, or do you see shapes, thicknesses, and patterns?
If you're like most homeowners, you probably answered the latter to both questions.
Size, shapes, width, height, depth … we live in a three-dimensional world. Our thoughts, our visualizations, follow suit. Therefore, it makes sense that we imagine our new space in 3D. Which is why translating our dream homes into sketches and blueprints? Doesn't work too well.
At Gordon Reese Design Build, we have the solution: state-of-the-art 3D modeling. It's our pride, our joy, and now? It's our standard for all remodeling projects.
Universal Design
Gordon Reese Design Build has always been a pioneer in home improvement. Since the very beginning, we've believed in using state-of-the-art technologies and techniques to give homeowners the best possible results. We pride ourselves in implementing home improvement best practices long before they become trends.
Universal Design is one such practice. We love how the seamless combination of inclusivity and practicality makes it a no-brainer for many of our happy, satisfied clients. As both the future and the solution to the issue of multi-generational and multi-functional home design, Universal Design just makes sense.
It's been over a year and we still think every day about the remarkable transformation brought by the kitchen remodel you designed and carried out for us which opened up several small, dark rooms to bring a bright, spacious, elegant feel to our now modern, practical, hard working kitchen and also remained wonderfully true to the style of our 1920's home.

The whole process was very easy. I had preconceptions about how a construction project could disrupt your life. The Crew was quite professional. The most impressive thing was that they showed up on time or earlier every day of the project."

I greatly appreciate the Accounts Payable process and your team getting back to me with the update we needed. We appreciate great customer service and attention to detail and you have expressed that to us with your follow-up.

Whether it be an initial consultation or during the quoting process, and straight through the construction phase. Jeff has a great understanding of quality in design through craftsmanship.

We appreciate your high quality customer service and attention to detail. Thank you!

Our guest bathroom, kitchen, laundry room and hallway turned out amazing, just as we had hoped.

The crew was very professional, hardworking, took pride in their workmanship and was great to work with. Overall, we stayed on budget, on schedule and got exactly what we had envisioned.

Just a brief note to let you know we could not be happier. The team you have assembled, headed by Jeff and Ryan, could not be more professional, caring, or masterful in their attention to detail.

Over the course of the project I met often with our project manager and our lead remodeling professional to check on status, issues and solutions as we progressed with the remodel.

The communication software Gordon uses was fantastic in dealing with scheduling, pricing, and communication. I could get a question answered in a very timely manner and Gordon could keep me updated instantly.
WHY CHOOSE GORDON REESE?
For over 33 years, Gordon Reese Design Build has been an innovator and a pioneer in the world of home improvement. As an award-winning remodeling company, we combine state-of-the-art technologies with proven, practiced techniques to create home remodeling procedures that yield the best possible results.
We specialize in turning dreams into realities.
If you've always wanted to remodel your home—or even just parts of it—but were too busy, embarrassed, wary, or confused, we encourage you to give us a try. Our passion for creating new homes out of old models, tempered with our extensive knowledge base, make us a remodeling company like no other.