Kitchen Remodels
Your kitchen is often the center of activity. It's more than a place to prepare food – it's used for unwinding, entertaining, storing gadgets and eating meals with loved ones. It's a place that provides refuge and relief – it's your oasis. So it's important to have it the way that you want it. The design of your kitchen needs to flex with these needs.
When it comes to your home and your life, you don't settle for anything but the very best. You want everything to be complete, easy and worry-free. That's what a true kitchen makeover should be. Whatever the status of your kitchen, we can personalize the layout, adapt its style and improve the functionality.
When it's hard to believe in your dreams, it helps to know someone who believes in you. For kitchen remodeling services, select Gordon Reese Design Build where you can be assured that your new kitchen or kitchen build-out will be completed with the skill and expertise you expect.
Are you ready to love your kitchen?
Leave the Details to Us
Gordon Reese Design Build, is a national and regional award-winning kitchen design & remodeling company, who takes an innovative approach to construction using 3-D Design while applying the most current building techniques.  No two clients are alike. We can help you craft the vision so that you know you'll love that finished space.
We specialize in designing and crafting homes and can assure each residential project will result in comfortably useable space for all family members throughout their lifespan, regardless of their current age or physical abilities. In addition, we are well-versed on zoning laws and building codes to make certain every project will be completed without a hitch.
Take advantage of our free remodeling guide!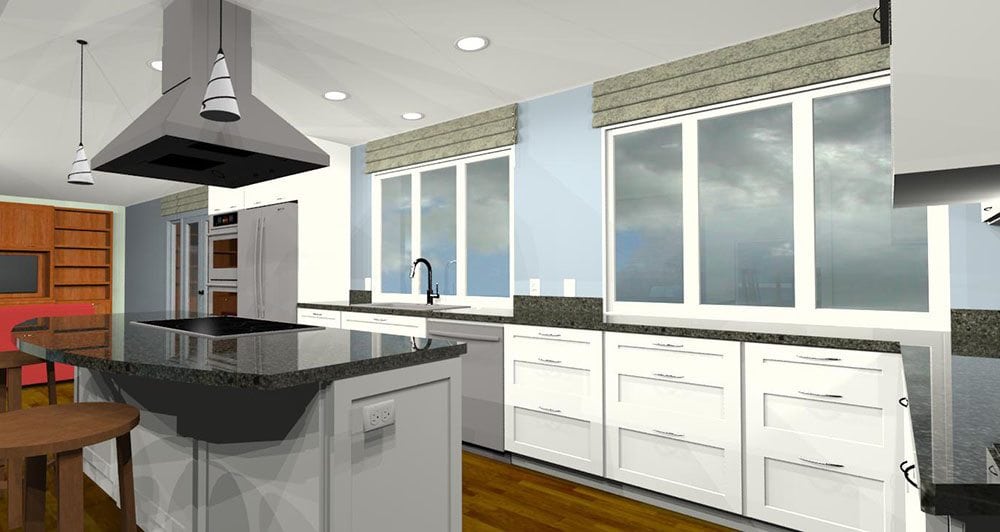 3D Design
Traditionally, most architects and remodeling companies work with two dimensional designs. Although this may be easy for a builder and an architect to decipher, it is not very client friendly. 3D design allows us to clearly show clients what their projects will look like in their finished state. It also allows the clients to see the space with the different materials, finishes, and elements that they have chosen. The 3D design can also be rotated, so clients can see the space from different views and perspectives.
Our 3D Designs have been very effective in helping clients save time and money by showing them exactly what they are getting before the start of a project. It gives us the ability to analyze and measure each component individually; we can also test the stress factors and tolerances of a project before we build. This allows us to keep the projects within the investment range, and also helps the clients make decisions before the start of the projects. The end result is an elegant space, personalized just for you. Because you deserve it.
The communication software Gordon uses was fantastic in dealing with scheduling, pricing, and communication. I could get a question answered in a very timely manner and Gordon could keep me updated instantly.

Your company has defied all propaganda about the horrors of renovations. We are beyond grateful.

The crew was very professional, hardworking, took pride in their workmanship and was great to work with. Overall, we stayed on budget, on schedule and got exactly what we had envisioned.

We hired Gordon Reese Design Build for our Kitchen remodel after a lengthy interview process with a number of construction companies.  We were impressed with Gordon and his team, their understanding of what we wanted to do as well as clearly outlining the scope of the work based on our budget.

It's been over a year and we still think every day about the remarkable transformation brought by the kitchen remodel you designed and carried out for us which opened up several small, dark rooms to bring a bright, spacious, elegant feel to our now modern, practical, hard working kitchen and also remained wonderfully true to the style of our 1920's home.

I greatly appreciate the Accounts Payable process and your team getting back to me with the update we needed. We appreciate great customer service and attention to detail and you have expressed that to us with your follow-up.

Jeff has a great understanding of quality in design through craftsmanship. And through the design process he has respect for the client's home, and keeps their needs in mind. You couldn't be in better hands!

The overall outcome was beautiful, it was what we expected if not more.

We appreciate your high quality customer service and attention to detail. Thank you!

Whether it be an initial consultation or during the quoting process, and straight through the construction phase. Jeff has a great understanding of quality in design through craftsmanship.