Universal Design
One of the biggest challenges homeowners face when designing their home is inclusivity.
The average American family will most likely be made up of children and adults, with only the occasional elderly guest or eventual teenager to take into consideration. That being said, most people don't think twice when installing "typical" household features like doors, stairs, walkways, platforms, bathtubs, and infinity pools.
The problem?
They're not looking at the BIG picture.
What is a perfectly acceptable flight of stairs when you're 30 or 40 will turn into an accident waiting to happen when you're 60 or 70. A borderless, boundary-less infinity pool may be a great idea for teen parties and adult get-togethers, but it's a serious health hazard when there are half a dozen two- and three-year-old children running around. And a dimly-lit, stepping-stone walkway may look beautiful and whimsical to the more able-bodied, but people in wheelchairs probably won't appreciate it as much.
Universal Design is both the solution and the future of adaptable, inclusive, and multi-generational home design. It is a worldwide movement that calls homeowners and home designers to think outside the box and redesign the typical to make it more user-friendly without compromising the visuals.
Are you ready to love your home?
KITCHEN
Universal Design requires some out-of-the-box thinking. That's why it doesn't look too kindly upon kitchen counters that are all the same height. They may be the norm, but they're not as practical or inclusive as one would think. By adjusting the counters' heights depending on different tasks, you can create a workspace that is safer and more accessible for both kids and elders.
What's more, using contrasting colors, adequate lighting, built-in appliances, and viable flooring will drastically reduce the risk of accidents for everyone working within the area or passing through. Cabinet hardware that reduces the need for dexterity and gripping is another solution to an accessible kitchen for all.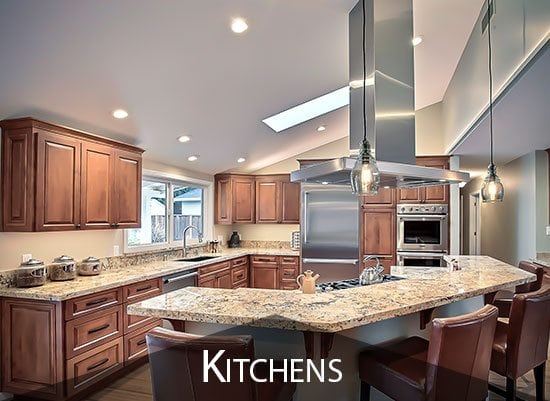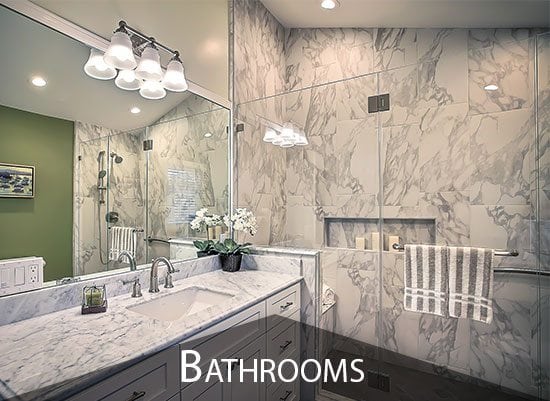 BATHROOM
2/3 of all emergency room visits result from a bathroom related accident. Smooth floors, inadequate lighting, and possible puddles make for a lot of slipping and sliding.
Universal Design is able to successfully address these health hazards. Curbless showers, shower benches, designer grab bars, adequate, functional lighting…these are just some concepts of universal design that can improve your bathroom's safety. And in true out-of-the-box fashion, universal design recommends installing lever faucets and lever door knobs—rather than those hard-to-grip circular knobs—so that your bathroom remains age-appropriate and easily navigable for every family member.
WHOLE HOUSE
Universal Design in a whole house remodel may be just the thing that turns your house into a home. Accessibility, adaptability, inclusivity—these are all the principles of universal design, and they can help guide your remodel so that all your friends and family can enjoy your home regardless of their height, age, and gender.
Decorative grab bars in the bathroom, built-in appliances in the kitchen, an open floor plan, safe elevation changes, contrasting colors and adequate lighting … elements like these can help you maximize your available space, set aside space for possible future expansions, eliminate dangerous elevation changes, and create a much safer, multi-generational, and easily navigable home area.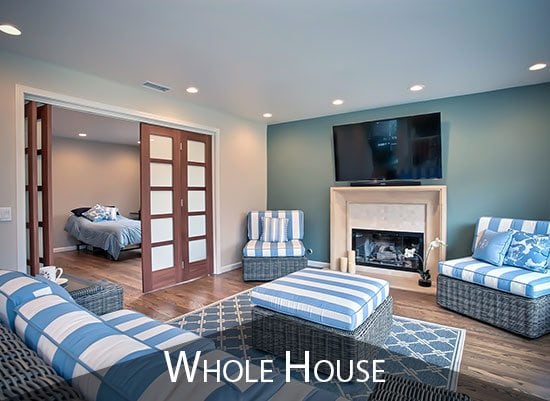 ADDITIONS
Incorporating universal design elements into any house addition will ensure that the area can be safely accessed by people of all heights, ages, and genders. Improving elevation changes, for instance, will allow those with disabilities to get around your home with ease.
An adaptable layout ensures that both kids and adults can enjoy your newly remodeled rooms at the same time. Further features like adequate lighting and appropriate, multi-generational walking surfaces can also help minimize safety risks for both children and elderly visitors.
OUTDOOR
Universal Design turns your outdoor areas into safe spaces that can be enjoyed by all. Wheelchair access, ample resting areas, safe walking surfaces, adequate lighting, and stable outdoor furniture will make it so that anyone can navigate your outdoor spaces with ease. Other universal design concepts would be to ensure ample shade and protection against unpredictable weather, should the need arise. Even if you have outdoor features that may increase the likelihood of an accident—like pools, fountains, and play areas—implementing universal design will make it so that every feature remains fully functional reducing the risk to anyone's safety.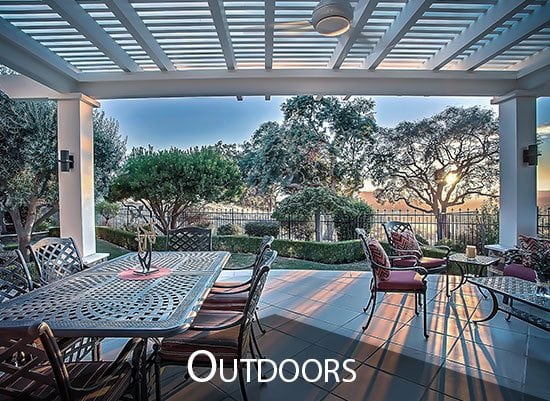 Take advantage of our free Home remodeling guide!
3D Design
When you're renovating a room or remodeling your home, how do you "see" the final results in your mind? How do you imagine your new space to look like? How do you visualize the layout, the furniture, the lighting, the décor?
If you're like most homeowners, you probably see it in 3D. A fully interactive model that has form, texture, and dimensions—not some flat, 2D picture that lacks depth and perspective.
This is why 3D modeling is part of our design process. Other remodeling companies stick to the traditional, two-dimensional design process of sketches, blueprints, and the like. We, on the other hand, use state-of-the-art technology to create three-dimensional mockups.
Because we understand that 2D designs may not be as user-friendly for homeowners as it is for builders or architects, we've taken the initiative.
3D remodeling enables us to show you exactly what your new space will look like before we even begin building it. The true-to-life representation and interactive capabilities of a 3D model eliminates most stress areas and reduces the risk of regrets. The end result? A room—or a home—that is exactly what you dreamed it would be.
We appreciate your high quality customer service and attention to detail. Thank you!

We hired Gordon Reese Design Build for our Kitchen remodel after a lengthy interview process with a number of construction companies.  We were impressed with Gordon and his team, their understanding of what we wanted to do as well as clearly outlining the scope of the work based on our budget.

Our guest bathroom, kitchen, laundry room and hallway turned out amazing, just as we had hoped.

The whole process was very easy. I had preconceptions about how a construction project could disrupt your life. The Crew was quite professional. The most impressive thing was that they showed up on time or earlier every day of the project."

Whether it be an initial consultation or during the quoting process, and straight through the construction phase. Jeff has a great understanding of quality in design through craftsmanship.

Gordon Reese and Jeff Rexford were responsive to client concerns which arose during the construction process and managed those concerns and any others that arose throughout the construction process.

Just a brief note to let you know we could not be happier. The team you have assembled, headed by Jeff and Ryan, could not be more professional, caring, or masterful in their attention to detail.

It's been over a year and we still think every day about the remarkable transformation brought by the kitchen remodel you designed and carried out for us which opened up several small, dark rooms to bring a bright, spacious, elegant feel to our now modern, practical, hard working kitchen and also remained wonderfully true to the style of our 1920's home.

Over the course of the project I met often with our project manager and our lead remodeling professional to check on status, issues and solutions as we progressed with the remodel.

The overall outcome was beautiful, it was what we expected if not more.