Aging in place is "the ability to live in one's own home and community safely, independently, and comfortably, regardless of age, income or ability," according to Wikipedia and the Center for Disease Control. In fact, aging in place appeals to many Americans, according to an AARP report called "A Report to the National Livable Communities: Creating Environments for Successful Aging." This report indicates that up to 90% of Americans over the age of 65 would prefer to stay in their current home as they grow older. 1
There are many reasons for this. They are in a community they know, feel safe in and is often close to other family members, like parents, children, grandchildren and more. They have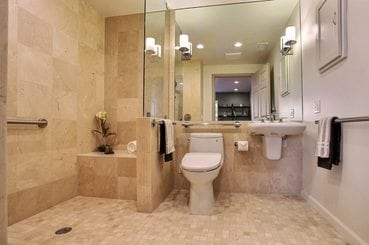 probably been here for years and have many memories here. They've come to know and trust the local services, like hair dressers or barbers, cleaning services and pet sitters. They are attached to the medical community there – for wellness care, urgent care and animal services. It is important to many of us to be around the things and ones we love.
Does aging in place appeal to you? If so, what do you need to do to get your home ready for you?
Today lets go over some key features that you may want to consider for a bath remodel. Thanks to today's remodelers and the growing demand for aging-in-place features, a homeowner can infuse several stylish features to help prevent slips, trips and falls.
Here are a few ideas:
Plenty of space to move: At least one maneuverable bath on your main level with a 5' turning radius, or a T-turn space and a 36" by 36" or 30" by 48" clear 2
Plenty of lighting: from natural light windows, to LED lighting and well placed task-lighting
Non-slip flooring, particularly when moist or wet
Graspable bars in the shower/tub area to aid in ingress, egress and balance
Barrier-free, roll-in shower with bench seating
Adjustable/handheld shower heads with a 6' hose, tub/shower controls offset from the center 2
Easy to see and read controls as well as faucets that meet the Universal Design principles and comply with ADA standards. 3
The National Association of the Remodeling Industry developed the UDCP (Universal Design Certified Professionals) designation to promote the standards of universal design and remodeling. Gordon Reese Design Build, as a UDCP advocate, provides 3D design and remodels to make a home not only livable for anyone who wishes to move about the house freely, without barriers, but also to provide wonderful styles and features that provide an elegant and luxurious feel.
Drop back by for the next blog on aging-in-place kitchen and laundry features.
1. http://en.wikipedia.org/wiki/Aging_in_place
2. http://www.nahb.org/generic.aspx?genericContentID=89801
3. http://www.ada.gov/regs2010/2010ADAStandards/2010ADAStandards.pdf