Universal design is both the solution and the future of
adaptable, inclusive, and multi-generational home design.
One of the biggest challenges homeowners face when designing their home is inclusivity.
The average American family will most likely be made up of children and adults, with some elderly or teenage individuals. That being said, most people don't think twice when installing "typical" household features like doors, stairs, walkways, platforms, bathtubs, and infinity pools.
The problem?
They're not looking at the BIG picture.
What is a perfectly acceptable flight of stairs when you're 30 or 40 can turn into an accident waiting to happen when you're 60 or 70. A borderless, boundaryless infinity pool may be a great idea for teen parties and adult get-togethers, but it's a serious health hazard when there are half a dozen two- and three-year-old children running around. And a dimly-lit, stepping-stone walkway may look beautiful and whimsical to the more able-bodied, but people in wheelchairs probably may not be able to access it.
Universal design is both the solution and the future of adaptable, inclusive, and multi-generational home design. It is a worldwide movement that calls homeowners and home designers to think outside the box and redesign the typical to make it more user-friendly while maintaining a stunning visual aesthetic.
We offer options to achieve your needs with solutions for both luxury and practical home renovations. Take advantage of our extensive knowledge base and many years of design build experience. We design to your needs with careful consideration of your investment range and project time frames to make your project come to life.
Your home may be one of the largest investments you have. Why settle for anything less than outstanding? Gordon Reese Design Build provides complete, worry free answers and solutions which are guaranteed to deliver!
ARE YOU READY TO LOVE YOUR HOME?
The smell of homemade apple pie. The taste of your mom's favorite dish. Your favorite midnight snack. A kitchen is not only the heart of your home but also a treasure chest containing memories of sight, sound, and taste.
No matter your lifestyle, a remodeled kitchen can be the perfect place to unwind after a long week or to entertain guests over the weekend.
A kitchen doesn't need to sacrifice style for functionality (or vice versa!) You can have both. Are you cramped in your space, would more storage be beneficial, are you feeling isolated from the rest of your home? Regardless of the current state of your kitchen, we can develop a remodeling solution that improves your kitchen's overall style and functionality.
For kitchen remodeling services, select Gordon Reese Design Build. We're the remodeling professionals you and your home have been waiting for.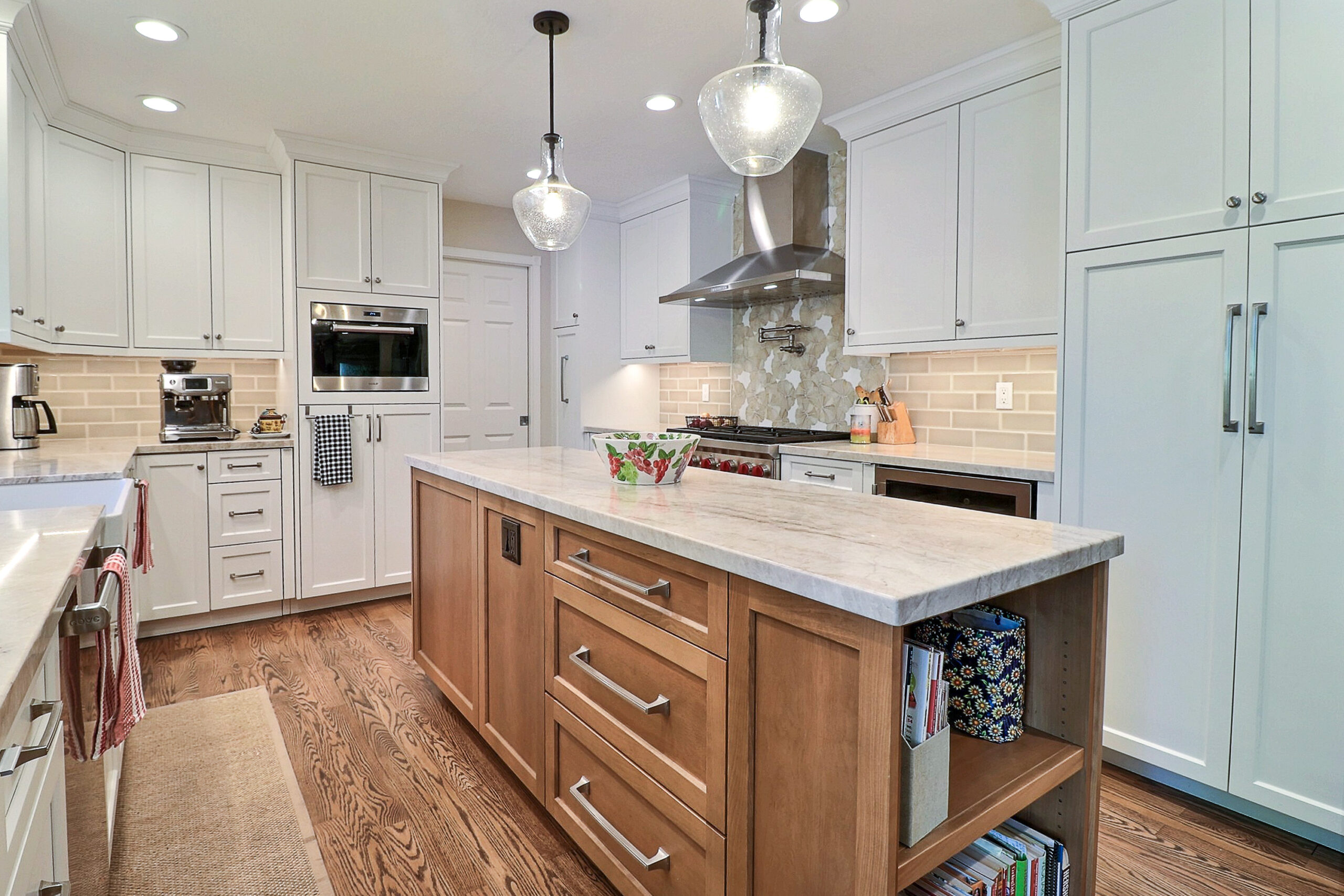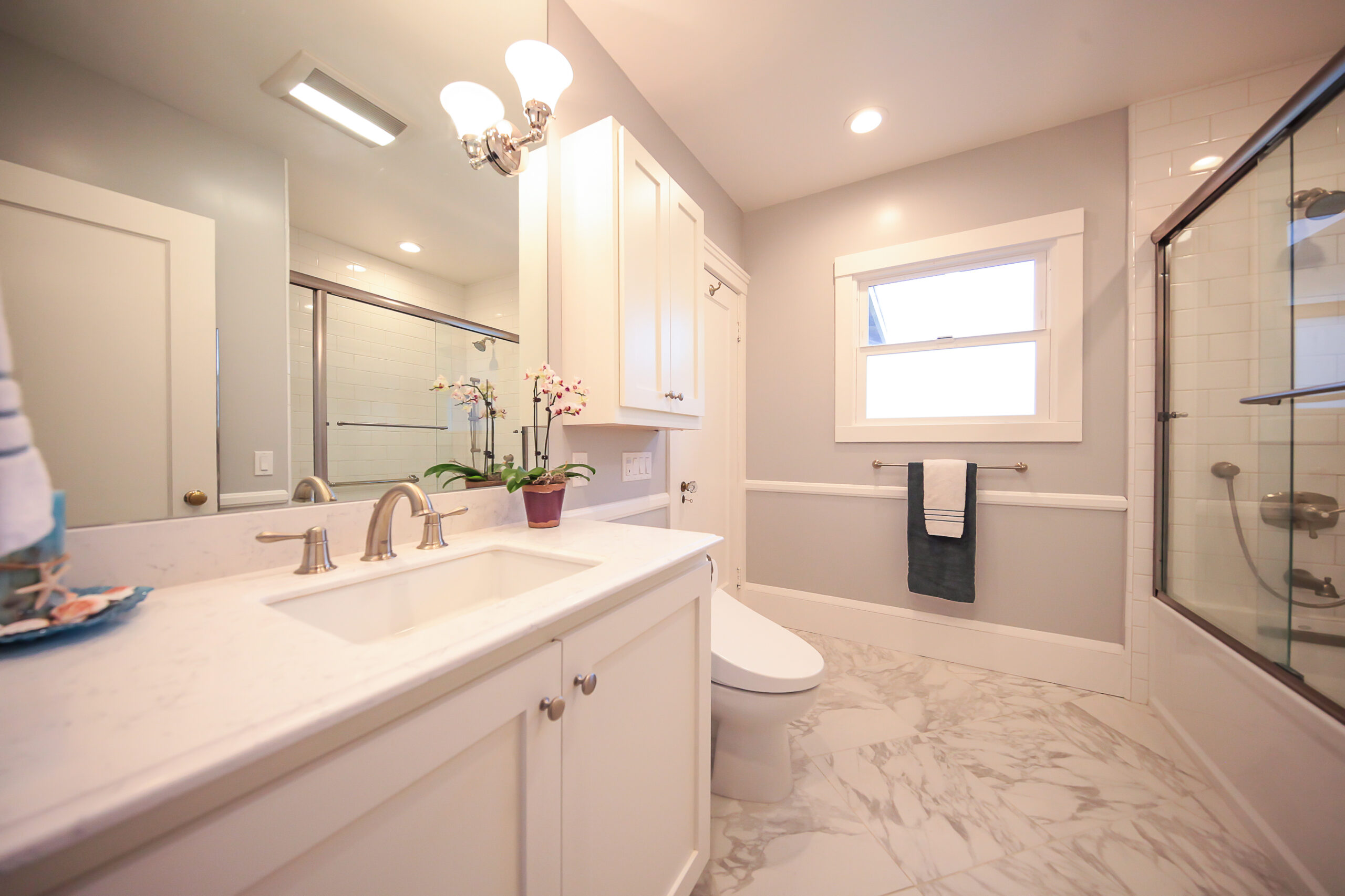 Whether you are using it to wash up or find a short escape from the challenges of daily life, a bathroom can be an oasis for many people. With its high moisture levels and regular use, a bathroom can quickly become outdated or damaged. This is when it may be time for a bathroom remodel.
A bathroom remodel is one of the most worthwhile investments you can make in your home. Sometimes, simple upgrades can make all the difference. You also have the option to fully redesign your bathroom. The possibilities are endless. Why stop at custom cabinets or heated flooring when you can upgrade everything all at once?
Bathroom renovations can integrate the needs of your household with the most modern designs. Stylish, state-of-the-art bathrooms not only enhance your quality of life every day but also boost the total value of your home.
Is now the time to install that rain shower you've always dreamed of or to upgrade other fixtures. What would make your space more usefull or enjoyable? That's the real question.
For example, a bathroom shower remodel can look elegant and spacious while infusing safety devices – like graspable bars to aid in balance – with a barrier-free, roll-in shower. Wider doorways and spacious areas inside of the retreat can accommodate wheelchairs seamlessly. We can show you how, and develop your dream space with you, using our Universal Design expertise and 3D imagery.
Take advantage of our know-how to get the bathroom you desire. We have the training and the skills to help you attain the ultimate bathroom retreat – whether it's a small bathroom update or a luxury bathroom remodel. We will complete your project on time and with careful consideration of your investment goals – all while providing 'First Cabin Customer Service'.
When it comes to your home and your life, don't settle for less. Your remodeling experience should be complete, easy and worry-free. That's what you'll get with Gordon Reese Design Build!
Do you have the perfect property with a house that's not quite right? Is your home a continuous money pit, always in need of repairs? It can be hard to love your home under these circumstances. A whole house remodel can be a great solution to any home woe. Although it's a large undertaking, you can put your mind at ease. At Gordon Reese Design Build, we operate from over 39 years of experience doing jobs just like the one that you're considering today. With a whole house remodel, no project is too large. Let us handle the scope and process. Sit back, relax, and tell us what is important to you. We will take care of the rest and bring your vision to life.
With our project management system, you'll have safe, secure and easy access to all your project details as we move through your design and remodeling process. This includes scheduling, material selections, payments, photos, messaging and more—all in one place. Everything from colors and materials to the week's progress is at your fingertips 24 hours a day, 7 days a week.
Details like this is what sets us apart. We strive to make sure that you feel supported and confident, each step of the way.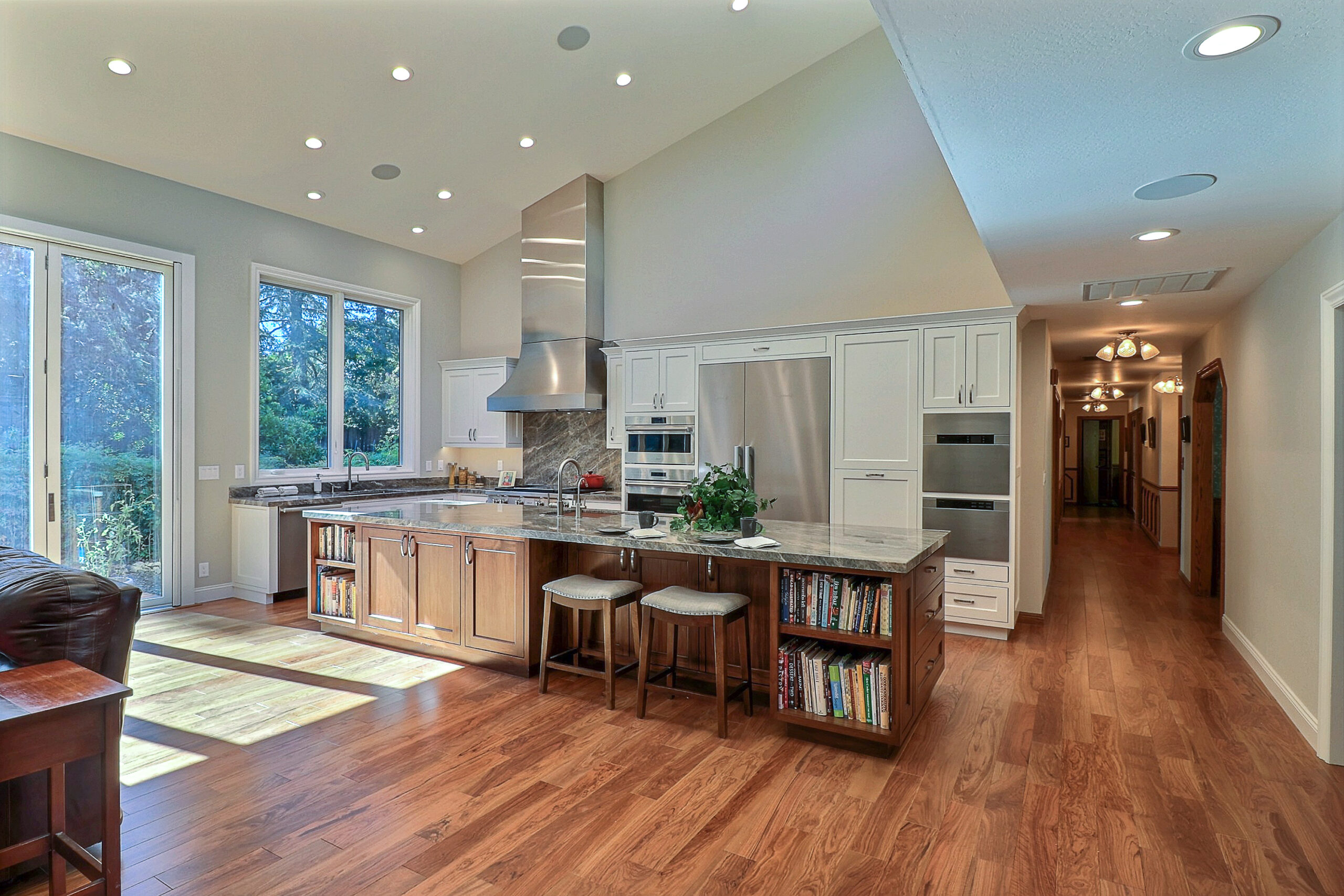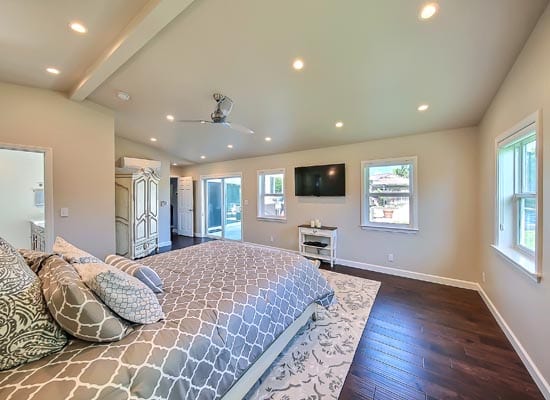 Over time, even the largest house can begin to feel too small. Maybe you've had to start working from home, your family has grown, relatives are moving back in, or perhaps you just need a little extra space to stretch out.
Boost your enjoyment of your home by adding to its functionality. A new room or additional wing can make any house feel more modern and spacious. We'll work together to identify your needs and create a design that fits your desired aesthetic and objectives. With 3-D renderings and on-site consultations, you'll be able to see your new additions even before they're complete.
Make your dream home more dreamy, or convert your outdated living space into the home you've always wanted. Our expert design and construction team will work to make the process seamless and the results nothing short of paramount.
A beautiful outdoor space is a wonderful way to get the most use out of your property. Entertaining and relaxing doesn't have to be limited to within the four walls of your home. Many memories are created with friends and family in the backyard. When done correctly, your outdoor space can act as an open-air extension to your home that's perfect for any purpose.
How about a covered porch or a patio for your backyard oasis? The possibilities are limitless. Your home is stylish and functional – let us help you extend that aesthetic, even after you walk through the door. With an area consultation, 3-D renderings, and an expert team, we will work closely with you to bring your desires to life.
Whether you want to create an outdoor space for relaxation, entertaining, or dining, choose Gordon Reese Design Build. Our team of experienced professionals will work with you to plan the al fresco domain of your dreams.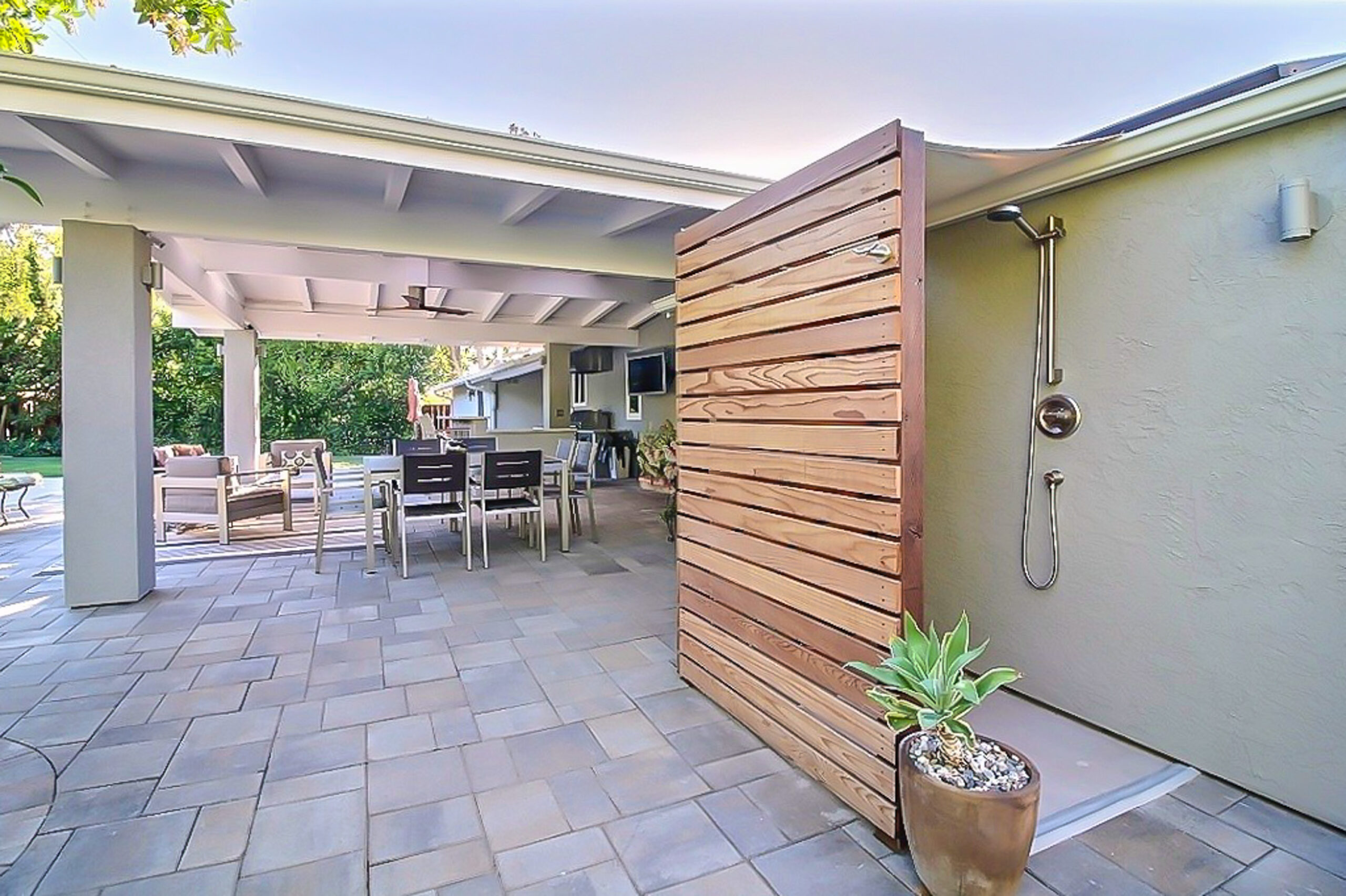 TAKE ADVANTAGE OF OUR FREE HOME REMODELING GUIDE!
Have you ever imagined how your space could look if you decided to remodel? What if you knocked down a wall to open up your home's floor plan or added an extra level? Do you have a hard time visualizing things? That's why 3D design is part of our process. We virtually walk you through your new space to give you the confidence make design decisions you will not later regret.
The beauty of 3D design is that it allows us to show you what your finished project will look like, long before we even begin to build. This extra step provides you with complete clarity and reduces stress to inspire confidence in your design decisions.
You no longer have to just imagine your future dream space – with 3D rendering technology, you will be able to actually see it and move throughout it- virtually.
Barbara
Just a brief note to let you know we could not be happier. The team you have assembled, headed by Jeff and Ryan, could not be more professional, caring, or masterful in their attention to detail. Your company has defied all propaganda about the horrors of renovations. We are beyond grateful. The combination of witnessing the birth of our granddaughter and watching our kitchen evolve has made us feel VERY blessed. Thank you
Barbara
Moraga, CA
Julie and Gabriel
First of all thanks for the great job your crew did to get the house ready for Thanksgiving! We got rave reviews on how nice everything looked from our guests and we fit all 13 people in our dining room table! Also I wanted to thank Ryan in particular who was great and worked very hard at getting to all the touch-ups on Tuesday and Wednesday and thanks to Jeff for the bathroom designs they look great.
Julie and Gabriel
Berkeley, CA
Lisa
Virtue Painting Company recently joined Gordon Reese's subcontractor team and so far, we are very impressed with the inner-workings of his company and the team he has in place. I greatly appreciate the Accounts Payable process and your team getting back to me with the update we needed. We appreciate great customer service and attention to detail and you have expressed that to us with your follow-up. We look forward to working with Gordon Reese Design Build for years to come. It will give us peace of mind to know we can rely on you.
Lisa
Virtue Painting
Dennis and Kathy
Our guest bathroom, kitchen, laundry room and hallway turned out amazing, just as we had hoped. The communication software Gordon uses was fantastic in dealing with scheduling, pricing, and communication. I could get a question answered in a very timely manner and Gordon could keep me updated instantly. Jeffrey was very helpful in assisting us with our design and he was fun to work with. The crew was very professional, hardworking, took pride in their workmanship and was great to work with. Overall, we stayed on budget, on schedule and got exactly what we had envisioned. We were very pleased with the process from start to finish thanks to Gordon and his team.
Dennis and Kathy
Danville, CA
Betsy and Miko
It's been over a year and we still think every day about the remarkable transformation brought by the kitchen remodel you designed and carried out for us which opened up several small, dark rooms to bring a bright, spacious, elegant feel to our now modern, practical, hard working kitchen and also remained wonderfully true to the style of our 1920's home. We hear all the time how beautifully the new room melds with the original feel and detail of the home while opening up the living spaces that we now enjoy immeasurably more. We love it and appreciate the excellent experience we had with you throughout the project.
The Banko's
The whole process was very easy. I had preconceptions about how a construction project could disrupt your life. The Crew was quite professional. The most impressive thing was that they showed up on time or earlier every day of the project.
The Banko's
Martinez CA
Siobhan Brennan
I've worked with Jeff Rexford for over 20 years while I was with John Wheatman & Associates, and he with Bashland Builders. He is extremely professional in his approach with clients. Whether it be an initial consultation or during the quoting process, and straight through the construction phase. Jeff has a great understanding of quality in design through craftsmanship. And through the design process he has respect for the client's home, and keeps their needs in mind. You couldn't be in better hands!
Siobhan Brennan
Michael H.
We hired Gordon Reese Design Build for our Kitchen remodel after a lengthy interview process with a number of construction companies. We were impressed with Gordon and his team, their understanding of what we wanted to do as well as clearly outlining the scope of the work based on our budget. We worked with Gordon over a few weeks finalizing the scope of work and contracts and he was very responsive to my many calls, questions and clarifications. We set a start date for the project and on that date he and the project manager arrived with the crew to do a walkthrough of the project and contract to make sure we were all on the same page as we started the remodel. Over the course of the project I met often with our project manager and our lead remodeling professional to check on status, issues and solutions as we progressed with the remodel. Gordon and his team have great relationships with a number of suppliers in the local area that are Green in their building processes and my favorite was our Cabinet company (Precision Cabinet and Trim of Brentwood). Gordon was able to arrange a personal visit and tour of the cabinet companies factory and for me to meet with their local rep to review our final cabinet choices, color and options. It was a great experience and one that made the cabinet selection a breeze for this remodel. I can say that the team arrived to work every day on time and worked hard to meet the project deadline. He always left the workspace neat and went out of his way to be sure we had everything we needed during the project. The kitchen came out beautiful, the workmanship by our lead remodeling professional was incredible. All of our family and friends love the final result and we could not be happier. One side note, during the construction we found a "surprise" that needed to be addressed that was not related to the kitchen remodel and working with our lead remodeling professional, our project manager and Gordon we were able to address this critical fix with ease as they were able to add the scope to our project and have the lead remodeling professional address it while also working on the kitchen. That little side trip was unexpected but working with our lead remodeling professional along with a number of other folks from the Gordon Reese Design Build team, we were able to address the fix and not impact the overall project timeline. I highly recommend Gordon and his team for any remodel or construction project!
Michael H.
Danville, CA
Client
Gordon Reese and Jeff Rexford were responsive to client concerns which arose during the construction process and managed those concerns and any others that arose throughout the construction process.
Client,
Walnut Creek, CA
Client
We appreciate your high quality customer service and attention to detail. Thank you!
Client
Moraga, CA
Client
The overall outcome was beautiful, it was what we expected if not more.
Client
Clayton, CA
Mark R.
The project was gorgeously designed, meticulously managed, and beautifully rendered. I will use Gordon Reese and team for upcoming projects on the rest of the house. I recommend them without hesitation.
Mark R.
Concord, CA
Client
The workmanship of the worker on site (Chris) had excellent skills and he was very easy to communicate with. He was on time to work each day and cleaned up the job site effectively. He more than the project manner kept us up to date with information.Office people were additionally nice to work with.
Client
Concord, CA
Client
I liked working with Jeff as he was very responsive to my many questions. He made himself available to be here when questions required him to "see" what I was referencing. He was also helpful in suggesting paint palate for the bathroom and fixtures and mirror selections.I appreciated their response to the problem of the granite in the bathroom that was not accurately cut. Gordon Reese and the Pacific Stone were great about replacing the piece.Also I want to mention the quality of the workmanship of Pacific Stone on our kitchen countertops (subcontracted by Gordon Reese Design Build)–there were some very difficult angles around the sink and garden windows to cut and it fit wonderfully.
Client
Danville, CA
Client
We are very happy with the look of our updated kitchen. I smile each time I walk in and look out my picture garden windows reflecting light off my new dreamy marfil quartz countertops and stainless steel appliances. The long matted white subway tile backsplash gives just the right touch of contemporary feel and contrast to the newly refinished dark cabinets. The new acacia word floor brings a warmth of color to the room.The updated sink area of the bathroom looks great–it's now in the 21at century and not the 1960's.
Client
Danville, CA
Client
I was most satisfied with Gordon Reese Design Build's professionalism, how they approached the job, coordinated it, and set up the quotes. Everything was done very professionally. They have a website that allows you to communicate effectively and store documents. I was satisfied with the professional organization.
Client
Concord, CA