Bay Area Kitchen Remodeling is one of the most efficient and proven ways to provide an excellent return on investment for your remodel project. In the kitchen remodel cost bay area remains one of the most popular choices, as kitchens are more than just a food preparation area. They're also a center for entertaining, experimentation, and family time. It's well worth investing in a high-quality design build remodel contractor to lead your project, along with choosing lasting finishes and an outstanding design to achieve the highest value result. Remember that return on investment refers not to only to the value increase to your home, but also to the improved quality of your life. Here we break down the Bay Area kitchen remodel cost.
Aspects Of Your Bay Area Kitchen Remodel
The aspects of your kitchen remodel that will most significantly define your remodel investment are your kitchen size, the materials and fittings you choose, required permits for structural changes, and the overall design and complexity of your project.
Size
If you're looking to update just a few features in a small kitchen, your investment may be around only $10,000-30,000. However, this can scale up to over $140,000 for an intricate and detailed remodel that transforms a larger kitchen to the highest and most modern standards. Many kitchen remodels will fall between these investments in scale. In general, more complex remodels involving adjustments to fittings, plumbing and electrical will require a greater investment.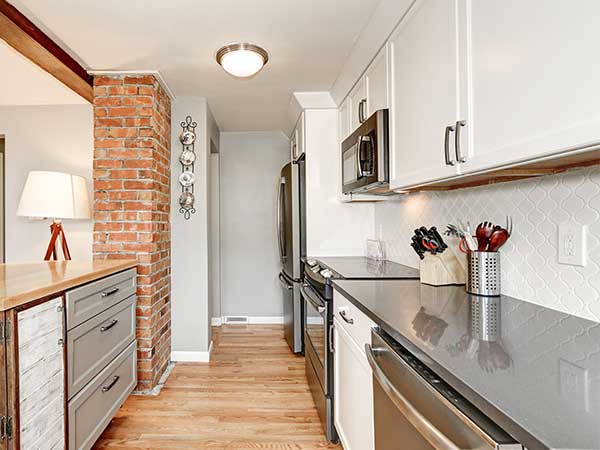 Materials and Fittings
The average investment for a mid-range kitchen remodel in the Bay Area is between $65,000- $100,000, not including the cost of appliances. What defines midrange vs. upscale is often the quality and type of finishes and fittings included in the remodel. A mid-range kitchen may include economical fittings and finishes like laminate countertops and semi-custom cabinetry. However, full custom cabinets and stone countertops are popular features that many homeowners envision for their remodel that fit into the upscale bracket. In the Bay Area, many homeowners choose higher end finishes and fittings for their kitchen remodel as this investment in quality is ultimately reflected in the home value.Permits
Every city or county building department operates differently with regard to their process, fees, and requirements. Because of this, it's important to make sure that all of the details are covered in your initial permit application. Doing so will save you time and money in your remodel. Fortunately, your professional design build team will take care of these details for you so that you know the permits for your project are done right.
Design
Are you planning a complete kitchen overhaul or a minor update? Does your design involve structural changes such as removing/building walls? These factors can impact the investment required for the remodel, with more extreme changes requiring a greater investment.
Remodel Investment Breakdown
Finding the right investment range for you involves carefully planning your kitchen remodel and evaluating your priorities. Different aspects of your kitchen remodel will require different investments. This may lead you to choose to prioritize and invest in one area while economizing in another. In reality, many Bay Area remodels are a combination of both midrange and high-end features.
According to the National Kitchen and Bath Association, the costs involved in each individual part of a kitchen remodel are as follows:
Design fees: 4%
Installation: 17%
Appliances and ventilation: 14%
Cabinetry and hardware: 29%
Countertops: 10%
Lighting: 5%
Flooring: 7%
Doors and windows: 4%
Walls and ceilings: 5%
Faucets and plumbing: 4%
Other: 1%
Understanding how the costs break down can help you focus on which parts of your remodel you want to prioritize.
With one of the highest home remodel return of investments in terms of quality of life, investing in a quality Bay Area kitchen remodel is truly worthwhile. Request a consultation with Gordon Reese Design Build about how to design an outstanding kitchen remodel that meets your unique needs and adds to the value of your home.