Is your summer entertaining revealing the flaws in your current kitchen? Then now is the perfect time to begin planning your Fall remodel. With the kids back at school, many see Fall as the ideal time to remodel a kitchen. And Summer is the perfect time to begin noticing what you would change about your kitchen, to cultivate ideas for your Fall remodel. So while you're planning your Fall renovation get ready to take notes on these top Fall 2017 kitchen trends!.
Countertops
Countertops are one of the most obvious features of your kitchen. You use them every time you use your kitchen and they're one of the first things visitors or friends will look notice. In fact, 95% of homeowners identified countertops as one of the first things they want to change in their kitchen remodel.
In a break from the recent years' trends, granite countertops have been falling in popularity. Fall 2017 kitchen style will instead be all about quartz countertops. Quartz is stylish, beautiful, and durable, and offers a fresh new look for your outdated kitchen. Because it is non-porous and non-staining, quartz countertops stay flawless and hygienic for years to come.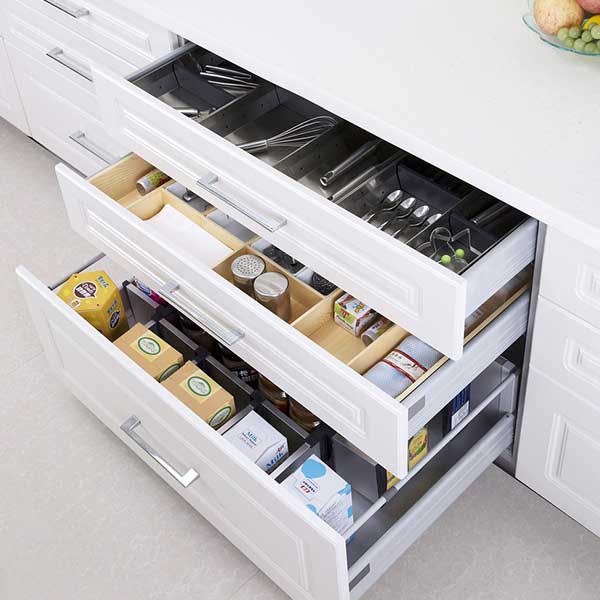 Custom Storage
Versatile, custom designed, and intuitive storage spaces will be one of the hottest Fall 2017 kitchen trends. More than ever, homeowners are realizing that convenient and efficient storage means a tidier and more functional kitchen.
According to the Houzz Kitchen Trends Study, 64% of homeowners are opting for a pull out waste cabinet, 53% are incorporating baking tray organizers, and 15% are adding wine and bar cabinets.[1] This focus on convenience and organization reflects the smaller kitchen spaces people are often working with. But perhaps the larger driving force behind this trend is the desire to spend more time cooking and entertaining in the kitchen, and less time searching for the right baking dish.
Focus on Facilities
Many homeowners are making environmentally friendly and resource efficient design a focus of their remodels. To this end, there is a whole host of energy- and water- efficient appliances on the market now. Some of the most popular include dishwashers, stoves and cooktops, steam ovens and water saving faucets and refrigerators.
Smart Appliances
If you want to boost your kitchen efficiency as much as possible in Fall 2017, smart kitchen gadgets and appliances will be a great way to go. From automatic smart ovens to sous-vide cookers, and even a refrigerator that lets you check its contents on your smartphone, the options are truly astounding.
Contemporary, But Not Boring
A fresh coat of paint still goes a long way and updating your color scheme will be a popular kitchen remodeling trend in Fall 2017. While neutral colors still dominate many remodels, splashes of color and bright metals are making a comeback. Contemporary or transitional styles are still the most popular options, but farmhouse shiplap panels are making an appearance in kitchens because of their clean lines and fresh style. Gone are the days of dull subway tile. Popular tile styles are now creatively shaped and brilliantly colored, adding their own special effect to your space.
Stay on trend for your Fall 2017 remodel and be inspired to create fresh, home-cooked meals with these exciting ideas for your new kitchen. Our experienced design team at Gordon Reese Design Build is looking forward to helping update your space with the latest Fall 2017 kitchen trends. https://info.houzz.com/rs/804-JLJ-529/images/HouzzKitchenStudy2017.pdf, page 19