Bathroom Remodels
A bathroom remodel is one of the most worthwhile home investments you can make. Modernizing your bathrooms increases the overall pleasure, and value, of your home. By upgrading fixtures (perhaps a new bathtub? A walk-in tub?) and appearances (custom paint? Inset tile to aid in visibility? Glass panel shower walls?), you can take the needs of your family and integrate them with the most recent, stylish design.
For example, a bathroom shower remodel can look elegant and spacious by infusing safety devices – like graspable bars to aid in balance – with a barrier-free, roll–in shower. Wider doorways and spacious areas inside the retreat can accommodate wheelchairs without looking like a medical wing. We can show you how, and develop the end result with you, using our 3D Design program and our Universal Design expertise.
Take advantage of our know-how to get the modern bathroom remodeling design you want for your home. We have the training and the skills to help you attain the ultimate bathroom retreat, whether it's a small bathroom remodel or a luxury bathroom remodel. And we will construct it on time, with careful consideration of what you plan to spend, all the while providing 'First Cabin Customer Service'.
When it comes to your home and your life, you don't settle for anything but the very best. You want everything to be complete, easy and worry-free. That's what a true bathroom remodeling project should be, and that's what you'll get with Gordon Reese Design Build!
Are you ready to love your bathroom?
Leave the Details to Us
Gordon Reese Design Build, is an award-winning design & remodeling company, who takes an innovative approach to construction using 3-D Design while applying the most current building techniques.
Our team of certified in-house experts, who specialize in designing and remodeling bathrooms, can assure each residential project will result in comfortably useable space for all family members throughout their life span, regardless of their current age or physical abilities. In addition, we are well-versed on zoning laws and building codes to make certain every project will be completed without a hitch.
Gordon Reese Design Build serves Alamo, Danville, Lafayette, Moraga, Orinda, Walnut Creek, and surrounding areas!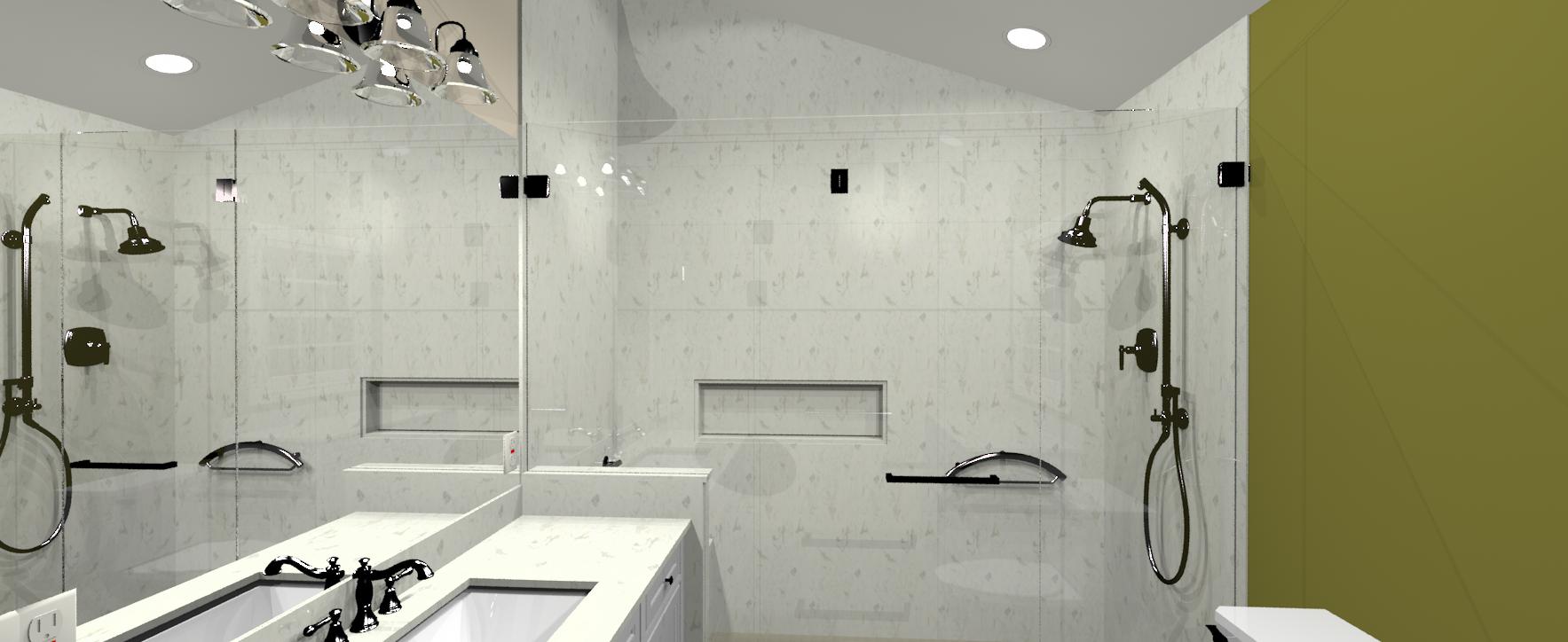 3D Design
Traditionally, most architects and remodeling companies work with two dimensional designs. Although this may be easy for a builder and an architect to decipher, it is not very client friendly. 3D design allows us to clearly show clients what their projects will look like in their finished state. It also allows the clients to see the space with the different materials, finishes, and elements that they have chosen. The 3D design can also be rotated, so clients can see the space from different views and perspectives.
Our 3D Designs have been very effective in helping clients save time and money by showing them exactly what they are getting before the start of a project. It gives us the ability to analyze and measure each component individually; we can also test the stress factors and tolerances of a project before we build. This allows us to keep the projects within the investment range, and also helps the clients make decisions before the start of the projects. The end result is an elegant space, personalized just for you. Because you deserve it.
I greatly appreciate the Accounts Payable process and your team getting back to me with the update we needed. We appreciate great customer service and attention to detail and you have expressed that to us with your follow-up.

The communication software Gordon uses was fantastic in dealing with scheduling, pricing, and communication. I could get a question answered in a very timely manner and Gordon could keep me updated instantly.

We appreciate your high quality customer service and attention to detail. Thank you!

Gordon Reese and Jeff Rexford were responsive to client concerns which arose during the construction process and managed those concerns and any others that arose throughout the construction process.

Over the course of the project I met often with our project manager and our lead remodeling professional to check on status, issues and solutions as we progressed with the remodel.

Our guest bathroom, kitchen, laundry room and hallway turned out amazing, just as we had hoped.

The overall outcome was beautiful, it was what we expected if not more.

Jeff has a great understanding of quality in design through craftsmanship. And through the design process he has respect for the client's home, and keeps their needs in mind. You couldn't be in better hands!

Whether it be an initial consultation or during the quoting process, and straight through the construction phase. Jeff has a great understanding of quality in design through craftsmanship.

The whole process was very easy. I had preconceptions about how a construction project could disrupt your life. The Crew was quite professional. The most impressive thing was that they showed up on time or earlier every day of the project."