There's no doubt that heated bathroom floors are a luxury more than a necessity. But they're a luxury you may decide is worthwhile when you step onto cold tiles on a winter morning. Heated bathroom floors not only make your bathroom more comfortable and appealing, but they also contribute to more efficient heating. It's hard to resist adding this bit of spa-luxury to your home. Here we look at the pros and cons of adding heated floors to your next bathroom remodel. For those cold and snowy days, a bathroom heating floor is an easy way to keep your feet warm during the morning routine.
How Do Heated Bathroom Floors Work?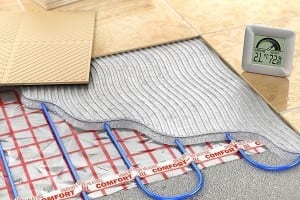 Creating heated floors in bathroom involves installing a source of radiant heat underneath your flooring. The heat could be provided by either an electric heating element or hydronic heating.
Electric heating makes use of electric cables to generate heat. They're embedded in thin mats that are installed under different types of floors. It doesn't matter whether your floors are tile, engineered wood, or even stone.
A heated tile floor can help to increase the warmth of your room by up to 5 degrees. It works in the same way as a conventional underfloor heating system, but instead of using hot water to heat the pipes and radiators, it uses electrical
As a homeowner, you'll definitely love electric floor heating for these reasons:
It's easy to install. A lot of homeowners prefer this if they're currently working on a home remodeling project.

Since the thin mats have a thermostat controller, you can set your ideal temperature.

Speaking of setting your ideal temperature, heating bathroom floors with this method only takes thirty to sixty minutes. That's faster than other HVAC units. Plus, you can easily switch the coils on and off.
Despite these advantages, you have to be specific with the size. Your bathroom surely has fixtures and furniture pieces that take up floor space. So, you have to install them strategically. Full-size heating floor mats only work in open areas.
Hydronic floor heating, also known as hot water radiant systems, makes use of heated water through tubes. These tubes are attached to thick plywood panels or mortar. Typically, the heated water comes from an actual water heater. This option is ideal for tile, stone, and concrete flooring.
The most remarkable benefit of choosing this option is its scope. If you want to heat up areas aside from your bathroom, this works best for whole-house heating.
On top of that, the wider the scope of this heating system, the more cost-effective the installation becomes. You can heat multiple rooms at once while saving energy costs at the same time!
Despite this, some of its drawbacks are:
The initial investment is higher when compared to electric floor heating. This is because you'll need a water heater or a boiler, a pump, and some gas lines.

Since you're using heated water for this option, it takes longer to warm your floors.
Related Content: How Do Heated Bathroom Floors Work? Your Guide
Pros of Heated Bathroom Floors
Uniform Heating
The best thing about heated bathroom floors is uniform heating. They heat both the floor and the entire bathroom, providing a comfortable ambient temperature.
HVAC units disperse warm air, but it can be uneven. If you stand near the HVAC unit, you may notice that it's warmer than other areas of the room. With heated bathroom floors, there are no cold spots.
Energy Efficiency
Did you know that heated bathroom floors are 25% more energy-efficient than traditional HVAC units?
You can even save extra costs depending on the type of floor heating system you choose. Electric floor heating systems take less than an hour to warm a bathroom.
Discreet, Space-Saving
With heated bathroom floors, you don't need to mount large, hefty units on a wall. They're tucked out of the way and don't interfere with your design aesthetic.
Noise-Free
Let's face it, forced-air systems can be noisy. When you turn on your forced-air system, it's probably not silent. Heated bathroom floors are not only discreet, but they're noise-free too. And that means no distraction when you're trying to relax.
Customization
These units are user-friendly. They come with thermostats that have adjustable temperature settings so you can create the perfect temperature.
On top of that, they have timers too. Welcome a new day by keeping your toes warm and cozy in the morning!
Safety
Heated bathroom floors are safe. They won't burn your feet. Besides, you don't have to worry about sharp corners or the searing surfaces of HVAC units.
Along with safety, you can ensure that it brings out good air quality too. This is a major plus for people who have asthma and other allergies.
Maintenance-Free
An added benefit is that you'll save money knowing your heated floors are maintenance-free. Once they're installed, there's no need to worry about maintenance schedules.
Higher Resale Value
Heated bathroom floors add value to your home, which increases its resale value too. Potential buyers love surprise luxury details.
Cons of Bathroom Heated Floors
Installation Process
Whether you opt for an electric or hydronic heating option, the installation process can take time. This is because you have to remove existing flooring to install equipment. It's never convenient to have your floors torn apart, even though the outcome is worth it in the end.
Repairs
Although heated floors are maintenance-free, occasional repairs may be necessary. A licensed professional can use a thermal camera to find the issue. If there's a problem, it might require getting under your stylish bathroom floors to fix the problem.
Cost
Both types of heated flooring can be expensive, and it depends on you which price points you can handle.
Electric floor heating is budget-friendly during installation. But over time, expect that you have to deal with operating costs. Hydronic floor heating is more expensive upfront, but the operation cost is lower.
Floor Height Issue
Another reason why heated flooring works best in a bathroom remodel is because of floor height issues. Once installed, heated floors can increase your bathroom's floor height by at least one-and-a-half-inch, depending on the heating system you prefer. This can be a tripping hazard.
Heated flooring adds a special luxury touch to your bathroom, but it's important to weigh the pros and cons. A bathroom remodel provides the perfect opportunity to install heated flooring. If you're in the Walnut Creek area, give us a call at (925) 885-3770 to discuss your options. We also specialize in designing and installing radiant floor heating systems for bathrooms. We offer a wide range of temperature ranges, as well as a variety of control system options to fit your needs.