Installing a heated bathroom floor has become increasingly popular amongst homeowners of both new and renovated homes, and it's not too difficult to see why. Stepping on a warm floor after a nice, refreshing bath is obviously far more preferable than tiptoeing on freezing tile—especially during dreaded winter mornings.
In addition, floor warming systems often provide ambient heat, which helps immensely if your bathroom is located in colder parts of your home (i.e. corners of the property, basement, above the garage, etc.).
But even with all the hype, some homeowners are still on the fence about this featureone, believing it to be an unnecessary expense or an impractical seasonal feature (only good for winter). Do you perhaps fall under this category, or are you already shopping around for your own heated bathroom floor? Here are some factors that may help you make a decision:
1. Installation Process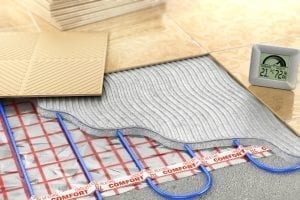 Home owners who enjoy the do-it-yourself route might be able to install the floor heating system themselves. However, with how complicated the equipment can be and how labor-intensive the entire process is, it's still best to call a professional for this. A certified electrician should be the one to make all connections to ensure full compliance with your local building and electrical codes.
A floor heating system that is not properly installed might lead to serious issues down the road which can cause a serious headache and, unfortunately, cost you more money to fix.
2. Uncoupling Technology
Homeowners who are almost definitely getting a heated bathroom floor should opt for systems that have uncoupling technology. Because a floor warming system can cause frequent fluctuations in temperature, the materials in your floor are more likely to expand and contract, effectively compromising their durability. The constant shifting and movement can create stress on the tiles, leaving them extremely vulnerable to cracks and hairline fractures.
Uncoupling technology prevents cracks from happening by preventing movement in the subfloor to transfer to the tile above. Any subsequent movement is then neutralized between the layers.
When getting a heated bathroom floor, you might need to install two separate systems—a floor warming system and an uncoupling system. If you'd prefer just one system—for a no-muss, no-fuss installation—Schluter Systems is a brand that offers DITRA-HEAT, a floor warming system with built in uncoupling technology.
3. Power Source
Homeowners have a lot of options when it comes to powering a heated bathroom floor. It's important to consider your system's power source and how well it'll hold up in the long run. Radiant systems are compatible with natural gas, solar, and electrical power sources. Geothermal energy sources are also viable for those systems.
On the other hand, legacy furnace systems are usually restricted to just one kind of energy source, like heating oil. Once the market for that specific energy source becomes volatile, rates are subject to change and prices might spike. This means that you may end up paying for more just to heat your floor—and your home—regardless of your thermostat's setting.
4. Customization
Bathrooms are generally awkward spaces, so customizing it can be a challenge. In order to accommodate different bathroom sizes, there are heated floor systems that can be purchased by the sheet or by the roll. You can also place cables wherever heat is needed.
5. Materials Used
Generally speaking, all flooring materials are compatible with heated bathroom floor systems. However, it's worth noting that some work much better than others. Natural stone, porcelain, or ceramic tiles are best for electric floor warming systems because they are great heat conductors.
Laminate, vinyl, and wood also work great but due to their temperature limitations, you may need to seek advice from experienced installers before pushing through with installation.
6. Cost
Depending on the size of your project, heated bathroom floors can be quite costly. Electric floor heating systems can usually set you back between $10-$20 dollars. The amount will be determined by the kind of system you purchase. If the cost of electricity in your area is high, expect the cost of operation to be higher.
In the end, no one can tell you to purchase something you don't want to. Likewise, no one can discourage you from buying something either—especially if all evidence points to it being hugely beneficial for you and your family. A heated bathroom floor is definitely a luxury, but it's also quite practical, and its use value speaks for itself.