As we get into the swing of 2017, it's time to characterize some of the design trends we've seen emerge. Many of 2017's trends represent an evolution from the style of 2016 to something more raw, yet refined, both subtle and sophisticated. If you're planning a summer remodel, now is the time to start researching trends and pinpointing the styles you want to capture in your design.
Natural Influences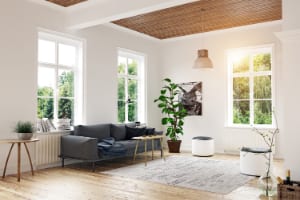 From Pantone's Color of the Year – "Greenery" – to raw wood finishes, cork, and the inclusion of plants both indoors and out, early 2017 brings 2016's natural influences into full bloom. These natural finishes help to soften the otherwise cold and clean lines of 2017 design. Bathroom designs are particularly seeing the inclusion of more natural finishes and indoor plants.
Dark and White Walls
In 2017, there are no compromises, and this is reflected in the color palettes of choice for interior walls. While stark white is still a popular choice, in 2017 this is being contrasted with deep and dark tones. Cool tones such as dark grey, rainforest green, deep amethyst, and navy are particularly popular. These rich tones help to contrast with white or lighter shades while providing an amazing complement to minimalistic interiors and sleek modern design.
Light Wood Stain
For light and breezy spaces with the integrity and natural influence of wooden flooring, light blond, ash or natural wood stain is the tone of choice for early 2017. While dark wood stains still maintain their long popularity, there has been an increasing trend towards lighter wood stains, along with wider floor boards.
Voice or Remote Activated Appliances
With less time and fewer hands available to take care of the jobs we need to be completed at home, innovations in voice and remote activated assistants and appliances in the home are perfect for today's busy household. From hot water kettles and coffee makers that can be remotely controlled through wifi to voice-activated personal assistants that can be activated through receivers placed around the home, the future of home appliance technology is truly astonishing. Remodeling professionals and interior designers are incorporating this technology for their clients to allow more convenient, hands-free living.
Vintage, Artisan, and Recycled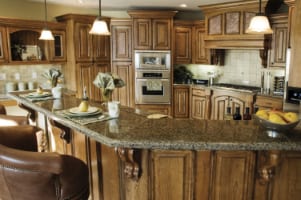 Conservation and authenticity are major features of design in 2017. Artisan, vintage, antique and recycled pieces make the perfect additions to an earthy 2017 décor. Quirky and meaningful pieces with character add life and energy to your space. This type of décor is perfect for transitional style homes that blend both modern and traditional design. The best part is you don't have to go out and invest in a completely new décor! Whether you recycle an antique dresser as a unique bathroom vanity or invest in some artisan homewares pieces, choosing recycled, artisan and vintage pieces create a diverse and interesting look for your home.
This first look at interior design trends that are emerging in early 2017 can help to shape and direct your upcoming redesign or remodel while keeping you on track with the latest in home interior design.