We're all familiar with the excitement a new home can bring. Moving into a completely different space can give you the same giddy feeling that usually comes with new beginnings. A new home is a fresh start that can be comparable to a blank canvas, and for most homeowners—this giddiness translates into a sort of inspired energy that makes them want to personalize the blank canvas itself. One of the most common approaches that we're talking about is a bathroom remodel.
Everyone knows that a good bathroom makes more for a valuable home—both in terms of emotional value and market value. This may be the reason why so many homeowners grab the chance to upgrade this particular room. No harm in home improvement, of course, but if you've only been in your new home for a week?
You might want to rethink that remodel.
Too Soon to Remodel?
When it comes to making any major changes to your home, many bathroom remodeling contractors and home improvement professionals encourage waiting anywhere between six months to a year, at least. This cooling-off period will give you a chance to research, review, and re-evaluate your bathroom remodeling ideas before actually putting them into play.
Why Wait?
You Should Get to Know the Space First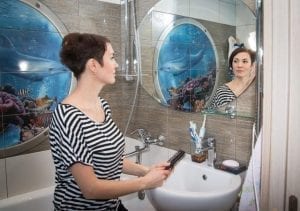 Logically speaking, it doesn't make sense to change something you've never even used. Let's say you buy a pair of shoes. After one wear, you learn they're undeniably uncomfortable, and you've decided never to wear them again. However, that one wear was actually all it took to break them in. If you were to wear them for a second or third time around, you'd realize that they're quite comfortable, and they just needed an adjustment period.
The same concept applies when buying a new house. You need an adjustment period of at least six weeks to properly assess the bathroom's use value that goes with your family's specific needs. Any decisions you make regarding your home's interior or exterior need to be made based on clear, unbiased experience.
Four weeks' worth of experience wouldn't really cut it on a professional resume. Why should a bathroom remodel be any different?
Your Priorities Could Change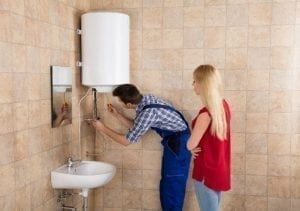 The problem with split-second remodeling or remodeling a bathroom immediately after you move in is long-term intent. You can't tell how practical or functional a bathroom is just by looking at it, which is why it is unwise to make drastic changes right away before using it.
Case in point; when you first see the bathroom, you might think that it's too small, the tiles look unappealing and so on. You decide to make it bigger, add more mirrors (to create the illusion of space), and retile the entire room. You're committed to this bathroom remodel, and you push through with it two, three days after you move in.
A month later, you realize that there's a flaw in the outdated plumbing, which always causes the toilet to leak, and that the leak is already staining your brand-new tile. What's more, you might even realize—thanks to daily use—that the bathroom is quite roomy. What made it seem so cramped and dingy in the first place was actually the lack of natural lighting.
There are some things about a room that may only appear after repeated use, and these unexpected realizations can change your priorities. The takeaway here is that you can never truly be prepared, and time is undoubtedly the best tool you have.
Minor Temporary Changes Could Prove to be Better Investments
Rather than investing in major bathroom renovations—which no doubt would take months to complete—it might be a better, more sound decision to invest in smaller, temporary changes at first.
For instance, changing the lights in your bathroom or upgrading them with smart tech (so you can adjust dimness, mood, etc.), repainting instead of retiling, replacing smaller pieces of décor, or swapping out the outdated toilet for a more modern model can be a great start.
Sometimes, homeowners jump at the chance to do a major bathroom remodel just for the simple sake of doing so. They have the time, the means, and the resources to do it, so why not? However, as you can probably tell, this isn't a cost-efficient or effective way of handling things.
If the smaller changes are enough to totally transform your bathroom and make it feel 100% your own, then why push through with a major remodel that's unnecessary for now? It'll save you time, money, and effort, making you feel better in the long run.
A bathroom remodel—especially a major one—is both a commitment and an investment. You're going to be sinking time, energy, and resources into it. Regret is costly, and expect more if it comes in the form of home improvement. It's always better to tread with caution, save yourself from being frustrated, and don't rush unnecessary projects coming out of your fickle mind.