Whether you're planning to update your kitchen or completely change the layout and design, here are some kitchen remodel tips to help you out.
A kitchen remodel can be an exciting event for most homeowners. It's essentially a blank canvas or a fresh start; you have the liberty to throw out what you didn't like about the old kitchen and replace it with something you love or have always wanted to try.
For many, this freedom translates to a shopping spree, and while it can be tempting to buy that gilded spice rack or that beautiful crystal decanter, remember that everything must be done within reason. The best way to stick to your budget is to opt for lower-priced items—without compromising visuals or quality—whenever you can.
But of course, there certainly are components of a kitchen that we highly recommend investing in (read: splurge). Take a look at our top three picks.
APPLIANCES
It's always good to sink your money into something practical, and appliances are as practical as they get. Whether your home is for keeps or you're thinking of selling within the next five, ten years or so, we recommend splurging on some streamlined, state-of-the-art kitchen equipment.
Energy-efficient appliances are always a great choice, especially if they have comprehensive long-term warranties. But which appliances you should actually prioritize depends on a number of factors. For instance, refrigerators will last a good ten to fifteen years before they need replacing—something to keep in mind when deciding on a price range. A cooktop stove generally lasts longer—we'd say around thirty years with normal use and regular maintenance—so don't be afraid to drop a little extra on that sweet stainless steel stove you're eyeing. If there are a lot of people living in your home, a quality dishwasher is a must.
Splurge on: cooktop stoves, dishwasher, oven, refrigerator, gas range
Save on: coffeemaker (do you really need one with 20 different modes?), smaller appliances like toaster ovens and blenders (simple is still a winner)
STORAGE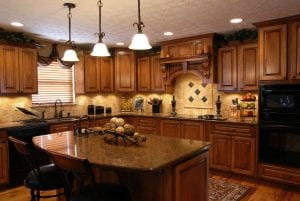 This is a bit of a situational decision, but it's worth mentioning. If you're a big family, you run a home-based catering business, or you just love hosting dinner parties and Sunday lunch, you definitely want to invest a little more in storage. Cupboards for cookware, drawers for utensils, a big pantry and fridge for food.
Remember that kitchen cabinetry can come with additional costs such as delivery and installation. Extra shelving, cabinet extenders, and roll-out trays tack on pretty hefty sums to the overall price tag, too. But again; if you use your kitchen a lot—more than the standard three-meals-a-day operation—then storage is something you'll be happy you invested in. As long as they're practical and fully functional, view the cost as a worthwhile investment.
Splurge on: soft close drawers and doors, wall cabinets, installation
Save on: fancy drawer inserts (sometimes unnecessary), gilded handles
COUNTERTOPS
Countertops make up a good portion of your kitchen, which is why it makes sense to invest in durable, high-quality ones that are as resilient as they are visually appealing. Remember that countertops will see a lot of action and are therefore quite at risk for damage—knifes scrapes, pounding, hot water and colorful sauce spills, etc.
If you've got the budget for it, we definitely recommend stone countertops. They're the hardiest of the usual options, they offer an incredible return on investment, and they always look effortlessly classy. Even better? They're low maintenance. Just wipe them down once a day to avoid stains and discoloration. Quartz is particularly heat and scratch resistant, so if you're expecting a lot of activity (and therefore potential accidents) to happen in the kitchen, you can't go wrong with this natural stone option.
Splurge on: Quartz, Marble (yet another hardy yet classy option), Granite
Save on: Butcher block (it's not a very common option and it isn't as damage-proof as stone), Laminate (highly dated but still durable,easy to maintain and easily customizable)
A kitchen remodel should be viewed as something new and exciting, not stressful. Therefore, feel free to play around within the limits of your budget. Try textures, patterns, or styles that you've never done before or treat yourself to something you've always wanted to have in your kitchen. If you're not sure how practical or how well the elements will integrate with your kitchen design, you can always ask a professional for their expert opinion.