Remodeling your home in the most appropriate and effective way means identifying what design style you want for your living space. Some homes favor a classic, traditional style while other homes embrace a more modern, contemporary look. However, one of the most popular styles today is the transitional style that blends the best of both traditional and contemporary styles.
By identifying the key features of each style type, you can discover which style is best for your new home remodel.
Traditional Style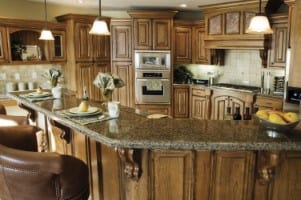 Traditional style embodies that classic, timeless style of days gone by, with antique furniture and old fashioned finishes. When it comes to home remodels, traditional design is one of the two major design choices. Traditional design is impressive and classic. It always makes a grand impression and you know it won't go out of fashion. However, traditional styles require a lot of space to accommodate their heavy visual weight, as smaller spaces will seem too cramped and stodgy with a traditional style.
Modern Design
Modern is one of the most popular styles for new homes and remodels nowadays with clean, sleek and sharp lines and often minimalist features. This design style can be cool and neutral or bold and edgy. However, modern style also aims to incorporate functionality and comfort for maximum utility. Many homeowners prefer the modern style because it's easy to maintain and currently on trend. However, a style that's too modern risks going out of style, and sometimes modern design can lack character and uniqueness.
Transitional Style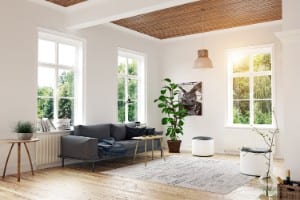 If you find the traditional style too clichéd, and modern style too sterile, transitional style may be the perfect option for you. Transitional style uniquely blends elements of both modern and traditional styles for the best of both worlds. This style is characterized by a simple yet meaningful design that's ideal for a family home. Transitional style uses simple lines and a neutral color scheme with room for character features to provide personality. Because homeowners often make transitional style uniquely 'theirs', this style can last for years without losing meaning or functionality.
Which Is Right For You?
For each of these styles, structural features, as altered during a remodel, should be taken into account. When it comes to choosing the right style for your remodel, there are a number of factors to consider. Are you performing a kitchen remodel or bathroom remodel, or are you undertaking a whole home remodel? How would you define the current style of your home? Would a remodel in a different style to your current home fit into the overall vision you have for your home, both now and into the future?
Discussing these questions with a professional design build contractor allows you to understand which style fits best in your home. It can also allow you to get unique insights on your style vision for your future remodel, and your home overall.
Turning a Remodel Vision Into Reality
Utilizing 3D design for home remodels is another unique way to directly visualize the impact of style and design. Highly qualified design build contractors offer 3D design for remodels so that homeowners can see the impact of different design and style choices for themselves.
If you're contemplating which style and remodel design best suits your home, discuss your options with a qualified design build contractor like Gordon Reese Design Build.