Planning an Aging in Place Home Remodeling Project? Our comprehensive guide will help you make the right decisions. Learn about home remodeling, planning, and financing for your senior years.
A home remodeling project, regardless of size or scale, is not something you take lightly. Serious research and preparation must be done before, during, and even after the remodel has taken place.
In regard to an aging in place home remodel, doubly so.
You can't just wake up one day and decide, "Oh. I think I'll age-proof my home today." You need to understand what aging in place is, what it entails (in terms of home remodeling), and the potential influence it could have on your quality of living.
We've got three top tips to planning an aging in place home remodel.
But first; a definition.
An Aging in Place home remodeling project is when you renovate an existing space to make it easily accessible and navigable to people of all ages—particularly the elderly and the very young.
For example: open floor plans eliminate the need for stairs and walls, lowering the risk of accidents. Storage cabinets at certain heights can make it easy for the elderly to store and access items while keeping things out of reach of children. Lower counter tops can accommodate children helping the adults prepare meals. Moveable shelving can make those hard to reach areas more accessible to the 5'2" household member. There are so many ways you can prepare your space to make it convenient for everyone.
Planning for an Aging In Place Home Remodel
Tip #1: Approach Your Home in Sections
As mentioned earlier, an aging in place home remodeling project has the potential to be overwhelming and time-consuming. Instead of tackling it head-on, it would be better to focus on age-proofing different areas of your home at a time.
For instance, you can start with the entrances. Are they wide enough that you can pass through them with a baby carriage in tow or a wheelchair? Do they present any sort of challenge or tripping hazard to people with walking sticks or canes?
Then move on to the bathrooms: are there grab bars, anti-skid mats, and other elements to reduce the risk of slipping and sliding? Does your walk-in shower area have a curb that people might potentially trip on? Can people with wheelchairs reach the bathroom and navigate it easily? Can a caretaker easily assist someone who needs help?
Remodeling your home a little at a time, in sections, can make it easier for you to see what each aspect of your home needs to be considered age-friendly.
Tip #2: Study Your Existing Floor Plan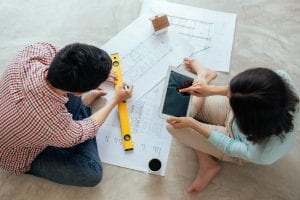 Look at your current floor plan and try to find areas that need "improvement"—which is to say, they could be potential hazards for young, elderly, and disabled individuals. Some thoughts to consider: abrupt drops, too many stairs, steps that are too narrow, too many walls (that kids can bump into when playing), slippery floors (usually hardwood and polished tile), and a confusing layout.
Once you spot such areas, work with a professional on ways to age-proof them. Would knocking down some walls help make the play area safer? Would an open floor plan be better—especially for people who have trouble getting around? Would installing ramps turn your sudden drops from health hazards to smooth sailing entrances?
Tip #3: Consider Adding "Accessory Dwelling Units"
Accessory Dwelling Units (or ADUs) are smaller houses located on the same lot as the main house. They're standalone units that are completely independent of the primary unit, capable of providing the exact same living experience. This means they're just as equipped and as fully furnished as the bigger home; kitchen, bathroom, bedroom … you name it.
Recently, many states, like California, have loosened up permitting requirements to encourage homeowners encouraged to add these ADUs to their properties as a means for flexible, age-friendly living options. And here's why:
They increase housing affordability. They improve market value (two fully functionalresidential units on one lot), increase living options, and can even offer an extra means of income if you choose to rent it out.
They are conducive to aging in place. As we get older, we find it more difficult to walk from one place to another. This is true even in the comforts of our own home. For older people, some features that we traverse without second thought—like flights of stairs, fifteen-foot hallways, and overhead cabinets eight feet up—can become serious obstacles.
A smaller, more compact dwelling means nearer rooms, less space to clean and de-clutter, and considerably less risk of accidents. Them being on the same lot as the main house also offers an element of convenience and closeness.
They are multi-purpose. ADUs are perfect for a dozen different scenarios. If your elderly parents no longer have the energy to take care of a full-sized, two-story house, they can move to a smaller unit on the same lot. Or if your children have just gotten married and are struggling to find a place to stay in, they can stay there while they build up their nest egg. And because their home is on the same lot as yours, you're reassured that you can reach them at any time during an emergency. They can also be used as rental properties so that you can supplement your living expenses.
As of 2017, only 1% of homes in the US were conducive to aging in place. Thanks to concepts like universal design and other innovations, it's more widespread. If you're planning an aging in place home remodeling project, there are now plenty of resources for you to consult on top of experienced industry professionals. And in the long run, you'll find an aging in place home to be highly beneficial.