Conducting a premium kitchen remodel in 2017 means sourcing top of the line materials, the latest appliances, and the best quality fittings. Here we look at some of the latest and highest quality features just emerging on the market for 2017 kitchen remodels. Similarly, we examine some of the classic remodel choices that still remain the best options for premium kitchen remodels.
Modern and Transitional Style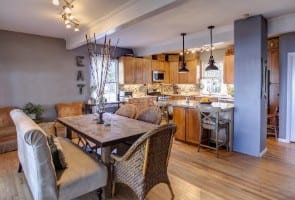 Early 2017 trends are indicating that kitchen designs are edging towards the more modern. Sleek lines and materials, along with 'hideaway' storage and industrial finishes help to create a clean, clutter-free and modern look. Even traditional style kitchens are becoming more modern, with 'transitional' modern style being incorporated into traditional kitchens. This means traditional kitchens are retained but remodeled to incorporate less ornate details and cleaner lines, with all the features and functionality you would expect from a modern kitchen.
Integrated Kitchen and Living
The trend of blending kitchen, dining and living spaces into open plan living has been around for a long time. However, this trend is not going anywhere with more homes incorporating kitchens that are designed both for food preparation and entertaining. This design trend is reflecting the tendency for entertaining to be more easy-going and relaxed, with guests invited into the kitchen while the host prepares.
Smart Kitchens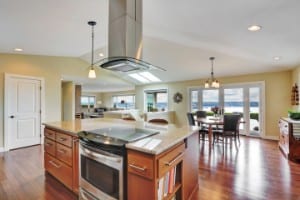 We all have more to do and less time than ever. Smart kitchens integrate your kitchen, the kitchen appliances, and your devices to sync to your needs and lifestyle. Appliances are connected to Wi-Fi so your kitchen can be controlled remotely. Now you can start your coffee machine from bed when you wake up in the morning, or have your oven text you when dinner's ready. It's all about using technology to making your kitchen easier and more convenient to use.
High-Performance Appliances
Not only are kitchen appliances smarter, but they are also more effective and efficient. High-performance items such as hot water taps, automatic wine fridges, commercial-grade cooking appliances, and built-in coffee machines, once seen as luxuries, are now standards in premium kitchen remodels.
Hide-Away and High Function Cabinets
Kitchen cabinetry is often a site of changing kitchen trends. While ornate and stained kitchen cabinets are less popular in 2017, painted and laminated cabinets that reflect the sleek lines of modern design are in higher demand. Kitchen cabinets are also incorporating hidden storage and high functioning storage options, to maximize the use of kitchen space available.
Quartz or Granite Countertops
Quartz and granite countertops are the most popular, and most functional kitchen countertop materials for kitchen remodels in 2017. Quartz countertops are popular because they not only look great, they are more functional and easy to use than other countertop types. Quartz countertops are made from a sort of engineered stone, composed of stone chunks along with resin and coloration. Quartz countertops are easy to care for without requiring sealing, being impervious to stains and acids and resistant to chips and scratches. They can also be considered more environmentally friendly because they don't require mining and shipping large slabs of solid stone. However, quartz countertops provide a stunning appearance and the ideal stone-feel workspace perfect for the kitchen.
These premium kitchen features are set to become even more popular throughout 2017, and we look forward to seeing how kitchen design progresses and changes as the year goes on.