Bathroom remodels are still one of the most popular remodels chosen to improve the quality of living and home value. But what if you want to go above and beyond when it comes to your bath remodel? Choosing luxury features, fittings, and finishes will add a touch of class and refinement to your bathroom. We've collected a list of six top of the line bathroom features to choose from to boost your bathroom remodel from ordinary to extraordinary!
Luxury Showers and Tubs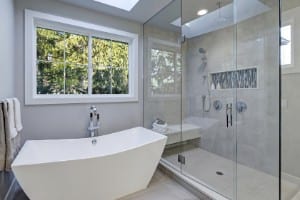 Whether you have a shower, tub or both in your bathroom, installing a luxury feature can turn your plain bathroom into an indulgent oasis. A steam shower is the perfect compact addition to create a spa feel at home. To upgrade your shower, even something as simple as a 'rain' shower head can make your home feel like a luxury hotel. You can also choose to install extra nozzles or body spray fixtures for a shower of any size.
To transform your tub, a high-end model with massage jets provides a luxury retreat where you'll want to relax every day. Choosing molded tubs or a bathtub with head and armrests built-in can help to make this bathroom feature more relaxing and comfortable.
Oversized Showers and Tubs
For a more luxurious feel without added features, simply upgrading the size of your shower or tub to double capacity can make your bathroom feel more luxurious and high-end. Ask about installing a double-sized shower or double sized tub in your bathroom for a feature that makes your bathroom more comfortable and luxurious!
All Around Heating
The distinction that creates a truly outstanding bathroom is the utmost in comfort at all times. All around heating, from heated flooring to heated towel racks ensures there's no need to scrunch up your feet on the cold tiles in the morning. Top of the line heating features like heated flooring keeps your bathroom at a comfortable ambient temperature while making the floors pleasant to walk on with bare feet. A heated towel rack ensures you have a warm towel or robe to relax after bathing. It's these features that truly cultivate a luxury 'all-round' experience in your home bathroom.
Creative Lighting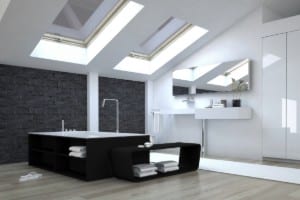 Though often overlooked, top of the line lighting is a feature that shouldn't be forgotten. Many homeowners are opting for extravagant designs involving chandeliers in the bathroom. But for more understated tastes, creative and beautiful lighting can become a true feature of your bathroom. One favorite bathroom lighting option is skylights – whether the traditional style or tube skylights. Why not shower yourself in sunlight while you bathe? The benefits of natural sunlight boost your mood, health, and wellbeing while showcasing exquisite bathroom design.
Bidet
While an essential feature of European bathrooms, bidets are gaining popularity as a luxury feature of U.S. bathrooms. Some luxury toilet designs even have bidets built-in, taking care of every function you need from cleaning to drying. Bidets are a top of the line bathroom feature for the most refreshing bathroom experience.
Talking about your options with an experienced design build contractor allows you to exclusively identify your needs and goals. This allows you to incorporate the ideal top of the line bathroom features for your unique remodel.