As we enter the colder months of the year, it's clear that the holidays are here once again. Some homeowners are gradually starting to buy gifts here and there in an attempt to beat the last-minute shopping rush. Others are already breaking out the tinsel and holly. And you?
You've actually had your heart set on sprucing up your bathroom a little in time for the holidays. After all, a bathroom remodel is a great investment, and doing one in-theme for the holidays is also pretty novel. If you've got the resources for it, then why not?
It's not as uncommon as you might think. Here are some simple yet stunning things you can do for a bathroom remodel right before the holidays.
Fresh Paint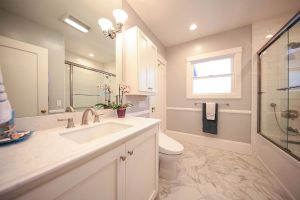 One of the easiest—and resource-friendly—ways to spice up your bathroom for the holidays is to add a fresh coat of paint. Maybe you're sick of the same pale blue walls you've had for the past two years. Or maybe the cute wallpaper you picked out is starting to flake and curl at the edges. Or maybe a nice, deep, jewel-tone red would just go really well with the brand-new emerald green carpet you're getting.
Whatever the case, investing in paint for your walls or ceilings is an easy and festive bathroom remodel you can do before the holidays.
New Tile Backsplash
If you don't feel like doing anything drastic to your walls, install a new tiled backsplash! These protective elements are small enough that they're relatively easy to install but visible enough that they can make a statement. Try getting it in festive holiday colors like variations of red, green, white, or gold. Or look for tiles with creative thematic designs like leaves, wreaths, berries, trees, etc.
Use Metal Finishes
A big trend right now that's perfect for the holidays is using metal finishes on small accents for a really classy touch. For example, brushed bronze handles on cream-colored wooden cabinets, or gold-painted trim on mahogany vanity.
This holiday season, why not use chrome or sterling silver on the handles of drawers, the borders of mirrors, or the finer details of room décor in your bathroom? This is yet another bathroom remodel that can completely change the way your bathroom looks despite being straightforward and simple to do.
Turn Your Vanity Space Into a Separate Powder Room
You'd be surprised how different your bathroom will look and feel when you separate your vanity and beauty items from the rest of the bathroom proper. Powder rooms may be old fashioned, but they're making a huge comeback, so give your holidays a little classic twist by creating one! It's a little harder than buying some paint and slapping it on your walls, so be sure to work with a professional design-build company for this particular remodel.
More Mirrors!
Here's the thing about mirrors: they are as versatile as they are functional. Aside from providing a reflective surface for you to use, a mirror can also add depth to a room. It can make a space look bigger. When angled right, it can provide extra illumination, making a room look brighter. And if you get one that complements your space perfectly, mirrors can double as decorations.
If you have the resources for it, why not look for a holiday-themed or visibly festive mirror? If you're feeling bold, you can get one that is very obviously festive—i.e. a red-and-white candy cane-striped border, or one with graphic, Christmas-themed details like gift boxes and stockings—as a sort of caricature statement piece.
If you don't feel like investing in a once-a-year thing, you can always get a more muted design, like a wooden-framed mirror with designs like tinsel, evergreens, berries, holly wreaths, or snowy elements carved in the wood.
Some people—like well-meaning friends or colleagues—might discourage you from investing in a bathroom remodel before the holidays, stating time issues and impracticality. However, don't let them get you down! The best time for your bathroom remodel is dependent on your schedule. So if you have the time, money, and effort for it—not to mention a reputable design-build company by your side—then by all means, go for it.