As we settle into the new year, you might be starting to think it's time for a new bathroom. If you want to undertake a bathroom remodel for your home this summer or fall, now is the time to start planning your remodel. The first step is collecting ideas for your design. Here we look at some recent designs that are more than just trends of the year – these are trends that are here to stay.
Lighting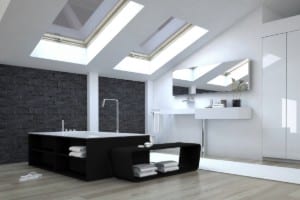 Lighting is always a huge issue for homeowners in bathrooms. You want to strike the right balance between soft relaxing lighting for ambiance, and targeted task lighting around the mirror and vanity where you need it most. Many bathrooms spaces are also compact and need to remain clean-looking, so expert lighting design is crucial to get the look and the light that you need. For a sun-drenched shower, try installing a skylight above your shower or bath. It's also great to be able to adjust your bathroom lighting so consider installing dimmers as you might in other areas of the house.
Heated flooring
Nothing is more welcoming than a warm bathroom on a cold morning. Heated flooring for bathrooms is one of the most efficient and cost-effective options as well, and it saves tiptoeing across the cold tiles. Not to mention that the remodel process is the perfect opportunity to install in-floor heating. When you're switching out your flooring during construction, you can add heated flooring with minimal disruption to your home.
Instant hot water
No one wants to wait for hot water, and no one wants to see gallons pour down the drain while waiting for hot water to heat up. With the latest technology, your remodel contractor can install an instant hot water device, so that as soon as you turn on the faucet, you get hot water straight away. It works as a hot water recirculating pump where water is heated and maintained at 80 degrees, after which the pump shuts off to save energy. This technology do not only help to conserve water and protect the environment, but this also keeps you more comfortable in your new bathroom.
Statement shower tile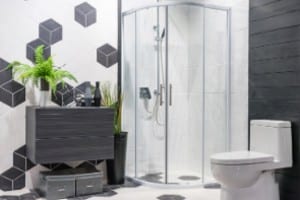 Want to add a splash of color or texture, unique creativity, or depth to your bathroom? Try adding a unique tile to the shower, that adds a splash of color or design without overpowering your bathroom. Choose from the latest tile trends for a statement color or go monochrome with a unique pattern in black and white for your shower recess.
Monochrome
No color scheme? No worries. If you can't decide on the perfect color scheme for your bathroom, you don't have to with monochrome baths, just choose one muted color for your bathroom, or juxtapose black and white for a gentle, yet creative design.
Floating vanities and freestanding tubs
If you want a statement for your bathroom, floating vanities and freestanding bathtubs are still all the rage and don't show any signs of becoming unpopular. These help to create a feeling of lightness in space in your bathroom which creates clean lines and a sense of roominess in an area that is often more compact.
Subtle Storage
In bathroom design, less is more, except for storage. With a focus on practicality, bathrooms are all about ample storage space that is skillfully designed and subtly blended into the structure of your bathroom. Expert design-build consultation for your bathroom remodel ensures you get maximum practicality and storage while keeping it stylish and streamlined.
Create your bathroom remodel this year by working with an experienced design-build firm like Gordon Reese Design Build. With expert and skillful design, you can incorporate these 7 here-to-stay bathrooms trends that will keep your bathroom design trending long after 2018.