The prospect of a new home can be promising, more so with the promise of fresh remodeling ideas to make it your own. The key to making your remodeling project a rewarding endeavor is making decisions based on functional and aesthetically pleasing designs.
As homeowners, making innovative installations in your home not only adds market value to your property, but it also guarantees a sense of pride and fulfillment you can only get when you have a home that looks and feels great. Convenient, creative, and downright clever home remodeling ideas can make your house a home personalized to your unique tastes.
Stairs as Storage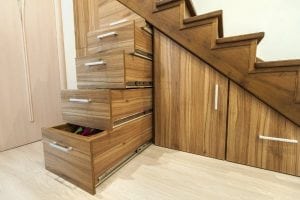 In need of storage space? You can build pull out storage bins under your stairs! You can use them to store shoes, allowing you easy access to your footwear. Now, your flooring won't have to suffer from scuff marks.. Also, having proper storage space for your shoes will prevent instances of pets ruining your favorite pair.
Alternatively, if you're a little sentimental about your old records, mixtapes, CDs, and other keepsakes, you can store them in your under-stair storage space. It's much better than keeping them up in your attic where it's dusty and drafty. Plus, keeping them in your stair-storage makes them much more accessible.
Stair Wall Image Racks
Maybe your lounge style is too minimalist to display family portraits, but you still want to showcase those cherished moments. Solution? Stair photo racks—especially if you have a particularly wide staircase. Your guests can stop by during visits and look at your display photos.
You can also use these spaces to display your diplomas and other documents worth showcasing. Be reminded of the good times and achievements every time you climb up the stairs.
Automated Sunroof
Whether it's vitamin D you're after or just plain sunshine, you can get it while in bed. Installing a sunroof will turn your dull ceiling into a private sunbathing and stargazing gallery. If it gets too hot; you can always opt for a retractable sunroof which you can close after a few minutes of warm sunlight or a night of stargazing.
Want to Increase The Value of Your Home? Here Are The 3 Things You Need to Know to Increase Your Home's Market Value!
Sink Drawers to Maximize Space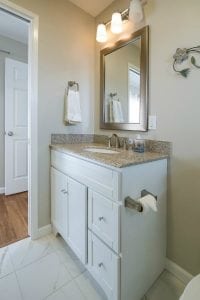 Make your kitchen clean-up experience easier with drawers under the sink. Ideally, you can use them to store cleaning agents and supplies, consequently making them easier to reach when needed. This kitchen design also saves space by eliminating the need to add a separate utility drawer or cupboard. Furthermore, you won't need to go around your house looking for your cleaning supplies, effectively saving you time.
In-Wall Pest Control
One of the best home remodeling installations you can get is an in-wall pest control system. With this installed, your local pest control won't have to squeeze into crawl spaces and other tiny areas. They'll simply install a pest-tube and inject chemicals or agents into the tube whenever you have pest problems. It's an efficient, long-term investment that'll save your walls from being broken down, and from other precarious and expensive measures when you have a pest problem in the future.
Popup Electrical Outlets
Say goodbye to the days of extension cords in the kitchen or moving appliances to reach electric outlets. With a popup electrical outlet, you can simply move kitchen appliances on the counter top to plug them. You can even use this to charge your smartphones and other gadgets easily.
It's out of reach for small kids; hence, safer than typical outlets and more practical to use than outlets installed near ground-level. The best part is, popup electrical outlets won't take up real estate on your countertop because it can be pushed flat when not in use and you can put an appliance on top of it.
As homeowners, you want your homes to reflect the atmosphere and look that's uniquely you and your family. While numerous homes have adapted modern designs, they remain tediously conventional in terms of use and appeal. Make yours different and invest in these exceptional home remodeling ideas.