When it comes to renovating your house, there are two things you should consider: personal comfort and market value. It's imperative, first and foremost, that you're happy with the changes you make to your home. After all, you'll be the one living in it until further notice. Once that's ticked off, you should then focus solely on the increase the value of your home.
If you're planning on renovating your home, might as well make it an investment instead of an expense, right?
There are whole lists of upgrades and overhauls you could do to increase the value of your home, depending on what you're looking for. To get you started, here are 3 absolute truths you need to know about increasing your home's market value.
#1. Paint Solves all Problems
Paint is one of the best, most cost-effective ways to improve a house's overall look. Patchy paint jobs and faded, antiquated shades can make any wall look shabby and aged. Applying a fresh coat of paint to areas that need it can instantly brighten any room, making it look new and appealing.
Research shows that certain shades can even increase the value of your home. According to a 2017 analyses, painting bedrooms and living rooms in shades of cerulean, navy blue, powder blue, and periwinkle can increase home value by roughly $5,440 on average. On the other hand, rooms that come in white or off-white are valued at $4,035 less.
#2. Strive for the Best Bathroom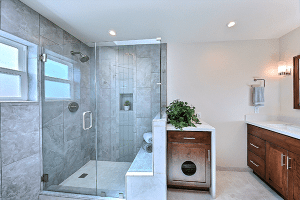 Remodeling or revamping your bathroom can earn you big brownie points on the market, especially since most buyers consider the bathroom to be one of the most important deciding factors during the purchasing process. According to Yahoo! Finance, bathroom remodels can actually add the most value to the house—when done properly.
You want to prioritize function over fashion when upgrading your bathroom, but you shouldn't disregard style completely. To truly boost value, invest in bathmats for a touch of class and throw in a window for a dash of natural lighting. You can re-glaze the bathtub instead of getting a new one to save on renovation cost, and build a vanity into the wall rather than buying a full set to save more space.
And while we're on the topic of space, bigger isn't always better. As long as the space is effortlessly and artfully utilized, you won't need to knock down a wall or two to expand the bathroom.
#3. The Kitchen Is Gold
Consumer Reports surveyed first-time homeowners (most of which were millennials) to know which room they prioritized when house shopping. According to the data, more than ⅓ of the respondents considered a "modern/updated kitchen" to be top priority. Now, this doesn't necessarily mean you have to go ham and spend thousands of dollars on revamping your kitchen. As with the bathroom, upgrading simple details can go a long way in increase the value of your home.
If your appliances are dated, you definitely should look into switching out some key pieces—stove, oven, microwave, refrigerator—with black stainless steel versions. As we mentioned earlier, a fresh coat of paint in powder blue or periwinkle can also do wonders for the overall look. If it's in your budget, you can install granite or quartz countertops as well for the added wow! factor.
>>Learn How to Improve Property Value with Curb Appeal
Bonus: Small Details can Equal Huge Pay-Off
So many homeowners fail to realize that simple changes can yield incredible results when done correctly. For instance, an open floor plan is aesthetically more desirable than a house expansion. Switching to energy-efficient lighting can raise overall house equity better than vanity or luxury lighting can. People prefer a clean, classy, and minimalist room over loud, gaudy, and overcrowded.
Basically, do your research, contact your local Design Build firms, get multiple opinions, and don't always assume that "bigger" or "extravagant" is better. And if you're not sure where to start, you can always hire a professional for help.