When it comes to remodels and renovations, a lot of focus is placed on the interior of the home. As a homeowner, it's where you spend most of your time. But for bystanders or visitors looking at your home, the first impression is created by the exterior of your home. Your home's external appearance can send a message to the world about your home's style, condition, and even more importantly its value. Your home's external appearance is aptly referred to as 'curb appeal' and here's how it can make a difference to your property value.
Give Your Landscape a Makeover
One of the first things that visitors (or potential home buyers) notice is the front yard. If your yard is overgrown with weeds, filled with wayward branches, or covered with dry, thirsty grass, it's going to detract from the appearance of your home. A landscape makeover that involves a redesign of garden beds and the additional of new plants and trees can really change the outside appearance of your home. Converting to a drought-friendly garden is an even better investment, as it saves water, maintains its presence, and stays beautiful even without heavy maintenance.
Clean Up Hardscapes and Exteriors
Dirty house siding, paths, and driveways that are discolored or covered with mold and moss can make your home appear unclean and unkempt. High-pressure cleaning can easily shift moss, mold, and dirt to reveal hard surfaces that look like new. Cleaning up your paths, driveways, and front steps can also improve their safety, making your home more appealing to visitors or buyers.
Shape Up Your Softscapes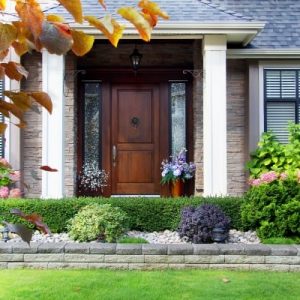 'Softscapes' include adding plants, trees, edging, and mulch to give your yard color, texture, and structure. These are also the easiest aspects of your landscape to update and replace, so reevaluate your softscapes every few years to consider how you can create a more beautiful and inviting front yard. Quality softscapes add lasting value to your home, as well as lowering utility bills by saving on heating and cooling costs.
Fix Your Roof
Loose shingles and holes in the roof don't just lead to leaks they also look terrible as well. The roof is one of the first things a buyer will notice, and it's one of the first aspects an appraiser will assess. Fixing up your roof is a simple job that can boost curb appeal and improve your home's value. Even if your roof isn't damaged, the pressure to clean and remove the decades of leaves, debris, lichen, and moss from your roof can spruce up your curb appeal.
A Fresh Coat of Paint
If your home exteriors are looking tired, outdated, and unattractive, a fresh coat of paint provides an instant rejuvenation for returning your exteriors to their former glory.
Add a Deck or Patio
A front deck or patio makes your home more appealing, exciting and attractive, plus it gives you a place to enjoy warm sunny afternoons in comfort. House Logic calculates that adding a deck provides a return on investment of up to 106%, making it a smart choice for curb appeal and property value.
Create the best possible first impression for your home by boosting your curb appeal with these tips to create a more beautiful, comfortable, and valuable home exterior.