Designing your own patio, pergola or pavilion provides your home with the ideal outdoor entertaining space, while offering extra outdoor living space that the whole family can enjoy. But creating the perfect patio can be a daunting task, as you balance your home design, the outdoor environment, and the elements. If you're planning on designing a patio area this Spring in preparation for summer, here's your list of must-haves.
Outdoor Kitchen Space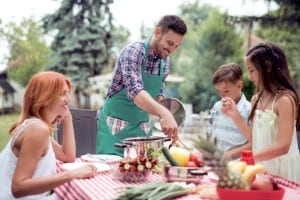 Nothing completes a patio like an outdoor kitchen space. When you're entertaining outdoors on your patio, why not enjoy the ultimate experience by cooking outdoors with your friends and family too? An outdoor kitchen can provide all the tools you need for preparing delicious meals on warm Spring and Summer days, including grill, prep space, sinks, and even refrigerators.
Storage Separate From Entertaining Space
What's the one thing that every patio needs more of, but no-one thinks about? Storage space. You're going to need somewhere to keep soft furnishings like pillows, cushions, blankets and any accessories like lamps, candles, and decorations when your patio is not in use. Including a storage area away from the entertaining space ensures you have somewhere safe to stash accessories while maximizing your entertaining space.
Outdoor Lighting
Outdoor lighting is an essential aspect for outdoor entertainment areas like patios, for safety, ambiance, and comfort. While you might supplement your outdoor lighting with mood lightings such as lamps and candles, having some solid fixed outdoor lighting is essential for your patio.
Entertaining Space
If you want to make the most of your patio, be sure to include adequate entertaining space. Take the time to really think through and plan how many people you're likely to host of a regular basis, seating plans and furniture layouts that match your needs so that you can plan the right size patio for you.
Create Big Shade
Summer days can get hot, and you don't want to be sitting under the full force of the sun. Choose a shade option that offers a significant surface area, to not only cover your patio but the surrounding perimeter as well. A pergola, large umbrella, or pavilion keeps your patio and the surrounding area cool, for maximum comfort and keeps your protected from the rainy weather.
Night Time Heating
Even in Spring and Summer, the nighttime temperature can really drop in California. Patios need additional temperature regulation and control for your ideal level of comfort. Standing gas heaters help to maintain a comfortable temperature outdoors or choose a fire pit for an added attraction for your patio and s'mores!
Drinks on Hand
When you're entertaining outdoors, you don't want to be going in and out of the house just to grab a drink or a snack. Having cool storage outside, such as a bar fridge, keeps drinks on hand to make entertaining smoother and more relaxed.
Integrating Landscape and Patio Design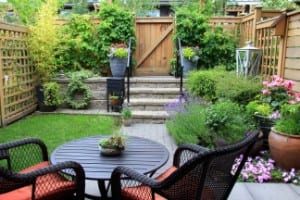 Nothing looks worse than a patio that doesn't match the home or the landscape. Your patio design should be carefully matched and incorporated into your home and landscaping so that the entire outdoor environment ties into the lattice and overall outdoor appeal.
Creating the Ambience
Homeowners love outdoor entertaining spaces for the natural ambiance and relaxing environment they offer. If you want to go all out creating the perfect relaxing outdoor retreat, install surround sound for your patio, or add a water feature or waterfall for your landscape, for the ultimate entertaining escape.
Spring is the perfect opportunity to design and build a patio to help you enjoy the warmer months. For the ultimate outdoor retreat and entertaining space, design your patio with these 9 essential elements and make the most of the warm summer days.