Whether you're planning to sell it eventually or you're staying for good, exterior remodeling is a good way to increase your home's market value. As a homeowner, there's a certain sense of happiness and pride in seeing the finished result and knowing you helped make it happen. In terms of aesthetic, the fresh, new look can also subsequently rekindle your love for your home.
Although it does have its merits, exterior remodeling is, however, an understandably complex procedure. Mistakes are not uncommon, especially for people who are new to the whole modification process. Regardless of the scope or scale of your project, these mistakes can make or break your home's new look. To add insult to injury, they can also be quite costly.
Here's what you need to avoid:
Saving Money by Opting for Cheap Paint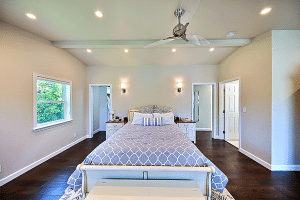 A lot of homeowners have the same attitude when it comes to choosing paint; if they can shave a couple hundred bucks off the cost of the remodel by choosing a cheaper brand with the same shade, why not? After all, it's just color.
What a lot of people don't realize is that choosing good quality paint the first time around can eventually save you thousands by eliminating the need for constant retouches and paint jobs. Bargain brand paints can begin to chip and flake after only two or three years following the initial application, whereas good exterior paint can last up to five or six without needing a touch-up.
Cheap paint can also run a little thin, which means it might take two or three coats of paint to actually get the desired color and opacity. Top brands are nice, thick, and can completely cover bald areas with just one swipe.
Choosing the First Contractor You Find
When choosing a contractor for their exterior remodeling project, most homeowners don't really put in the time and energy to scour the market. Instead, they rely solely on recommendations and references from friends or acquaintances. If there aren't any referrals to go off of, they typically end up hiring the first decent contractor they interview.
If you want to get your money's worth—financially and logistically speaking—you need to shop around. Get several estimates, do semi-extensive research into each company, and create a list of non-negotiables to help you narrow down your choices. For instance, you don't want to work with a contracting company that isn't bonded and insured. Put that on the list. To avoid delays, you only want to work with contractors operating within your neighborhood or immediate area. That goes on the list, too.
Once you find contractors that meet all your standards, you have a narrower list of options to work with, making it easier to pick the best possible one. Use things like reputation, testimonials, previous projects, and value for money as deciding factors to help you decide.
>> Learn 5 Tools you Must Have to Help You Organize Before your Remodel
Addressing Only Aesthetic Concerns
It's human nature to want to look good, and that desire extends to our house, which is why homeowners are happy to spend thousands—or even hundreds of thousands—to repaint their entire house, install trendier, classier windows, switch to mahogany or rosewood doors, put up ornate siding, re-shingle their roof … the list goes on.
Unfortunately, one of the most costly—and perhaps the most common—exterior remodeling mistake a homeowner can do is disregard critical repair areas in favor of taste and aesthetic. For instance, your home's foundation might need more work than your home's color. Alternatively, the ornate siding may look great, but is it really protecting your walls?
While there's nothing wrong with sprucing up a house's look, exterior remodeling should address functional concerns before aesthetic ones.