There is a high premium placed on luxurious master bathrooms in the general home design niche. They are often one of the first areas prospective homeowners consider when choosing home options. Homes with upscale, spacious, or well-appointed bathrooms get more bids and sell at a higher price.
This is one of the main reasons why people consider a bathroom remodel to be an investment. By design, they represent a place of peace, pampering, and privacy. They're also quite versatile in nature, allowing for a wide variety in interior design and material choices.
Bathrooms only need a few basic elements to be considered as such—everything else can be considered creative touches that make the bathroom unique to each owner. The shower area is a particular base element that tends to become the main focal point during a bathroom remodel.
If you're considering remodeling your bathroom and want to achieve your dream space, keep reading.
1. You Need A Logical Layout
A logical layout is well thought out and strategically organized. Even a large bathroom can feel cramped and claustrophobic if there isn't space to freely maneuver and the amenities are placed in odd places. Consider the size of your bathroom and the features you want to include, and then plan accordingly. Take everything into account—the sizes, the shapes, the heights, the dimensions, how you will use each feature and when … the more detailed, the better.
Ask your contractor about wet-wall layouts and which one they think would work best with your vision. Will a one-wall layout best maximize your space without limiting design and compromising aesthetic, or will a flexible two-wall layout better suit the ideal placement of your sink, toilet, and shower?
2. Prioritize Function When You Have To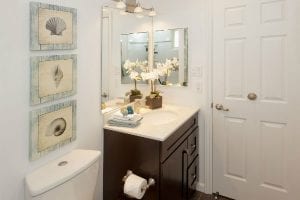 Ideally, we would like to balance function and fashion perfectly. However, there are times when one has to take precedence over the other. In the case of a bathroom remodel, we highly recommend prioritizing function.
A bathroom provides comfort and privacy. A lack of functionality can compromise the comfort it gives. For example, a complicated shower system might mean you have to spend a few extra minutes fiddling with the controls before you can take a bath. Trendy tiles rather than comfy bathroom rugs mean dealing with cold floors in the morning. Clear glass for a shower enclosure will give you beauty but will compromise your privacy.
When selecting the products and materials you want to use in your bathroom, always consider their features, benefits, and advantages in terms of functionality and the comfort they'll provide.
3. Allow Little Luxuries
Of course, your personality and personal preference should always factor into your bathroom remodel decisions—especially when designing your dream shower area. When choosing the amenities, design, flooring, features, and layout, allow yourself one or two little indulgences. Whether they're choices that boost comfort (heated flooring, a shower bench, Jacuzzi jets in the tub) or aesthetic value (gold edges, marble tiles, jade accents, crystal décor), these little luxuries can make all the difference.
It's good to be practical, but in the end comfort and happiness are key to a successful bathroom remodel. And besides; adding these personal choices can add character, comfort, and emotional value to your bathroom.