There are many choices to make when you design and remodel your kitchen. However, the basic layout is among the first decisions you must make. Kitchen layouts tend to fit within a small selection of style categories, and the best choice for your home will depend on your preferences, needs and the space you have. Here we look at the factors that go into choosing the right layout for your kitchen, along with the most popular style choices.
Most Common Kitchen Layouts
When it comes to kitchen layouts, these are the most common and popular choices: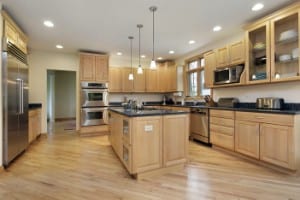 One-Wall: The one-wall or "Pullman kitchen" is the ultimate space saver, usually found in lofts and studios. As the name suggests, the one-wall kitchen has all appliances and cabinets against just one wall. Adding an island next to a one-wall kitchen creates a galley design.
Galley: Galley kitchens are another type of compact kitchen style that provides a walk-through space with kitchen appliances and cabinets on two opposite walls. Galley kitchens make excellent use of the available space, but still only offer limited storage and countertop space.
L-shape: L-shape kitchens feature two perpendicular benchtops, and are a smart choice for small and medium-sized spaces, maximizing corner space and eliminating traffic, which makes the kitchen easier to use. L-shape kitchens also allow for dining space and multiple work zones. However, if you have space, it's better to upgrade to an island.
Horseshoe: Horseshoe or U-shape kitchens consist of three workspaces connected in a u-shape or an L-shaped kitchen with a separate island making up the 3rd side. Horseshoe kitchens are popular because they maximize workspace while adding an island to help provide even more space for traffic and workflow.
Peninsulas: Peninsula kitchens are just connected islands. These can create Horseshoe kitchens out of an L-shape, or create a G-shape kitchen from a horseshoe kitchen. While kitchens require a certain amount of clearance to include an island, a peninsula can function as an island while offering more clearance.
Islands: Islands make a fantastic additional workspace and cabinet space to a kitchen. However, the biggest mistake is thinking that every kitchen needs an island. Discussing the square footage and clearance, you have available for an island in your kitchen is essential before deciding to add one.
How to Choose a Layout
Easy Functionality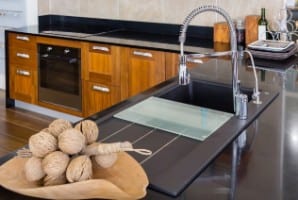 Your kitchen may be among the most active and lively rooms in your house, and so the layout needs to support functionality. Many years ago someone realized that there are three areas in the kitchen that are accessed or used more than any other. These are the sink—where you wash produce and dishes. The stove—where you cook and bake. And the fridge—where you will frequently retrieve and put away food ingredients. To make the workflow easier, designers realized it was advantageous to make most layouts in a triangle shape, with these three items at the corners. This trinity became known as the "work triangle."
Work Triangle
Using the work triangle in the approach to choose your kitchen layout is a prudent choice, as it maximizes the use of space and efficiency. However, some modern design approaches may require a modified triangle. Kitchen peninsulas and islands are increasingly popular. With an island, this gives, even more, counter space, but it could make the corners of the triangle slightly harder to reach with a blockade to walking in the middle. Ensure your kitchen has adequate square footage and clearance before adding an island to maintain the work triangle as best as possible.
Open Plan
In the past, kitchens tended to be shut away at the back of the house. However, today open concept kitchens are increasingly popular. This approach allows kitchens to be more within the heart of the home where function, fun and entertainment blend harmoniously. If you like to host parties, you may want a kitchen that opens into your entertainment area, which will let you mingle with your guests, even while still completing meal-time prep. If you have children, open plan kitchens are an excellent choice. They allow a busy parent to watch over their children and prep a meal simultaneously. In this case, you may want your kitchen to be open to the living room or family room.
Personal preferences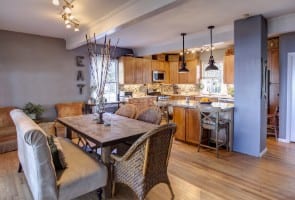 As you design your kitchen layout, your personal preferences should also play a big part in the decisions. You may want specific features in your kitchen to match your lifestyle (examples include a wine fridge or an easy-to-access pantry). You may want a seating area at a counter island or peninsula where your children can eat breakfast. Think about your lifestyle and needs. Envision what you would want a day in your kitchen to look like and let that vision guide your decisions.
As you design your kitchen, working with a professional home design and remodeling company will be helpful. These experts can help turn your ideas and dreams for your kitchen into a reality. Talk to Gordon Reese Design Build today about finding and creating the ideal kitchen layout for your home.