One of the reasons Gordon Reese Design Build prides itself on providing such high-quality results and a first-class remodel experience, is because we know what it's like to be left in the lurch by unreliable, unprofessional and unqualified remodel contractors. In this blog, Michelle Reese shares her remodel story of being left with a half-finished bathroom, a runaway contractor and a big mess, and how it helped to make Gordon Reese a better home remodel provider.
"My master bathroom had been gutted. There was bare sheetrock on the walls, with only the nubs for the faucet, handles, and drain. The sewer line to the toilet sat bare on the floor. The only thing that seemed to be finished was the new mirror and LED lights."
My contractor, who had completed the hall bath the month before, had not shown up for a few days. Confused about the schedule, I phoned him and left a message. I waited most of the day, then I phoned him again. The next day, and the next, and the next, I went through the same routine. Sometimes I left a message, sometimes I just called back.
"After a week of phone calls and unanswered messages, I finally believed what I already knew from the voice deep inside of me. He wasn't coming back. This unnerving realization set in as I had 2 children, 1 and 5, along with a couple of cats running around the house. I couldn't leave the bathroom unfinished, because I kept thinking, 'What if?' What if a cat tried to crawl down the sewer pipe? Or one of the kids climbed into the crawl space under the bathroom?"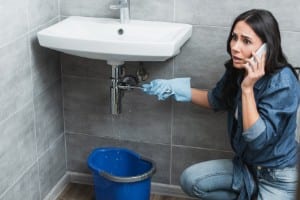 But it also seemed unfair and inconvenient to have to hire another contractor to come in and finish what the first one didn't. I thought I had hired legally; I always go by the rules. I'm sure I checked the license and even chose the contractor based on a neighbor's referral. I simply couldn't work out what went wrong. But I knew one thing. I had to finish the bathroom.
So, I set to work. I started researching shower installation companies that could reinstall the shower we wanted. They came in and did their part. Then I had the toilet from a local home improvement store installed by a handyman. Check. Next came the flooring, also from the home improvement store. One by one, I hired subcontractor after subcontractor, hoping and praying that they would show up each time and do the job right. When the final coat of paint went on, I breathed a sigh of relief. Our master bath was done!
And I learned some very important lessons.
There are not many contractors who have hired someone else to remodel for them. They have the skills, so they usually do any of their home remodels themselves. But this was a real learning experience for me, to see for myself how it feels to have someone come into your house, tear it apart day after day, then rebuild it. Most contractors don't understand how it really feels to have the fate of your home in someone else's hands for a while, or to deal with all the stress, noise and mess a remodel brings.
Although I am now a co-owner of a design build remodeling company, I had a lot of remodeling done by others before I joined the company. So, I know first-hand what it's like to have your home remodeled and what clients need. Much like a doctor provides better care by having been a patient.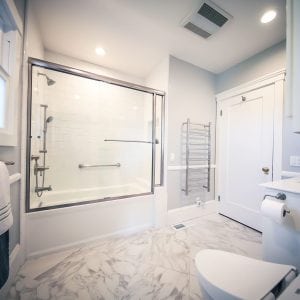 I've had that white fine dust through my house during a remodel. I have had to be out of my PJs and ready to greet the crew at 7:30 AM each day. I've
had to watch the kids around the worksite to make sure they don't get hurt. I've hired and fired contractors. I've paid a contractor off too early because he begged me for the remainder after a death in his family, only to have him never return to the job site to finish the work. I have had the City drive by, see a remodel in progress, and put a work stoppage on a landscaping project because the contractor never told us to get the permit we needed. When we got it the next day, we had to pay penalties for not knowing that we needed a permit.
"And I always did my due diligence. I always asked for a contractor's license, and I hired people who were referred to me."
I went to other homeowner's homes to check out the work done and get references for people I intended to hire. I've always done my best to go through the right process and choose the highest quality contractors I could find and effectively communicate my plans and schedule with them.
However, going through all of this taught me more about remodeling and what our clients need more than anything else. Sometimes personal experience, even if difficult, can be the greatest teacher, and my experience is what inspires and drives me to provide the highest quality customer service, the most effective communication and outstanding remodel results with Gordon Reese Design Build."