You've decided to update or upgrade your home through a couple renovations. Great! The journey you're about to embark on is exciting. Home renovations can instantly add color, life, and value to any home, allowing you to turn something bland into something bold, something plain into something full of life. What's more, a home remodel allows you to put a more personal spin on your current living situation—something almost all homeowners want.
As you might expect, what looks great on paper doesn't always translate well in real life. There's a wide gap between concept and execution, and home renovations are no exception. Recent techniques and technologies, like 3D modeling and the design build approach, have made it easier for people to bring their dream homes to life, but that isn't a free pass to disregard caution and best practices.
If you're going to dive into a home renovation, it's important that you prepare yourself as best as you can. You'll need to know the trends, techniques, average price points, and the all-important what-not-to-do's before fully committing to a remodel.
HOME RENOVATIONS: An Overview
Perhaps the only difference between remodeling one room versus remodeling an entire home is the project's scale. Although the latter is obviously a bigger project, both single-room and whole-home renovations require careful consideration, proper preparation, and a good amount of planning.
In this series, we're going to briefly discuss kitchen renovations, bathroom renovations, and whole house renovations. The kitchen and the bathroom are the two most commonly renovated rooms, as they're the ones that also play a huge part in dictating a home's market value. That being said, we want to shine some light on a number of kitchen, bathroom, and whole-home trends we've seen in the past couple years.
KITCHEN RENOVATIONS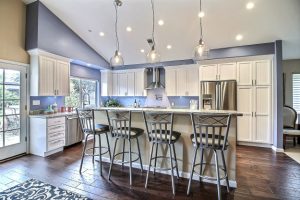 Many homeowners don't start renovating their kitchens until the chips in the cabinet paint have become a little too obvious, or the sauce stains on the counters have become a little too permanent. But even then, they only focus on the aesthetics or the immediate wear and tear.
In truth, there will always be room for improvement—especially in the kitchen.
The National Kitchen & Bath Association (NKBA) urges homeowners to seriously consider renovating their kitchen before visible damage or obvious inconveniences set in. For instance, if the space no longer seems adequate, the traffic doesn't flow as smoothly, and the appliances aren't as efficient as they used to be, it might be time to invest in a general kitchen remodel.
Common kitchen renovations include:
Pops of Color. More and more homeowners are leaning towards clean, minimalist themes using solid, stable colors like whites, creams, dark browns, and blacks. But what's really popular now is complementing this streamlined look with pops of color that really stand out against neutral backgrounds. For example, emerald greens and rich plums against white walls and solid cream cabinets; or, alternatively, pale pantones like pale pink or dark rose against dark brown drawers or chrome black splash walls.
Smarter Storage. The minimalist approach of "less is more" is not necessarily limited exclusively to visual design. A rising trend in kitchen remodels has been utilizing storage space; not necessarily expanding it, but being smarter about it. For instance, more homeowners are swapping overhead cabinets in exchange for counter cabinets and drawers under sinks, countertops, and kitchen islands.
Not only does this visually open up the kitchen—making it look bigger, more breathable—but it also gives your counters a dual purpose, making them both surface and storage areas.
New/Smart Appliances. Appliances play a huge role in a kitchen's use value. That's why it comes as no surprise to us when homeowners decide to replace or upgrade their kitchen appliances. Smart technology is a rising trend, and we see it in the smart refrigerators, microwaves, and even lighting systems.
Of course, upgrades don't necessarily have to be smart. Simple changes like getting new appliances in a specific color—like buffed chrome or matte black—to suit the color scheme are quite popular kitchen remodels as well.
So how much would a kitchen remodel cost you?
It depends on several factors, really, with the scope of your project being one of the biggest deciding factors and the cost of living in your area being the other. As with any renovation or remodeling project, it's best to use your zip code to discover your local average cost for a kitchen remodel. You can even use our free guide to get a better estimate of how much your project will cost you.
BATHROOM RENOVATIONS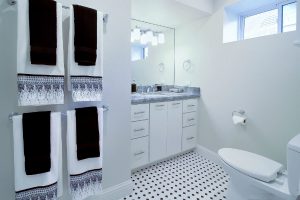 Not a lot of people realize the multi-functional aspects of a bathroom. It's almost insane just how many purposes it serves. It can be a washroom, a comfort room, and a dressing room. It's a powder room for when you need to do your makeup and a meditation room for when you need a long hot bath after a particularly trying day. And for families with pets, it's just as much your doggy's bathroom as it is yours.
That's why we encourage homeowners to push through with bathroom renovations. We know how important that room is, and so it serves you best to optimize that space. .
If you're planning to give your bathroom a fresh new look or a classy upgrade, look at some of the recent bathroom trends we've seen:
Darker Tones. What is it about solid black that just makes a room look cleaner and classier? Why do deep mahoganies and dark blues look so rich? Whatever the reason, solid dark colors are gaining popularity in bathroom remodels, and we've yet to see this trend lose traction.
More Mirrors. A bathroom with no mirrors just looks odd, Unfinished, and off-balance. That's because mirrors are beautiful and multipurpose. They can decorate a room, make a space appear bigger, complement a theme, or establish crisp, clean lines.
A crowd favorite seems to be using frameless mirrors for a smooth, seamless finish to their walls. Alternatively, decorative frames with interesting designs and textures are just as often selected.
Smart Tech. Like kitchens, bathroom remodels also seem to be leaning towards smarter, techier upgrades. The most common installations include underfloor heating systems (to keep those toes toasty) and smart water temperature regulations. Smart lighting systems—especially around the vanity and body mirror areas—are also a popular choice amongst homeowners.
So how much would a bathroom remodel cost you?
As with a kitchen remodel, the cost to renovate your bathroom will depend on several factors: the scope of the project, materials used, contractor/designer fees, and general area. HomeAdvisor gives two particular price ranges as the national average – one for a small bathroom and one for a master bathroom. Once again, using your zipcode is your best bet for finding out how much your bathroom remodel will likely cost.
WHOLE HOME RENOVATIONS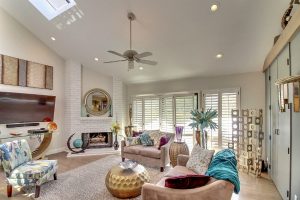 The thing about home improvement projects is that they're all different. Sure, there are features that are similar enough and installed often enough that industry professionals can call them trends, but by and large, all home renovations are unique to the home and homeowner.
This is why home renovation costs are so subjective. In fact, if the home improvement project isn't narrowed to a room or area, it's almost impossible to name a price range.
Thankfully, pinpointing trends in whole home renovations is a completely different (and much easier) story. Here are some whole home renovations data dictates are worth trying:
Aging-in-Place. "Aging-in-place" may not necessarily be a new concept, but it's recently been making bigger waves. According to recent data, a third of baby boomers have aging-in-place in mind when they decide to renovate their existing space.
Multipurpose furniture, functional decorations, and adjustable features are just some popular examples of simple changes that make a house more accessible, and many homeowners certainly see them as improvements worth investing in.
Functional, Affordable Flooring. Everyone loves a good hardwood floor, but the price point and upkeep is simply not for everyone. Enter engineered flooring, like vinyl and laminate. These two have been the go-to choice for homeowners looking to revamp their floors. Why? Because they're just as beautiful to look at as real hardwood, but they are much easier to install and maintain.
The fact that they cost a fraction of the price of real hardwood floors just makes them all the more popular.
Clever, Unlikely Storage. Ever seen bookshelves built into staircases? Or how about couches or beds with drawers built into the frame? Walls and window nooks are perfect spaces to house cushions, benches, or storage chests that you can sit on, and why have a bunk bed when you can have a loft bed with enough space underneath for a workstation-slash-walk-in-closet?
Homeowners are now embracing crazy, creative storage solutions, accepting whatever looks good and maximizes function. From drawer inserts to hollow ottomans and pull-out desks, people are definitely more liberal with how they store their loose items.
Finding a Home Renovation Contractor
Any home renovation project can be overwhelming, regardless of scope, scale, or experience. You're changing a physical aspect of your home and you've no way of knowing, with absolute certainty, whether or not it's for the best—until it actually happens.
This is why you need to find and work with the best home renovation contractor for your project. One that, ideally, has the team, experience, and expertise to handle any obstacle, delay, accident, or last-minute change that is thrown their way. One that is, ideally, respectful, reliable, and efficient enough to keep the project moving forward consistently—on-time and on-schedule. One that, ideally, offers the most value for their price.
Does such a contractor exist?
Yep—definitely. It's just a matter of knowing where to look and what to look for. We've got a couple of tips for finding a contractor that best fits your project.
Ask Your Community. The best referrals are the ones that come from people you personally know. It's easier to validate a company if you can actually see what their work likes and if you can actually get a first-hand account of how they are professionally. Online testimonials work just as well, of course, but we highly recommend getting a solid starting point from your friends or neighbors before you start exploring other options.
Ask Your Insurance Company. A lot of insurance companies have partnerships or agreements with local contractors that are reliable, affordable, and highly-skilled. What's more, it's highly likely that the contractors have already gone through a thorough review and assessment process by the insurance company themselves. After all, they wouldn't want to risk their reputation by recommending subpar businesses. If you aren't keen to do a lot of research yourself, recommendations from your insurance company—whether or not they're covering your renovation—are a good place to start.
Ask For Their License. Once you've shortlisted all potential candidates, it's time to dive into the more technical side of hiring professionals: the paperwork. Ask for their license and credentials—which are pretty much required for them to legally work—and any other official documents they can give: certifications, renewals, awards, and accolades they might have received. Any reputable renovation contractor will be more than happy to provide any of the papers (and like information) that you request.
If you want further proof of their validity, you can also run their information online at the Contractor State Licensing Board (CSLB).
Whether you're renovating your home with the intention of selling it later on (and collecting a decent ROI, may we add) or you're choosing to upgrade parts of it for the sake of personality and practicality, there's no denying that home improvement projects are great investments. As long as you take all the necessary steps to ensure you're ready—time-wise, schedule-wise, and finances-wise—you should be able to manage most any obstacle you encounter.
And if you manage to find a professional who knows what they're doing and understands your vision, you're one step closer to a seamless, low stress home renovation.