Remodeling a home can be an expensive investment. Learn how remodeling increases value of home with these easy to implement tips.
When you ask any expert or industry professional what you can do to increase the market value of your home, most of them will probably tell you to invest in a kitchen remodel. It's sound advice, given how the facts look; according to Forbes, the kitchen is now the most popular room of the house to renovate. Some do it out of personal preference, and others view it as a sound investment.
So how much does a kitchen remodel increase home value?
That depends on the scope and scale of the remodel project. Rest assured regardless of what you choose, there will be a considerable hike in your home's market value. For instance, simply switching out your kitchen's color palette for solid, neutral tones can make it far more attractive to potential buyers. Why? As far as tastes go, neutrals are more universal than bright yellows and pastel pinks.
According to statistics, a major upscale kitchen remodel can yield as much as 54% ROI. So if you spend about $150,000 on your remodel project, you recoup more than half that amount—roughly $81,000 or more. Smaller remodel projects are just as lucrative, with the national average ROI for a minor kitchen remodel coming in at about 81%. That means you can get $16,000 or $17,000 back for a $20,000 kitchen remodeling project.
Bear in mind that ROI for kitchen remodels can also be affected by a number of factors, such as location or season. For instance, homeowners who live in the Pacific area of the US can recoup as much as 93% on a minor kitchen remodel. And according to national data culled by remodeling.hw, homeowners who live in Iowa or North Dakota can enjoy 68% ROI on major kitchen remodels.
Taste of Home
There are multiple reasons why people fixate on the kitchen. Ask ten people and you'll probably get twenty different reasons.
One of the most common reasons, however, is simply driven by emotion. The kitchen represents a room where the family gathers together to eat and be nourished, hence a sort of ingrained sentimental attachment to it. A lot of people also have olfactory or scent memories connected to kitchens—especially if they grew up watching their parents cook or bake.
All in all, a lot of people fixate on fixing up the kitchen because there's just something so purely heartwarming about it.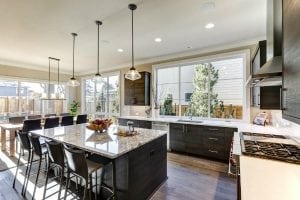 The Luxury Look
According to a 2017 survey, a lot of homeowners admitted that they did a kitchen remodel simply because they "couldn't stand" looking at their kitchen anymore.
Highly relatable, we're sure.
When the wallpaper starts peeling and the granite countertop is covered in stains that just won't budge, there's nothing better than swapping out the dull and dinghy for a fresh coat of chrome and stainless steel.
Want To Avoid an Outdated Kitchen Design? Check Out These New Design Trends For Your Kitchen Remodel!
Purely Practical
But remodeling isn't always purely aesthetical, either. For instance, upgrading the kitchen appliances to newer models, fixing the floors, or installing energy-efficient lighting fixtures are purely practical upgrades that ensure optimal comfort and sanitation when using the room.
A lot of people may start out wanting to remodel their kitchen for the sake of replacing the chipped linoleum tiles for some sturdier laminate flooring, but function eventually finds its way into the overall design. According to a kitchen trends study, most homeowners prioritize changing out the countertops and the sinks—two things that can be both pretty and practical.
In the end, there is no one-size-fits-all answer to how much, exactly, a kitchen remodel will add to your home's overall market value. But there's no doubt that it will. It's a growing trend with homeowners right now that shows no signs of dying out anytime soon.
People love their kitchens, and they love a kitchen that's obviously been taken care of. So whether or not you're planning to sell your home ten, twenty years down the line, a kitchen remodel is still a solid investment—both emotionally and financially.