Whether you're an aspiring gourmet chef who likes to spend hours in the kitchen or a busy parent who prepares meals for your family every night, you want a kitchen that looks good and functions well.
Do you often find that cooking takes longer than you'd like? Do you find yourself crossing back and forth to get everything you need to accomplish tasks? These are all signs that your kitchen design is not quite right. There's such a thing as ideal kitchen design, and it can make your life so much easier. How does your kitchen measure up?
The Most Important Features in your Kitchen
Your kitchen has many components, such as appliances, cabinets, and countertops. However, the three most important features, at least when cooking, are the sink, the refrigerator, and the stove/oven. This is because you store perishable cooking ingredients in the fridge, and retrieve them several times a day.
Most people visit the sink to wash fruits and vegetables. Health-conscious cooks also visit the sink more often to wash their hands before, during, and after cooking, cutting down on the spread of bacteria. And of course, all that cooking happens at the stove-top and in the oven.
The "Work Triangle"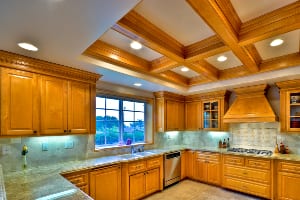 The sink, refrigerator, and stove (or oven) are the three most important components people visit in the kitchen. Kitchen designers have attempted to arrange them in an efficient fashion to streamline the cooking process. This design is referred to as the kitchen "work triangle."
When designing the "work triangle," there are some rules to keep in mind. For instance, it's helpful if each side of the triangle is somewhere between four and nine feet long. This should then amount to, at most, twenty-seven feet total for all three sides. It is important to design the layout so that there will not be any other household traffic patterns that cut through the "work triangle."
Types of Kitchen Layout Designs
Galley
A galley layout, also known as a walk-through kitchen, gives you a two-walled feature for all of your essentials. It's favorable for homes with small spaces.
As a home chef, you'll love a galley kitchen since it keeps your storage and facilities on both sides. It's space-saving, and you can even make use of the walkway in other ways.
Among all kitchen design layouts, this is one of the most traditional options, but it won't work with an open plan concept, which is a more contemporary design.
One-Wall
This layout is known as the Pullman kitchen; it works best on small to medium-sized kitchens. If you have a loft or studio, this is a great design that optimizes space. You can arrange appliances and cabinets in a single wall. Some one-wall designs also allow you to add a kitchen island for extra storage space.
One-wall designs encourage an efficient workflow, plus it's the most budget-friendly layout.
L-Shaped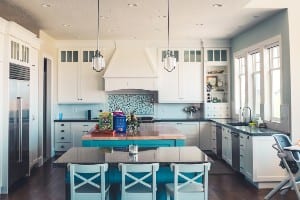 Do you want to maximize your corner spaces? Check out the L-shaped layout.
With this option, you can organize all of your facilities and essentials in three corners and lose one wall for accessibility. L-shaped kitchens are suitable for extra dining space too. You can even add more work zones.
U-Shaped
Also called a horseshoe kitchen, this design works best for ample spaces. In particular, it's an ideal layout for family gatherings and entertaining, as well as creating an efficient workflow. U-shaped kitchen designs provide three walls for your workspace, counters, and a choice for placing an island as the focal point of the room.
Island
Kitchen islands are one of the most popular layouts. If you're ready for a change, this is an elegant and functional design option. For instance, installing an island can transform a one-wall layout into a galley, where you can create a stopping point for everyone to come together. Meanwhile, an L-shaped kitchen can be turned into a U-shape with an island, serving as a focal point for the room.
Aside from providing a nook for dining, kitchen islands add extra counter space for food preparation. Islands also create more kitchen storage space.
G-Shaped
The G-shaped layout, also known as a peninsula, is quite similar to an island. But while an island is typically in the center of the kitchen, a peninsula can be placed anywhere.
This should be your ideal kitchen design if you have limited space for an island, but you want a preparation or dining area on the side.
Giving your Kitchen a Personal Touch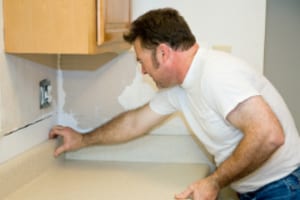 Beyond the necessity of the "kitchen work triangle," modern kitchens can have many other features to match your personal style. When you start remodeling or designing a kitchen, it's helpful to begin with the "kitchen triangle" and work outward. Think about your ideal kitchen design and how you use your kitchen, to figure out what other elements you may want to add.
Reflecting on your existing kitchen, you may realize that one of the reasons it's not working for you is because there is no 'workflow' and the kitchen triangle has not been considered. Correcting this can make your kitchen so much easier to work in, and a pleasure to live and entertain guests.
Your Dream Kitchen
Through reflecting on your existing kitchen, you may realize it doesn't allow for an optimal workflow, or the layout isn't ideal for entertaining friends and family. A design-build professional integrates the skills of home design and expert construction, which can help you choose the best layout for your kitchen space. Gordon Reese Design Build knows your kitchen is the heart of your home. Contact us at (925) 885-3770, or check out our photo gallery online.