Planning a kitchen remodel?. Remodeling Magazine has declared in their 2019 Cost vs. Value Report that midrange and upscale major kitchen remodels can recoup as much as 62.1% of the initial investment. You don't need a professional kitchen remodeler to tell you, that's a pretty good deal.
But before you get a little too trigger-happy with the decorations, the appliances, and the layout, it might be a good idea to take a step back for a minute. There are a few common kitchen layout mistakes that a homeowners fall prey to—completely by accident!
Hindsight is 20/20, but maybe a bit of foresight can help as well. We asked professional kitchen remodelers what the top 3 most common kitchen layout mistakes are. Here's what they told us:
1. Not Checking Appliance Dimensions
One of the most common kitchen layout mistakes homeowners make is neglecting to measure their kitchen appliances. And although most kitchen appliances seem to follow a uniform "standard" size, not every appliance has the exact same measurements. They may seem that way at first glance, but some may be a few inches smaller or bigger.
When it comes to kitchen layouts, a few inches can make all the difference.
Failing to plan for the sizes of your appliances may cause protrusions, unflattering gaps, or otherwise unnecessary obstacles that can hinder your day-to-day kitchen operations.
What to do? An ounce of prevention is better than a pound of cure. Before buying, check your kitchen's dimensions, figure out where each appliance is going, and then use those measurements to guide your purchasing decisions. Because then, the only way to remedy this fiasco post-purchase would be to call in a kitchen remodeler and have them rearrange or reconstruct your kitchen around your appliances.
2. Poor Choice of Lights (and Lighting Placement)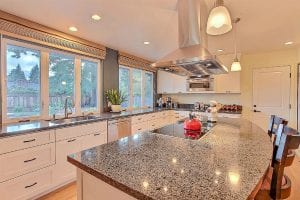 There are two common mistakes people make when it comes to lighting:
Poor lighting placement,
Poor choice of lighting
A lot of homeowners often put light fixtures where the light's reach is not optimized. For instance, above floating shelves or high cabinets,. Or putting them all in the center of the Kitchen where the light doesn't fully reach the countertops, effectively making your prep and work stations heavily shadowed.
If it isn't that, it's them choosing decorative lights over practical lights. Pendants, chandeliers, faerie lights, and decorative scones are all beautiful to look at. However, they more often than not provide mood lighting aka dim lighting that won't sufficiently light your area.
What to do? Always ask a professional kitchen remodeler to recommend lights and lighting placement. They can easily find a solution for you if you want decorative lights that do not compromise light quality. They can also recommend the best positions for your light fixtures to effectively maximize their radius and keep everything well-lit.
3. Wasting Perfectly Good Storage Space
Every home needs a certain amount of usable storage space. Boxes and storage bins are great for keeping loose items, but there's only so much they can do.
One of the many mistakes homeowners make when doing a kitchen remodel is forgetting to include adequate storage for their kitchen items. We're talking overhead cabinets, cabinets under counters, appliance nooks, cutlery drawers, and the like. These are all excellent storage options that can help keep your kitchen clean and tidy but, for some reason, most homeowners neglect to take this into account.
Instead, they're perfectly fine with installing just one set of overhead cabinets and maybe two or three drawers—and then they're caught off-guard when there isn't enough space to store their plates, utensils, pans, pots, cooking tools, spices, and counter appliances.
What to do? Work with a professional kitchen remodeler to figure out how much storage space you actually need. They'll be able to figure this out based on your kitchen's size and the amount of utility you plan to get out of that room. From there, they can help you maximize your space for easily accessible storage.
All in all, having a professional kitchen remodeler, guide your remodel is the best way to ensure smooth, seamless, day-to-day operations. It also ensures you won't make potentially costly mistakes that could be daily inconveniences later on.