Families usually spend a lot of time together in the kitchen. But if your home is short on kitchen space, not to worry– we have some ideas for your kitchen remodel. It is possible to have both style and storage space!
When Less is More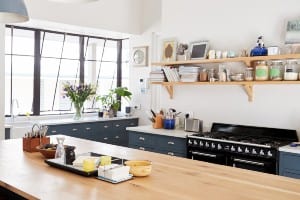 If your kitchen feels claustrophobic or boxed in by overhead cabinets, why not ditch those upper-level units for open storage? Instead, opt for pot racks, artwork, or shelving. This can be a lovely addition if you own a nice set of cast iron cookware to display. Removing some of the cabinets can really open up a tight kitchen space.
Minimalism for a Pint-Sized Kitchen
Don't let a pint-sized kitchen get you down; this is a great opportunity for tasteful minimalist design, where function is prioritized, and everything has a place. That means no more messy container drawers or tricky countertop can openers!
Architectural Elements
If your space is short on interesting architectural elements, a kitchen remodel can fix that. The nice thing for homeowners who do have a smaller kitchen can choose luxury countertops; the smaller area makes the material affordable. A stylish countertop adds, functionality, and comfort.
Glass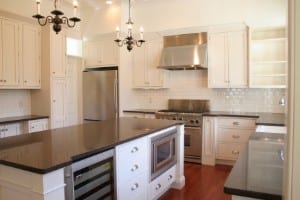 Incorporating glass into your kitchen remodel is one of the simplest ways to brighten a tiny kitchen and give it a sense of spaciousness. For example, you could add mirrors, a reflective backsplash, or a glass tabletop to make the heart of your home more vibrant.
Fancy Flooring
Flooring is especially important in a petite kitchen. And there are so many flooring options for your kitchen remodel, from cork to "blue" wood planks. And again, since your budget will stretch further in a smaller space, why not pamper your kitchen with a bold luxury flooring? You may be surprised at the green flooring options on the market that not only create your dream kitchen but also boast eco-friendly aspects.
"Big" Colors
We've heard white makes a room seem larger by reflecting light, but "big" colors can work in small spaces too. Believe it or not, color can even influence your mood. Color will add more pizzazz to your tiny kitchen. It just takes a little extra planning than a couple of coats of eggshell white paint. Consider using a shade of grey which is now being considered the new white.
Cozy Kitchen Remodels
Depending on your aesthetics, there are lots of ways to turn a stifling kitchen into a cozy space. Let's talk! Contact our team at Gordon Reese Design Build to start planning your home improvement project: (925) 885-3770.