Unlike before, there are quite a number of homeowners that prefer smaller kitchens. They're easy to clean, easy to maintain, and—if you work with the right kitchen remodeler—easy to decorate. What's more, the modern, minimalist style is very trendy right now, and minimal space works perfectly with that aesthetic.
However, sometimes the lack of empty space can make a kitchen feel crowded—especially since it's one of the busiest rooms in the home. But don't worry!, You don't need to invest in a room expansion or reconstruction for an open floor plan just to make your kitchen look bigger.
Here are our top three recommendations for opening up a small kitchen.
1. Reflections can Create the Illusion of Space
It's a tried-and-true fact that mirrors can make any room look bigger. However, such pieces are usually confined to the bathroom and bedroom. Rarely would one think to look in the kitchen.
But it's not as weird as you might think.
Placing a mirror in your kitchen can make the whole room look bigger, especially if you angle it just so. When paired against some gorgeous open windows, it can make the whole room look brighter. So if you enjoy clean, natural lighting, this could be the setup for you.
You can also use reflective surfaces to achieve the same effect. Think mirrored backsplashes, glass tiles, glossy paint, and stainless steel.
2. Use Cabinets as Storage Spaces and Shelves
You know that gap between the top of your overhead cabinets and the ceiling? That's prime shelving area. It's simple, it's out of the way, and it already exists—so no further installation or construction needed. It might not be as accessible as your other storage units, but that's what makes it perfect for storing items and supplies you rarely use.
3. Work with a Kitchen Remodeler to Create Creative Storage Solutions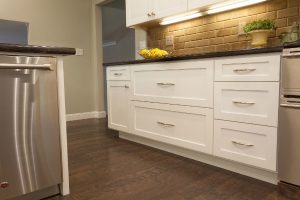 While we're on the topic of storage and shelving options, one of the best ways to add more space to a small kitchen is to maximize storage solutions. This way, there's a lot more visible empty (and usable) space. Simple things like storing jars in cabinets rather than on the counter, tucking the food processor away when it's not in use, and keeping décor to a minimum can make a world of difference in visually widening up your room.
Here are some of our favorite suggestions for quirky—but creative—storage:
Windowsills—transform your window ledges into extra shelves to hold your herb pots, seasoning jars, canisters, carafes, and/or small decorative pieces. This will leave your counters free of clutter.
Nesting Tables—if you're working with a kitchen remodeler, ask them if your cabinets or counters can hold a built-in nesting table. These space-savers fold out when you need a stable surface for food prep (or consumption) and easily fold back in when not in use.
Pegboards—instead of shelving all your pots, pans, and spatulas, why not hang them? Instead of pushing your cabinets and shelving units to capacity (which can make things look more crowded and cluttered), install a pegboard and hang the kitchen implements that can be hung. You'd be surprised at how much space this saves, without distracting from the room's overall look.
The beauty of these tips lies in their simplicity. They're fairly easy to execute but, when done properly? They can yield incredible results. So find yourself a reputable kitchen remodeler and start surveying your kitchen. You'll visually open up that room in no time!