Your kitchen is the hub of your home. It's a gathering place. That's why the design of your kitchen is so important. So, if you want to spice things up, an upgrade is a worthwhile investment.
A smart kitchen has one of two features. It can either utilize smart technology or manifest a layout designed to maximize the use of the kitchen space more efficiently. Although both can be mutually exclusive from each other, they rarely are. Smart kitchen design focuses on utility and ergonomics, which smart technology takes to the next level. Building a smart kitchen can make things easier and more convenient for you. Here's what you need to know about getting started.
Creating Your Smart Kitchen's Design
Designing a smart kitchen takes careful, professional planning, and proper execution. These are a couple of things to consider:
Know the 5 Zones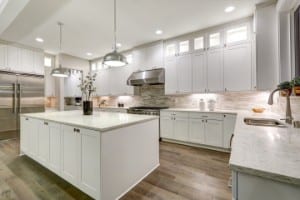 On average, a person walks to and from the kitchen table more than 30 times a day, opens and closes drawers more than 80, and does more than 50 activities—such as slicing, frying, seasoning—in their kitchen. These numbers are due to repetitive actions caused by disorganization and lack of strategic placement. On the other hand, a smart kitchen design implements the 5 Zones.
The 5 Zones refer to specific areas in the kitchen that, when properly configured, organize the kitchen space in a way that is efficient, and saves time. They are:
Food storage
Food preparation
Pots and pans
Cleaning and waste
Dishes and cutlery
Food storage is self-explanatory; it's the area where food is meant to be stored when not in use. Refrigerators and freezers can be found in this area, which should—ideally—be situated right next to the food preparation zone.
The food preparation zone includes your kitchen counters—for chopping, peeling, garnishing, etc., plus the stove, microwave, and other small electrical appliances. Any cabinets or drawers in this area should contain mixing bowls, chopping boards, spatulas, or seasonings.
Pots and pans deserve a zone of their own, as they make up most of the loose items found in the kitchen, with the exception of food. This area should be located right next to the food preparation zone since it contains everything you need to cook.
Next to pots and pans, but separate from the food prep zone, is cleaning and waste, which you might have guessed, includes the dishwasher, sink, waste bin, and household cleaning implements, which are usually kept under the sink.
Lastly, dishes and cutlery are kept separately from utensils used in food preparation. This zone is reserved for the actual cutlery you eat with. You don't want individual utensils like butter knives getting in the way when you're cooking. You should store the dishes safely during food prep, and only take it out once a meal is ready to be served. This is mostly to keep everything safe and sanitary.
Conduct Thorough Research & Request Professional Consultation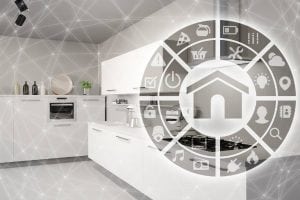 The idea of smart technology in the kitchen is an exciting one, especially since it promises to revolutionize the way homeowners enjoy their kitchen space.
But before you start investing in smart kitchen appliances, you should speak to a professional home remodeler or design-build firm about your options to factor in the age, shape, and layout of your current kitchen.
Industry experts are the best people to guide you in designing a smart kitchen that fulfills your personal preferences, without compromising your kitchen's integrity—or your budget.
Request a 3D Design
Once you have a rough idea about what you want, a design-build firm should be able to turn your concept into a physical 3D design plan. Most experienced professionals will give their clients several versions of the blueprint. However, as they're limited to paper sketches, requesting changes in the layout or color—even just minor changes—will take time to replicate.
With a 3D design, you can easily run through variations and make minor adjustments without needing to redraw the entire design. You'll also have a better vision of the final outcome, regarding how well it translates to a physical room, rather than just a sketch or picture.
Adding Features to Your Smart Kitchen
Your smart kitchen design is incomplete without the right features. Simplify your busy life and make cooking convenient with these high-tech essentials.
Smart Control Systems
Did you know you can now control your kitchen through your smart devices? Whether you have a smartphone or tablet, certain commands work as long as there are no compatibility issues. You can choose between Amazon Echo or Google Nest Hub to accomplish tasks. Gone are the days of needing to manually adjust things like your home's temperature settings, unlock a door, turn on the lights, or reset a smoke alarm. It's possible to seek help through voice commands, or a simple tap or swipe of your screen.
Smart devices can reply to verbal commands and provide you with information. Whether you need a recipe for a Mediterranean dish, or you need to convert teaspoons to grams, Siri or Alexa from the smart speakers would be happy to assist you.
Smart Home Appliances
Smart home appliances continuously upgrade for your convenience. More and more developments are emerging from different kitchen tech devices, and it's up to you which ones you find most useful.
Here's a look at some popular smart home appliances for your kitchen…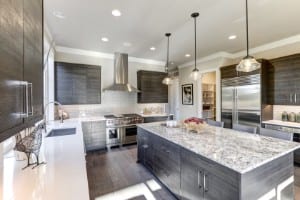 Smart refrigerators allow you to:
keep grocery lists and other notes through their built-in tablets, as well as your own phone
capture photos every time someone opens and closes the fridge doors
set expiration dates for all of your kitchen staples
watch TV on the display
create a family calendar, photo album, or recipe index
leave short notes and reminders through the whiteboard tool
Smart ovens can help you:
monitor baking through your app—turning the oven on and off has been made super easy!
set your own timer and know when your apple pie or roasted turkey are done
control temperature settings and give you feedback about the ideal cooking temperature
Coffee machine timers:
allow you to set a timer in advance
control temperature settings
Other small smart kitchen appliances:
dishwashers
faucets
smart scales
Key Takeaway
Decide upfront which smart kitchen features you'd find useful. After all, having a smart kitchen is not just about investing in the most advanced tools. It's about integration and space efficiency. For help designing the kitchen of your dreams, contact Gordon Reese Design Build at (925) 885-3770.