Renovating or remodeling your house can serve multiple purposes. Aside from fulfilling your dream interior and improving the use value of some places, a remodel can also increase your home's market value. A kitchen remodel, in particular, is arguably one of the most lucrative home improvement projects.
The kitchen is widely considered to be the heart of the home—especially in the case of large families—which is why so many people spare no expense to build (or rebuild) it exactly to their liking.
According to HGTV, most homeowners who remodel their kitchen can expect an ROI of 60% to 120% of their initial investment. With that in mind, here are three things you can do during your next kitchen remodel to significantly improve your home's value.
1. Make it Wider and Brighter
With the small exception of people who enjoy the "tiny house living" trend, no one really likes staying anywhere dark and cramped. We're not saying your kitchen needs to be 500 or 600 square feet for it to be marketable, but it does have to be (or seem) spacious. People like kitchens that are bright and spacious, and if your kitchen checks both items, your home's marketability can skyrocket.
We recommend working with a design-build company or kitchen remodeler to look into your kitchen's current floor plan and window setup. Consider knocking down a wall or two to create an open floor plan, allowing the kitchen to naturally flow into the dining or living room to generate the illusion of space. If your kitchen is lit primarily by artificial lights, consider installing two to three windows to allow more natural light to come in.
Kitchen Remodel Suggestions:
Wide Windows
Open Floor Plan
Vaulted Ceiling
Skylights
Half-Walls (rather than full walls)
2. Invest in State-of-the-Art Appliances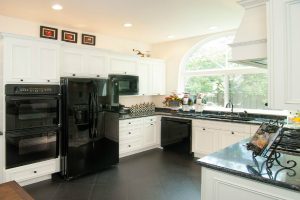 If you're planning to eventually sell your home, you might want to consider keeping the interior as modern as possible. Design trends rise and fall out of the limelight but appliances have a much longer shelf-life—especially if they're well-maintained. So if you're going to invest in your kitchen, don't hesitate to spend a little extra on appliances. Refrigerators, stoves, ovens, sinks, dishwashers, food processors … you get the idea.
More and more homeowners want to prepare their own food now rather than just ordering out. If you give them the equivalent of a chef's kitchen, complete with a double-oven and an honest-to-goodness gas stove, they're sure to look at your property more favorably.
And as we mentioned earlier, appliances have a longer shelf life than decorations and visual trends. As long as you maintain the appliances and use them properly, you're looking at five to ten years of use, depending on the type of appliance.
Our Kitchen Remodel Suggestions:
Cooking Range
Double-Oven
Gas Stove
Counter-top Appliances (i.e. food processor, coffee maker, etc.)
Dishwasher
3. Retile the Floor and Counters
Another great way to improve your home's market value through a kitchen remodel is by investing in the kitchen's floors and counters. These are some of the first things prospective buyers will see when they enter your kitchen, so you need to make sure they're visibly attractive. If your counters are made of cheap Formica and your kitchen floors are simple (yet tacky) ceramic, you can bet that not a lot of buyers will be impressed.
Swapping out materials and finishes for classier, more modern, or more tasteful options doesn't necessarily guarantee a sale, but it definitely gives you an edge over other houses (especially ones with outdated interiors).
It's also a good idea to go for a more neutral or minimalist color palette: think whites, creams, beiges, grays, and blacks. Again, color trends will eventually die out. A neutral palette is akin to a blank canvas—one that potential buyers can always edit to suit their taste with decorations and furniture.
Our Kitchen Remodel Suggestions:
Tiled Backsplashes
Vinyl Flooring (cheap but elegant)
Quartz Countertops
Granite Countertops
Gourmet-style Cabinets
Chrome Washes
Stainless Steel Accents (i.e. cabinet knobs, drawer handles, etc.)
When it comes to a kitchen remodel, a good rule of thumb is to never go overboard. Any kitchen remodeler will tell you that "quirky" and "unconventional" is good for emotional gratification, but horrible for marketability. Stick to the practical upgrades that are statistically proven, time and again, to increase your kitchen's use value and your home's overall market value.