Find inspiration for your next kitchen remodel from these kitchen remodel ideas. Maximize Light and Storage Space and enjoyable space in your home.
Remodeling your kitchen is a great opportunity to improve aspects of your existing space that you feel need an upgrade. For some homeowners, it's the room's look and feel. For others, it's the practicality of the area.
If you're planning your own kitchen remodel, chances are you're going to focus on either increasing the general storage capacity or beautifying the existing space. Regardless of what you choose, it always helps to do thorough research beforehand.
Remodel Your Kitchen for Maximize Light and Storage Space
Here are four ways to successfully maximizing your kitchen's lighting system and storage space.
1. Position is Everything
Even relatively small kitchens can seem pretty spacious if all the elements in it—from the appliances to the decorations—are properly positioned. This means that dimensions, function, and frequency of use are all taken into account when determining where to place an item. On top of that, how they physically fit in the given space with respect to their shape and height is also taken into consideration.
What this does is produce a kitchen that is in total physical and visual harmony. Nothing feels cramped, forced, awkward, or distant. Everything is conveniently located to optimize prep and production. Foot traffic is minimized and does not compromise the workflow. Main appliances aren't prioritized over their smaller counterparts; rather, they share the space equally with one another.
This is why it's important that you choose the position and placement of all kitchen elements carefully during the design phase of your kitchen remodel. If in doubt, always ask an expert for their professional suggestions.
2. Make Use of Your Walls and Windows
Of course, you can't utilize the kitchen's full potential with poor lighting. Artificial lights are fine, but it's always a good idea to balance those out with a splash or two of natural light. So, you definitely need to include a couple of windows in your kitchen remodel—if you don't already have them!
There are a number of benefits to installing windows rather than additional fluorescent lights—the number one being that it minimizes the wiring and hardware needed to power the bulbs. Having fewer lights to power also reduces your monthly electricity bill.
Plus, windows just naturally make any room look lighter and cozier.
3. Storage-Specific Drawers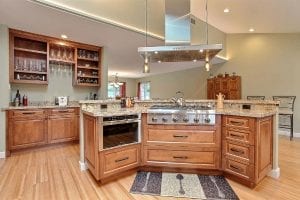 Rather than having a dozen drawers with the same generalized dimensions, consider investing in storage-specific drawers—i.e., drawers that are explicitly designed to store specific kitchen items.
For instance, knife drawers are typically double-decker drawers with sliding trays separating both decks. This design allows you to store two layers of knives (or general utensils) in one space, effectively eliminating the unusable "dead" air that comes from placing slim utensils in deep drawers.
Warming drawers are insulated storage spaces that help keep food items warm for extended periods of time. This is particularly useful when hosting dinner parties or cooking large meals. You can store the dish in an insulated drawer once it's finished cooking to free up precious counter space.
A mix of deep and shallow drawers will allow you to store pots, pans, and other cookware directly beneath cabinets storing cooking implements like spoons and spatulas.
4. Make Use of Your Walls
Lastly, if you can't fit it, you can always mount it. To really save on floor space, install overhead cabinets and floating shelves instead of countertops with drawers or multi-purpose kitchen islands. Hang your utensils on pegboards or hooks to free up drawer space. Alternatively, artfully line up your jars, seasoning, and spice bottles on top of overhead kitchen cabinets to keep the countertops clear.
It always pays to optimize your kitchen's lighting and storage space—especially since the two work hand in hand to boost your space's overall functionality. If you're planning a kitc'hen remodel, it might be a good idea to examine your current situation and decide whether or not it's time to upgrade either one.