A kitchen remodel can be a a stressful endeavor but also very satisfying and rewarding. Careful planning and consideration prior to the actual remodel must be done to have less road bumps along the way. Kitchen remodeling may not be as straightforward as we'd like it to be, but there are definitely steps you can take to ensure nothing but smooth sailing throughout the entire process.
I. The Budget: Kitchen Remodel Costs
Before you start planning your kitchen remodel, you need to come up with a realistic budget. Don't be afraid to spend a little extra—after all, a kitchen remodel is a sound investment—but don't go overboard, either. You want to come up with a reasonable, viable number that can fund your dream kitchen without landing you in steep debt.
To create this financial plan, research needs to be done into how and what to budget for. You'll probably get a general average and a lot of vague estimations, but those will do in a pinch. Also remember to take into consideration factors such as:
Where you live—some states, cities, and neighborhoods have a higher cost of living compared to others
The month and year you're planning your remodel—if it's within the year, you can find a lot of helpful, up-to-date cost guides and cost calculators online
The current and predicted trends—procedures and items that are considered trendy (in terms of both kitchen decoration and general interior design) will be in higher demand, and therefore may cost more
Your own personal preferences—some materials will cost most than others. For instance, marble countertops cost about $25 more per square foot installed than granite countertops. Quartz is roughly within the same price range as marble, but is far more complicated to install and may therefore incur higher labor fees
One of the factors that will play a huge role in defining your budget is the proposed project scale. Are you planning a full kitchen remodel, or did you just want to swap out the appliances and flooring? Are you planning to eventually sell the house in five years or do you plan to stay for longer? The scale of your remodel will ultimately dictate the resources needed for the project and the proposed length of the project, which in turn will dictate labor fees.
II. The Blueprint: Kitchen Design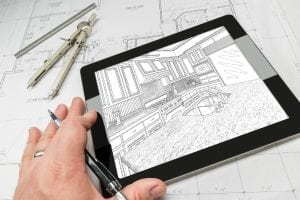 There are several ways to approach the design portion of the kitchen remodeling process. Although the final look will obviously be sketched out by a professional, as the client you're the one calling the shots. The designer will simply turn your vision into a tangible, workable blueprint that the construction team can refer to.
That being said, translating your dream kitchen into an actual, physical model isn't as straightforward as some may believe it to be. Thankfully, there are certain steps you can take to make the process a little easier to handle.
a. Hiring A Design-Build Firm
One of the most cost-effective approaches to kitchen remodeling is hiring a design-build firm. Most remodeling projects typically hire a contractor to handle the design aspect of the venture while a different company would handle the construction services. A "design-build firm" is basically a single entity capable of providing both designing and building.
There are multiple benefits of hiring a design-build firm for your kitchen remodel project. For starters, you'll only have one point of contact throughout the whole process (which makes for easier communication). It will also be much simpler for you to make minor adjustments, request changes, and balance your budget according to your design goals if you only have to course your communication, questions, and concerns with one company. Things will be easier to coordinate and manage as well.
b. 3D Design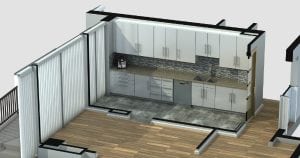 3D design is considered a cutting-edge addition to the design-build process—and this is true, regardless of the type and scale of your remodeling project.
3D rendering techniques, as the name suggests, is essentially a way to create a visual, realistic rendering of the finished remodeling product so that both the contractor and the client can see what it actually looks like. It creates a 3D model of the new kitchen that can be viewed from any angle, allowing the client to get a better idea of how their overall choices look together in a single, cohesive room.
Colors, textures, lighting, layout—using a 3D model to render these elements can provide foresight, effectively eliminating or, at the very least, minimizing the number of changes made during construction. There are numerous other benefits to hiring a design-build contractor who offers 3D design, many of which can't be achieved using traditional blueprints or design plans.
c. Incorporating Smart Kitchen Design
Smart Kitchen Design is an approach to properly planning a kitchen's layout in such a way that it maximizes the room's overall efficiency and ergonomic friendliness. This can be achieved a number of ways—most popular of which is through configuring the kitchen's 5 Major Zones:
Storage
Cleaning
Preparation
Cooking
Serving
Creating a "smart" kitchen in respect to the five zones means identifying how each individual zone relates to the other and figuring out what can be done—in terms of layout, positioning, and furniture choice—to optimize their individual efficacy and overall collective synergy. Your design-build should be able to help with this.
III. The Basics: Kitchen Remodeling
As the client, the remodeling process as a whole ultimately depends on your input. Yes, you have the designer to create the final blueprint and you have the construction crew handling the manual labor, but at the end of the day, this is your kitchen remodel. You're the one calling the shots. The success of this project depends on how clear your vision for your kitchen is, how well you understand what needs to happen for the transformation to take place, and your ability to make decisions and find solutions in a limited amount of time.
For a smoother, easier remodel, here are a few suggestions:
Find a design-build company that you feel comfortable with
Create an easy, lighthearted relationship with your project's point person (while still observing professional boundaries) so that you won't hesitate to ask questions or request clarifications
Make sure you've written out your kitchen goals (i.e. what features you want to add, what items you want to remove, what you want people to feel or think when they see it, etc.) and shared them with your designer
Create a realistic timeline—one that gives you and every party involved in the remodeling process ample time to finish their responsibilities
Kitchen remodeling is, as mentioned earlier, a sound investment. For homeowners planning to stay, it's a bold step towards making the home truly your own. For people planning to eventually sell the home, it can guarantee a solid ROI. As long as you approach the whole project with enthusiasm, you'll end up with a kitchen you love. As long as you temper that enthusiasm with practicality, you'll end up with a kitchen that is as cost-effective as it is sunning.