Kitchen renovations may not be easy, but they're not worth needlessly stressing over, either. In fact, we personally believe that a kitchen renovation should be viewed with excitement and anticipation. After all, you're improving and upgrading what is essentially the heart of your home. If all goes according to plan, you're going to have a brand-new kitchen that perfectly suits you (and your family) in every way.
To help get you started, we've broken down some of the more commonly renovated areas of the kitchen by discussing their current trends, costs, and things to consider. Up first; cabinets.
Kitchen Cabinets: Keeping the Kitchen Clutter-Free
TRENDS
If you want to try out new kitchen cabinets but can't replace your current set outright (due to cost, layout, or sourcing issues), don't fret; kitchen cabinet refacing is yet another trend among homeowners that is simple but yields excellent results.
Kitchen cabinet refacing simply means replacing the visually prominent areas of the cabinet i.e., the cabinet doors, drawer fronts, and cabinet handles. You can change the color and/or texture of your cabinets to give them that fresh, newly refurbished look without breaking the bank.
Try layering vinyl or laminate tiles around the edges to create depth and improve visuals. Alternatively, create a completely new kitchen cabinet design by using textured wallpaper and a fresh coat of matte or glossy paint. Many technicians will recommend ending with real wood veneer to help enhance the new look.
COSTS & CONSIDERATIONS
According to the National Kitchen & Bath Association (NKBA), most homeowners will spend about 29% of their kitchen renovation finances on kitchen cabinets. And the average investment for a mid-range kitchen renovation in the Bay Area ranges between $65,000 and $100,000. That means the average cost of kitchen cabinets during a kitchen renovation is anywhere from $18,850 to $29,000.
Small Kitchen Design: Making the Most of Small Dimensions
TRENDS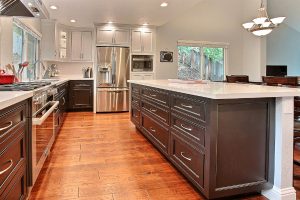 The thing with renovating a small kitchen is that there's not a lot of space to work with. This doesn't mean you should drastically restrict yourself; you just need to make every single change count.
Homeowners with kitchens that are smaller than average greatly benefit from taking the minimalist approach and paring down their items. For instance, keep the number of plates, bowls, cups, glasses, and cutlery sets to one to three pieces per family member and Invest in multipurpose appliances, like a compact electrical cooking range (stovetop and hot plate in one) and a microwave oven toaster (heat up leftovers and toast your bread).
For decorations, choose hanging plants over potted plants to free up surface area and then pick two or three decorative pieces to lessen clutter and keep visuals clean.
For fully custom kitchens, maximize space by installing built-in storage options like counter cabinets, drawers, hanging shelves, and "hidden" cubbyholes.
For small kitchen design, we highly recommend using white and light colors, with only small dashes of dark shades or pops of pastel to complement the theme. In fact, a lot of homeowners opt for a white on white color scheme, which we find works very well for smaller kitchens. That's because whiter equals brighter, and brighter (visually) equals bigger. If you have the funds for it, install windows or archways to open the room even more.
COSTS & CONSIDERATIONS
Small kitchens are kitchens that have less than 100 sq. feet of total area. Quantitatively speaking, this means you—and your remodeling company—have less to work with. That means the overall cost for a small kitchen renovation will most likely be lower than average. As we mentioned in the previous section on kitchen cabinets, the average kitchen renovation starts at $65,000, so you can expect to spend less than that.
Kitchen Design Layout: Smart Space Solutions
TRENDS
Because it plays such an important role in everyday life, the kitchen is usually the busiest room in the house. This makes it the most prone to high traffic. You've got the kids coming home for an after-school snack. Then you have your spouse either fixing a meal or rooting around in the fridge. When it's not mealtime, you still have the occasional family member stopping by to satisfy cravings or the occasional friend who'll sit at your counter and munch on your almonds as the two of you catch up.
Your kitchen design layout needs to address this constant flow of people and activity.
To minimize risks and prevent potential accidents, design a kitchen that effectively reduces traffic. Some homeowners achieve this by ensuring that there is some type of catch-all temporary storage space for loose items before the kitchen. This will encourage people to leave their belongings (i.e. coats, bags, books, toys) before entering. They also ensure that the primary pathway through the kitchen—regardless of its shape—remains clear and hazard-free, with very little possibility for blockage or obstruction.
Speaking of shape and kitchen styles, a lot of homeowners are also starting to favor an L-shaped kitchen—roughly; countertops on two adjoined walls, connected so that they form an "L." This versatile layout effectively maximizes corner space and eliminates potential bottlenecks by minimizing traffic. And because it's such an open design, an L-shaped kitchen is not dependent on space, meaning it's perfect for kitchens of any size.
One last popular piece in kitchen design is the kitchen island—a freestanding counter that simply sits in the middle of the kitchen and has a myriad of functions. It's ideal for storage, eating, and prep work. You can install an appliance in it like a sink, dishwasher, or mini refrigerator. What's more, it's the perfect focal piece for multiple kitchen styles; L-shaped, horseshoe, galley … you name it, a kitchen island can go with it.
Average Kitchen Remodel Cost: The Nitty-Gritty
Every home improvement project is unique. Despite design trends and common interests, different kitchen remodels yield different results. So as far as putting an average price tag to an average kitchen renovation goes, there are a lot of factors to consider.
Factor #1: Home Value
If you really want to get a rough idea of how much your cost to redo kitchen is, most industry experts suggest calculating 15% of your home's total market value. This will give you a safe starting point with which to calculate your remodeling financial plan.
So, say your home is valued at around $1,000,000. Your kitchen remodel cost can fall in the $100,000 to $150,000 range. Meanwhile, a home valued at $1,500,000 would have an average remodel cost of $200,000 to $230,000. Likewise, a $500,000 home would have a remodeling cost range of $70,000 to $80,000.
You can easily obtain your home's current market value through a professional appraiser or real estate agent. From there, calculate 15% of that value and discuss the price point with your remodeler or contractor to get your kitchen renovation cost range.
Factor #2: Location
Location is another factor to take into consideration when calculating the cost of your kitchen remodel. Different states, cities, neighborhoods, and municipalities will have different living standards—a.k.a. cost of living. If you want a sample kitchen remodel cost, Bay Area kitchens averaged $79,000 to $146,000 to remodel in 2018. They were a little higher than the national average kitchen remodel cost, which sat between $63,000 and $125,000 in 2018.
Factor #3: Kitchen Size & Project Scale
Your kitchen remodel cost can also be dictated by the scope of your kitchen renovation project in respect to your kitchen's physical size. What this simply means is that retiling a 70 sq. foot kitchen will not cost as much as retiling one that's 150 sq. feet. Likewise, a kitchen renovation that includes replacing your cabinets, upgrading your appliances, and installing brand new pendant lights will cost more than a remodeling project that entails installing a few floating shelves and refacing your current cabinets.
That being said, a minor kitchen renovation can cost anywhere between $10,000 and $30,000. On the other hand, more complicated kitchen remodels—especially ones that require extensive planning and multiple physical construction work—can reach upwards of $200,000. So when trying to calculate the cost of redoing your kitchen, consider its size and the scope of your improvement project.
Want to know some other factors that can greatly affect the average cost of your kitchen remodel? You can always consult our guide to understanding the cost of a kitchen remodel. You can get it here for free!
At the end of the day, every homeowner can agree: a kitchen renovation isn't easy. However, they can also confidently say that the end result is worth the planning, the stress, the revisions, the anxiety, and the resources spent. After all, the kitchen is the heart of the home. Put a bit of TLC into it and you'll be surprised at how much it can give back.