Surviving your Full kitchen remodel means you're going to need a little advice on how to get through it. So we've compiled some of the best tips from around the internet.
If you're fond of reading home improvement magazines or checking out home improvement websites, then you've probably already seen hundreds of amazing before and after photos of a kitchen remodel. But here's something not everyone knows: between those two photos are weeks (or even months) of homeowners doing their best to cook, eat, and prepare food without a kitchen.
Can you imagine going about your daily routine without having a place to cook breakfast, lunch, and dinner? It can be pretty jarring. A lot of people endure it because they know they'll have a shiny new kitchen by the end.
It's not the worst thing in the world, of course, but it's still pretty tough.
Which is why we thought to put this little survival list together. If you're going through a kitchen remodel, then these 6 survival tips are for you.
1. Set up a temporary kitchen space inside your home
Before starting a kitchen remodel, it's important to find ample space in your home that can be turned into a temporary kitchen. Move your refrigerator to another room, get some surface area in there for food prep, and try to grab a spare microwave—a must-have appliance for heating and reheating food. You might also consider a Hot Plate for your temporary kitchen. A remodeler that specializes in customer service will often provide you with a microwave and hotplate, and help you set up your temporary space.
2. Prepare your household members (and guests) for dust and noise
The process of a kitchen remodel is disruptive and messy, which is something everyone in your home should expect. Although a customer-focused remodeler will often use commercial air purifiers to keep the dust at a minimum. it can still be inconvenient to have company visit. If you plan to have people over (for whatever reason), let them know that there's a remodel going on, so dust and noise will be present. Alternatively, it would be better to relocate all your house meetings to a nearby coffee shop or restaurant.
Throughout the duration of the remodel, expect interruptions in your daily routine and plan accordingly. If the mess bothers you, retreat to a room that is untouched by the renovations or get out of the house and find a quiet place to settle down.
3. Get a sketch of the remodel plan before the kitchen remodel starts
Sit down with an architect or design-build contractor before you start breaking down walls or agreeing to permanent changes in the kitchen. Seeing a sketch—or, even better; the 3D representation—of the finished room allows you to note any issues you have with the design and bring it up with your design-build contractor. Remember to always consult with professionals as early as you can to avoid major problems further down the road.
4. Find a design-build contractor you can trust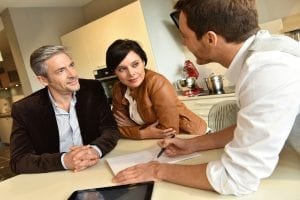 When doing a kitchen remodel, it's crucial to find a reliable contractor. You don't want someone who makes promises they can't deliver, so be sure to check each and every candidate. Gather as many referrals as you can, read reviews and ratings, and run their names through the Better Business Bureau to ensure their licenses and other compliance is up-to-date.
5. Expect cost overruns and delays
Despite best efforts, not everything will go according to plan. And that's okay. That's why there are always allowances and alternatives.
For instance, when getting estimates for your project, add 20 percent to that amount. Ask yourself if you're still okay with it. If not, then it might not be the right time to have a kitchen remodel.
During the process of construction, unexpected problems can arise. You'll also need to set aside a different budget for that. Don't forget to keep a record of cost overruns as well to avoid possible surprises once the project is completed.
6. Don't take it too seriously
If you ever find yourself in a low point as the stress gets to you, remind yourself to relax! Take it easy and have fun. List down the things you're grateful for. Remind yourself that not all people get a chance to do a kitchen remodel. What's more, at the end of it all, you'll have a wonderful new space for your home.