Thinking of doing a kitchen remodel now that the holidays are winding down? There couldn't be a better time. There's nothing quite like starting a new year with a fresh, new room—especially if you haven't updated your kitchen in years.
If you aren't a hundred percent sold on a theme or concept yet, one of the best kitchen remodel ideas we can recommend is choosing a timeless trend. Trends come and go, but some trends (as ironic as this may sound) last forever.
From certain ageless colors to specific pieces that are kitchen staples, we look into the top three kitchen remodel ideas that we believe will stand the test of time.
Classic Whites & Natural Neutrals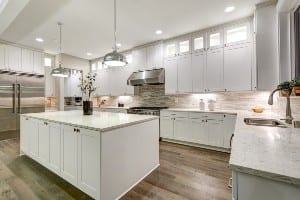 Contrary to popular belief, something as simple as painting (or repainting) your kitchen counts as a kitchen remodel.
In fact, a fresh coat of paint is one of the easiest and most straightforward ways of giving your kitchen a facelift. Bright pastel hues can make a tired kitchen look refreshed, while classy white with black accents can make an outdated kitchen look contemporary. Bold colors can make even the plainest of kitchens seem bright and exciting.
If you're stumped for timeless kitchen remodel ideas, why not repaint the walls, ceilings, cabinets, or all three with timeless colors?
For instance, the elegance of pristine white or white wood cabinets has proven itself to be immortal, as it's been "in style" decades prior. Plus, it has never really fallen out. The other benefit of this undying color is that it contrasts other colors stunningly. In return, this allows you to choose accents, backsplashes, hardware, or walls/flooring in darker, bolder options.
The same can be said for soft, neutral colors. Just like classic white, earth-toned staples like beiges, creams, greys, and light sand can be just as timeless as the former. They also contrast well with darker or bolder colors. Although for this matter, you'll have to be a little more selective, based on the hue, saturation, undertones, and more. Nevertheless, they'll work great as either the main or accent color for your kitchen.
Mixed Metal Finishes
Unlike contrasting or complementing colors, mixing metal finishes is a fairly new trend that honestly shapes up to be a crowd favorite. Although intimidating in concept, mixing metal finishes can result in a stunningly complex look that can give your kitchen more depth and texture.
Upon first glance, this may seem like a temporary trend that could lose steam five, ten years down the line. However, based on what we've seen and from the general response of most homeowners, that isn't the case.
Mixing metal finishes might be just one of the most timeless kitchen remodel trends right now due to its incredible versatility. You can achieve different looks, themes, and eras by simply mixing and matching different metals.
For instance, brass light fixtures paired with stainless steel finishes can make for a contemporary-yet-rustic look. Mixing old metals with newer finishes like wrought iron and brushed chrome, can make your kitchen look classically refined in an almost modern way. And brushed metals like nickel or brass, mixed with satin finishes, can make your kitchen age gracefully.
Yes, it can be fairly difficult to get the right metal mix. However, with the help of professional kitchen remodelers or kitchen remodeling companies, you should be able to implement this trend in your own kitchen effortlessly.
Patterned Backsplashes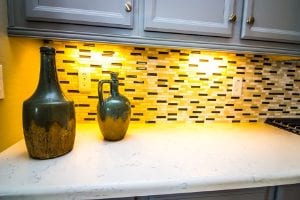 Backsplashes are a crucial element in any working kitchen. So, the possibility of them being taken out or replaced for something else (Bare walls, perhaps? Windows?) is quite slim.
This means that the patterned backsplashes trend, by extension, isn't likely to die down any time soon. As you might know, the backsplash is basically what covers the wall between a kitchen countertop and the upper cabinets.
It's a highly visible area and, thus, one that receives a lot of thought and consideration regarding the design. Earlier variations of backsplashes were adorned with graphic fruits and vegetables on ceramic tiles. Now, thankfully, there are more design and finish options to choose from.
Aside from ceramic, backsplashes can be made of glass, mirror, metal, natural stone, or even wood. Apart from graphic designs, solids, patterns, textures, tiered, and even custom designs are possible.
Whatever your kitchen remodel ideas are, choosing a timeless trend is a smart move. Having something out of long-term value means you'll benefit great dividends later on, and should you ever decide to sell. Even if you have no plans of selling, a kitchen that stands the test of time makes for graceful aging, eliminating the risk of having to do another major kitchen remodel a decade or so down the road.