As far as most homeowners are concerned, room additions are a great way to breathe new life into an old home. Whether it's that new outdoor kitchen you've always wanted or you're upgrading the master bedroom into a master suite, room additions are practical, functional, and fun to design.
If a room addition is your new summer project, you'll need to get a couple things in order first. Aside from researching which contractor, designer, or design-build company to hire, you also need to have a professional design guide created. Some might be tempted to skip this step entirely and rely on the industry experience of the professional in charge, but you shouldn't. A design guide is actually extremely helpful for both you and the contractor. Here's why:
Reason #1 — Helps Identify Key Objectives
A professional design guide can, first and foremost, help you put your thoughts down and realize your project objectives. Room additions are serious business, and you need to have a reason driving you to completion. What do you want to achieve with this additional area, or what are you hoping to solve?
It can be something as simple as a space issue or needing the extra room for a new family member. Maybe you're also looking to increase your home's storage capacity or improve its traffic-flow pattern. Whatever the case may be, knowing your project objectives can help influence the decisions you and your contractor/designer make throughout the process to achieve a fully cohesive result.
Reason #2 — Serves as a Visual Representation of Your Vision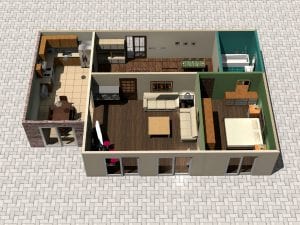 Having a professional create a design guide can bring your wants and needs into clearer focus. You can probably picture the new room pretty perfectly in your mind. Actually translating that vision into something usable, however, is where it gets tricky. You and the design-build company you're working with need to see a tangible representation of your dream room in order to hone in and flesh out the finer details.
For instance, you might want the room to feature a big, beautiful bay window to flood it with natural light. But when you look at where the room will be in respect to the exterior of your home, the bay window might not fit between your existing windows and thus mess up your curb appeal.
Having a professional design guide can help you notice and accommodate such complications.
Reason #3 — Helps Determine Legal Physical Boundaries
When it comes to building room additions, property lines are important. Regardless of what state you're in, there are local codes that dictate the minimum legal distance between adjacent properties. You must follow these restrictions if you want to obtain a legal building permit to push through with the process. A professionally-created design guide will take into account your property's maximum area and adjust the room's measurements accordingly.
Reason #4 — Helps Finalize Your Budget
If you have a rough estimate of how much everything will cost, you can create a workable budget. However, to ensure that you get the most out of your investment without unnecessary financial risk, you should have a professional design guide. It'll help outline how much the foundational elements of the project will cost.
Foundational elements refer to the non-negotiable aspects of room additions, such as construction materials, tools, and supplies, as well as professional fees and labor costs. These are the ones you cannot afford to cut corners or find "cheaper alternatives" for. Once you've got an approximate cost for them, you can then match it against your overall budget for the project to figure out how much you have left over to splurge on furniture and fixings.
Reason #5 — Keeps Your Design in Check
As mentioned earlier, there are instances where the room picture in your mind's eye might not actually integrate so well into the existing layout of your home. A professional design guide can keep your room additions in line with your home's current floor plan without compromising the size or look of the room too much. It will ensure that your addition isn't just a separate new room, but a functional additional space that integrates and blends cohesively with your home, both on the inside and out.
Room additions can be tricky to map out, which is where the design guide comes into play. As long as you know what you want and you have an experienced industry professional translating these wants into usable, viable guidelines, the renovation process should go off without a hitch.