Kitchen island designs are trending for good reasons. They're stylish, great for entertaining and meal prep, plus they can add countertop space to a cramped galley kitchen. In fact, some households are even doubling them up! So if you have little ones at home, here are some kitchen island designs that can benefit them too…
Extra Storage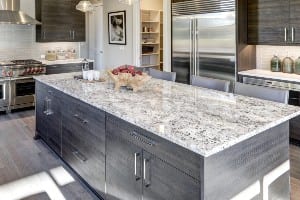 If you think you don't have room for a kitchen island, think again. It won't just take up space; it will create space too. Add child-friendly storage with drawers or metal baskets that match the finish on your kitchen hardware. Another more unique option is to install some chicken wire cabinets. A rustic mesh design keeps everything tucked out of the way, while still allowing kids to see where their favorite snacks are stored easily.
Colorful Bar Stools
Even the most elegant or neutral kitchen could use a couple of playful pieces. Children love a splash of color. Consider pairing your kitchen island design with some whimsical bar stools to complete the look. Extra points if the upholstery is washable.
Two-Tier Kitchen Island Countertops
A two-tier kitchen island design is perfect for kids who might have trouble reaching the higher level or climbing up onto a tall bar stool. The lower tier provides them with an area to do coursework when school goes online or have an after-school snack.
Add a Sink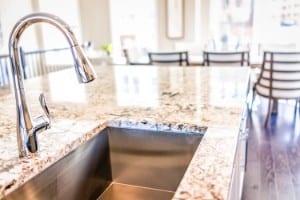 Additionally, installing a sink in your kitchen island is helpful when you're prepping food for the whole family. Not only does this design increase your counter space and the overall functionality of your kitchen, but younger children can help, creating special family memories along the way.
Butcher Block Countertops
Butcher block countertops seem warmer than granite or marble, and wood is also more forgiving than materials that can chip or stain. When choosing a countertop for your child-friendly kitchen island design, durability and stain resistance are key.
Kitchen Island Hand Towel Rack
This is a simple afterthought, but adding a hand towel rack to your kitchen island is helpful for children who can't quite reach other parts of the kitchen.
Refrigerated Kitchen Island
Did you know you could add refrigerated drawers to your kitchen island? This is one "cool" way to organize those family friendly kitchen gourmets and healthy snack ideas you've always wanted to try. Kids can make their own snacks and store them easily.
Creatively Charming
Your kitchen island design is limited only by your imagination, and kids know all about creativity. Kitchen islands have been made from old printing press tables and doors. They can even have built-in seating with additional storage hidden inside benches.
So, what's your vision? Contact our team at Gordon Reese Design Build to start planning your home improvement project (925) 885-3770. We're here to help and provide virtual consultations.