Marble countertops are classic kitchen staples that will never go out of style. And thanks to current technology, manufacturers can produce thousands of new colors, patterns, and designs every year. This means you probably won't run short of options for safe—but standard—marble counters any time soon.
But if you're planning a kitchen remodel and you want something a little different this time around, why not explore other designs. There are only so many looks one can achieve with marble, and things like texture, dimension, and consistency can't be manufactured.
Want something contemporary, unusual, artsy, or just plain different for your countertops? Then keep reading.
#1. Natural Stones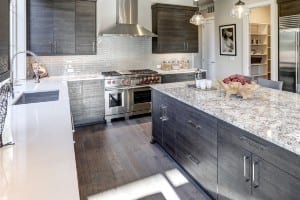 If you can't find any high-quality quartz counters that you like, try quartzite.
Yes, they're totally different.
Quartzite is a naturally occurring metamorphic rock made by subjecting sandstone to extreme heat and pressure caused by compression. Quartz, on the other hand, is engineered; fabricated from synthetic materials.
Quartzite countertops will always have streaks in them due to the varying degrees of pressure and the presence of trapped random minerals. As a result, quartzite undeniably looks more natural. Quartzite is also much harder than quartz, but the payoff is that it's not as flexible.
Alternatively, you can try black shalestone countertops. They come in a lovely charcoal gray and deep gray colors, usually with black accents. These are perfect for creating contrasts in light- or cream-colored kitchens. Opt for a matte finish or get them in high-resolution laminate to really tie the whole thing together.
#2. Glass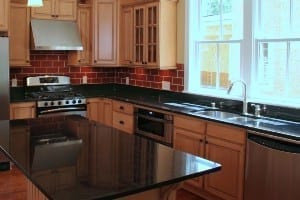 Glass countertops may be highly unusual, but they're also highly attractive. In the last couple of years, a handful of interior design brands that offer only glass counters have popped up. And despite having such a specific, limited product, they seem to be doing quite well.
Other more well-known brands have also designed their own specialty glass counters just to stay competitive.
Thanks to that, there are a decent amount of options available for the adventurous homeowner—from counters that are only an inch in thickness to counters that are more than a foot thick. These solid glass masterpieces will apparently not chip, crack, or shatter with normal use.
There are also Chroma countertops—glass counters that are made of glazed, tempered glass. They're colorful, they're unique, and they look almost ethereal with the glaze. Best part? They're eco-friendly.
#3. Reclaimed Wood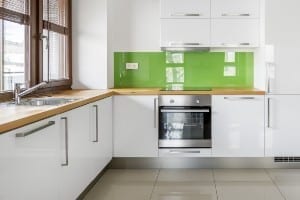 Wood isn't just for the chopping block and the cabinets anymore. If you want to add a touch of warmth or coziness to your kitchen, try installing countertops made of reclaimed wood. It's eco-friendly, it's stylish, and as far as kitchen remodeling ideas go? It's not half bad.
Salvaged wood countertops have the same style, elegance, and visual value as home pieces made of maple, ash, oak … all that good stuff. The difference? Their recycled nature makes them a lot less expensive. And if you've seen true wood furniture, you know the price is worth it. Polished deep wood always looks gorgeous. Just remember that reclaimed wood countertops will require a bit more maintenance and TLC than stone or synthetic countertops.
Try butcher block countertops for a stated but low-key look. This works especially well if you have wooden cabinets.
Oak slab countertops will give your room a nice rustic touch, so definitely try them out if you want something a little more classic, mountain-inspired, or homey.
Sanded oak, on the other hand, has an absolute perfect texture that works well if you're aiming for an artistic or contemporary vibe.
At the end of the day, it all comes down to personal preference. If you value durability over aesthetics, some countertops might be more up your alley than others. If you don't mind investing a lot to get that perfect countertop, then there are companies and brands that can deliver. What matters is that the new countertops are an improvement from the old ones. After all, that's what a kitchen remodel is all about; upgrading your current home to create living spaces that you want.