Home remodeling can be an exciting endeavor. It's essentially a clean slate for your home and a blank canvas for you, the homeowner. You get to make your house look exactly the way you want it to. Pretty exciting stuff—especially if you want an environmentally-conscious, eco-friendly home.
With how big the eco-friendly movement has gotten, it's no surprise that many homeowners are fine with switching to greener alternatives for their homes. For instance, more and more residential buildings are powered by a solar panel system. Hundreds of thousands of people are ditching plastic and favoring more reusable materials. There's even a huge market for recycled wooden furniture.
Simply put, if you want a literal "green" house, you can get it. But as with all home remodeling projects, proper planning is needed to guarantee success. Here are our top tips:
1. Be Realistic About the Space You Need
In the spirit of being eco-friendly, you may feel compelled to downsize your space as much as possible. After all, a minimalistic lifestyle is a zero-waste lifestyle. You might even think you can easily live in a house a handful of square feet smaller than your original home.
If you live by yourself, or your household is relatively small, then yes—a few square feet less may indeed help decrease your waste output and your carbon footprint without impeding your lifestyle.
However, if there are a lot of you sharing the house, you shouldn't start knocking down walls and taking out rooms just yet. Three bedrooms and two bathrooms may seem like a lot for just one or two people (and it is), but it's the perfect number of rooms for a family of five or six.
Being eco-friendly does mean minimizing your area, but you don't want to compromise comfort or practicality either. Be realistic about what your family truly needs in terms of space, and then plan your home remodeling project accordingly. If you really want to shrink your interior, utilize multi-purpose rooms i.e. a guest bedroom that is also a home office, a laundry room and workstation in the basement, and so on.
2. Consider Eco-Friendly Paint Options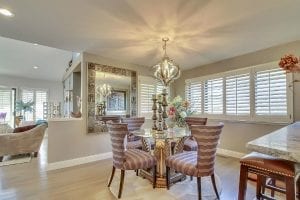 Lead-based paint is a huge health hazard—for both you and the environment. If your home is fairly new, you probably don't have to worry about such matters. Older homes, however, are known to still have lead-based paint in some parts of its structure.
We highly recommend getting a professional to strip this paint away and replace it with quality zero or low VOC ; just as colorful, just as vibrant, but much more eco-friendly than regular house paints.
3. Keep an Eye Out for Recycled Wood
Whether you're using it for your furniture, your frames, or your infrastructure, try looking for wood with LEED credits. LEED credits indicate that the wood is pre-loved—i.e. recycled—and is therefore quite sustainable.
Not only does using reclaimed materials keep waste to a minimum, but by supporting recycled wood, you support a bigger movement against deforestation.
4. Find Eco-Friendly Companies
Working with environmentally-conscious industry professionals—such as contractors and architects—can make your eco-friendly endeavor much, much easier. They might have experience with similar home remodeling projects and can therefore give you sound advice and suggestions. They may even help you find alternative "green" furniture or features that you never considered.
It's therefore important that you stay open about your choices. Even if you've spent hours and hours researching, nothing beats first-hand experience. If the contractor or design-build professional advises you against something and recommends something else in its place, it may be in your best interest to hear it out and seriously consider the recommendation.
Eco-friendly home remodeling is definitely something worth investing in. Even if you don't consider yourself environmentally-conscious, there are dozens of benefits to going green. And if you're willing but unsure where (and how) to start, there are always licensed professionals ready and willing to point you in the right direction.