Open spaces with natural light, common rooms flowing together, and no walls or doors to separate your family – what's not to love about open floor plans? While open floor design has been one of the most popular choices for many years, both for homeowners and those looking to buy, it's important to look a little closer at the details of open plan design before you decide if it's for you. Here's what you need to know before you choose an open floor plan for your remodel.
What is an Open Floor Plan Design?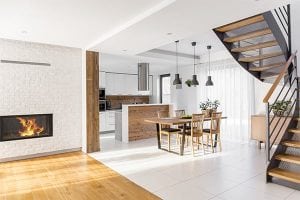 An open floor plan design is about creating an open layout where multiple open rooms function as a single living space. Open floor design is usually implemented between the common living areas of a home, often incorporating the kitchen, dining and living room areas. Open floor design works especially well in homes with limited square footage as it maximizes common areas while creating the illusion of more space.
>>Learn How to Financially Prepare for your Upcoming Home Remodel
Pros of Open Floor Plans
The open floor plan remodel design is one of the most popular design choices, and it has many advantages.
Creates a Spacious Feel – By removing walls and doors that close down your living space, you can create the impression of your living space being larger and more open.

Allows for Natural Light – Less closed down walls and doors means more space for natural light to flow through. This reduces your energy usage for lighting while promoting health and wellbeing.

Ease of Socializing and Entertaining – Open floor plans make entertaining and socializing at home more relaxed with no barriers between the kitchen dining and living spaces.

Easier to Keep an Eye on Kids – with no walls between the kitchen and living spaces, parents can more easily keep an eye on kids from the kitchen while they play in the living space.

Cons of Open Floor Plans
While open floor design might seem like the ultimate remodel design, it may not be the right choice for every home. Larger homes with more square footage particularly can benefit more from closed floor plans.
Less Privacy – When all the common areas in your home blend together, it can be hard to segment and close off areas in your living space for privacy. In homes with many different people with different schedules and lifestyles, it might be useful to create private spaces from time to time.

Noise Pollution – Trying to host a dinner party but your kids want to watch television at full volume? In open plan design, it's hard to stop noise from one part of the living area traveling to another.

Specialty Rooms – Closed floor plans allow you to close off rooms to devote to a particular purpose, such as a study.

Less Walls – Open floor plans mean less walls, which is a drawback if you want more space to hang art.

Messes Spread More Easily – With an open floor plan, a spill or mess in one area can quickly spread through the rest of your living area with no walls or doors to contain it.
The reality is that there are both strengths and weaknesses of open floor design. Making the right choice for your remodel relies on discussing your home, lifestyle, and needs with a skilled design-build contractor when you first decide to remodel. For the best possible outcome, we highly recommend working with a design-build firm before deciding on a layout. They can look at your available space and offer suggestions to help you decide how open you want the space.