Smart Home Gadgets to Install is a curated list of the best smart home devices, tools, and services that make living smarter and more enjoyable.
If you've never dabbled in smart home technologies before, home remodeling gives you the perfect opportunity to indulge a little and try them out. The massive success of this gadget trend is largely due to how seamlessly they integrate into the home's design. Whether it's something as simple as smart lighting or something as complicated as a smart kitchen, home automation through smart technology has captured the market.
But of course, tech like this doesn't come without cost. The larger, more extensive "smart" upgrades often require a good deal of additional work such as hardwiring and cabling. This is why it's best to have these upgrades done when you're already in the process of home remodeling; you stand to cut down on installation and labor costs for the smart gadgets alone.
All that aside, smart home integration is still a pretty good investment to make. If you're ready to test the waters, here are our top 3 smart home gadgets you should seriously consider installing:
Gadgets to Install When You Remodel Your Home
Smart Light Bulbs & Light Switches
Smart lights are the simplest smart devices to install and incorporate in your household. All you need to do to make them work is plug them into the sockets, outlets, or terminals housing your current lights. You're essentially replacing your standard fluorescent/incandescent bulbs with state-of-the-art smart bulbs.
If installed correctly, these bulbs will allow you to remotely control the lights through dedicated software or a mobile app.
Smart bulbs have a number of handy built-in features, depending on their model and manufacturer. Most of them can be remotely switched on (or off) with the tap of a button. Some bulbs have preset settings that are useful for different scenarios. For example:
It's daytime but there's not a lot of natural light coming in
It's late afternoon and the light is getting pretty dim, but you still want to read
It's 12 noon on the dot and the sun is just too bright
Some smart light bulbs are responsive to voice commands, some depend on motion sensors, and some can only be controlled through their corresponding app. If you really want to get artistic with the ambiance, fully programmable smart bulbs allow you to customize their color, dimness, or intensity.
Smart Security Systems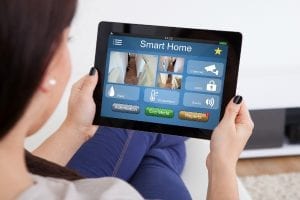 Most smart home gadgets offer visual value or convenience. A smart security system, on the other hand, is simply practical.
Regardless of what you do and where you live, security should always be a top priority. Adding sensors that detect motion, forced entry, broken glass, smoke or carbon monoxide emissions, and flooding can be extremely beneficial for you and your family during emergency situations.
You can program these sensors to customize their:
placement
range
reactions
triggers
For instance, you can make it so that smoke sensors and flooding sensors trigger a loud alarm on the premises and send an emergency message via smartphone to everyone in the household.
Or you could program the forced entry sensors to trip a silent alarm and send an instant alert to 911.
You can install motion sensors around doors and windows, and then set them so that you receive alerts on your phone every time someone tries to enter your house through these access points. This can help fend off potential break-ins.
During home remodeling, you should also consider installing a number of cameras to remotely monitor your property. Doorbell cameras, interior cameras, and perimeter cameras can be integrated into your smart home system, allowing you to constantly monitor, review, manage, or delete the footage wherever you are (as long as you have your mobile device).
Smart Thermostats
Smart thermostats are both comfortable and practical, which is why it's so surprising that not many homeowners include it in their installation list.
As their name suggests, smart thermostats can help you control, regulate, and maintain the temperature in your home.
Depending on the make and manufacturer, these thermostats can be customized to automatically turn on or off when certain parameters have been reached. You can also program them to automatically adjust whenever there's a change in the interior or exterior temperature so that your home's overall temperature remains comfy and constant.
Some may even come with pre-programmed modes that you can cycle through depending on your current situation (i.e. hot and humid, warm but breezy, slightly chilly, etc.).
On top of contributing to your household's general comfort, smart thermostats can also help improve your home's energy efficiency. They can regulate your HVAC system so that the furnace doesn't overheat when trying to keep the home warm or the air conditioning unit doesn't go into overdrive trying to keep the room refreshingly cool.
Installing smart home gadgets during home remodeling is a good move—one that we highly recommend. Aside from the convenience and lifestyle quality, these technologies can give you, it's also simply more cost- and time-efficient to install items of this nature when doing home improvement projects. What's more, these gadgets can potentially increase your home's market value, effectively offsetting the investment plan you allot for them.