When getting a professional bathroom remodel, you may wonder how the designers, remodelers, and general contractors arrive at a projected price for your particular project. What percentage of the cost is labor? What percentage is materials and supplies? Do decorations and furniture factor in as well, or do they only count the large amenities?
Knowing the most common factors that can largely affect the cost of your bathroom remodel is a smart, practical move. Aside from sating your curiosity, it can help you make better, more informed decisions throughout the course of the renovation.
Here are our top five factors affecting your bathroom remodel:
Cabinets & Countertops
Cabinets and countertops are pretty much a staple in both kitchen and bathroom remodels. Most homeowners use countertops in the bathroom to act as both a display case—to show off décor pieces—and a practical free surface to temporarily hold things like their bath tools, kits, and cosmetic items. They also use cabinets—whether overhead or under the sink—to neatly store bathroom essentials like spare towels, cleaning supplies, cleaning chemicals, and the like.
The cost of your cabinets and countertops will affect the overall cost of your bathroom remodel. In the case of countertops, the material dictates the price. Your average laminate or granite countertop won't cost as much as, say, countertops made of marble, glass, or custom concrete.
Likewise, solid, high-end cabinets—like those made of real or synthetic wood—will come with a heftier price tag than ones that are made of flimsy, inexpensive materials like plastic. And if you want to customize your set in any way, you'll pay a little extra.
Plumbing
The complexity of your bathroom remodel may affect the placement and layout of your pipes which, in turn, will factor in the end cost. If you need to move bathroom fixtures like toilets, sinks, or showers to new locations, then intensive plumbing work will need to be done to add and/or replace new pipes.
Such services can be pricey—especially if you aren't expecting them. It's important to establish clear, open communication with your bathroom remodeler. If you've got huge plans for your bathroom's new layout but you don't want to pay more than you need to, he or she can take a look at your ideas and refine them in a way that still meets what you want without stretching your expenses way beyond the projected cost.
Flooring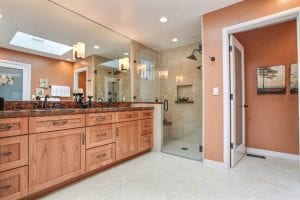 Another cost to consider when undertaking a bathroom remodel is flooring. If you're thinking of ripping out your old ceramic tiles for some decorative vinyl sheets or some custom-cut glass tiles, you'll have to pay for flooring removal and installation on top of what you'll pay for the new floors.
Of course, the right flooring can be a sound investment—especially if you choose flooring that utilizes water-resistant material. If you opt for new floor, you'll see a change in the overall cost of your bathroom remodel.
Layout
Minor changes like de-cluttering, redecorating, or repainting your bathroom probably won't affect your project's projected price that much. However, more extreme measures will be felt. For instance, you might want to knock down your old shower partition in favor of an open floor plan. Or you might want to add a few more walls or half-walls in favor of creating dedicated bathing, cleaning, and makeup areas.
Either way, intense renovations can jack up your remodeling expenses, so be sure to discuss this with a bathroom remodel contractor.
Amenities & Décor
And the last, but certainly not the least, factor is amenities. By this, we mean every piece of furniture you might think to add in your bathroom—Jacuzzi tubs, automated shower units, heated floor tiles, heated towel bars, rain shower heads and steam units, showers for two, saunas, large vanity sets, a centerpiece chandelier, body sensors and sprays, a pebble shower floor … your bathroom, your call.
We're also including decorations in this section, as they go together with bathroom furniture. After all, it's not uncommon to want to personalize your bathroom with creative lighting, unusual knickknacks, and one-of-a-kind ornaments.
Just remember that they all come with a price tag. Even if you already own one or two items, your new bathroom design may require you to relocate them to a different spot and install them. The installation (or reinstallation) will also factor into the overall cost of the bathroom remodel.
Homeowners like you take pride and comfort in a beautiful, well-designed bathroom. Given the nature and function of that room, it's meant to be an area of ambience and luxury—which is why it's no surprise that people are more than happy to invest in it. Whenif it's done properly, a bathroom remodel is worth the time and effort needed to create your dream space.