As a Walnut Creek resident looking to remodel and redesign your home, you might be wondering about how to best invest your money to get the ideal home design. Here we've collected the six best Walnut Creek home design ideas to add value, utility, and style to your Walnut Creek home.
1. Master Bath Remodeling for More Luxury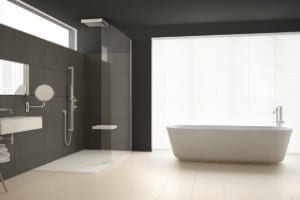 Many older homes have adequate master bathrooms that reflect the design aesthetics of the era in which the home was built. However, the function of the master bath has changed. Now, this space is often seen as an oasis for the home-owners. Along with this, design trends have changed. The master bath is usually designed to provide a sense of luxury and elegance.
There are a few ways to give your bathroom that stately and luxurious feel. One way is to add double sinks, adding more bathroom work pace and cabinet area. The shower or bath is another key area for improvement. Selecting minimalist enclosures, such as crystal clear frameless doors will make your bathroom look bigger and more modern.
2. Updating the Kitchen for Modern Trends
Kitchen design trends have changed and changed again over the years. The kitchen has become a center of living and entertainment, and the rate of use can mean your kitchen starts to look worn down and outdated more quickly. Making even minor updates to this space can freshen up the look of your home. This might mean just a new countertop and backsplash. You might also update your cabinets with a new installation or only fresh paint.
3. Adding New Windows
New windows can improve the energy efficiency of your home, add more natural light to your interiors and offer one of the highest returns on investment for any remodel project. If you want to add more windows to brighten up your space, a home design build firm can help identify the ideal location for new windows while keeping your design structurally sound.4. Add or Upgrade Your Powder Room
Additional bathrooms add a lot of value to a home, not to mention that they'll increase comfort for you and your family if you're currently fighting over bathroom space. Experienced home design firms can often add a small bathroom or powder room without profoundly diminishing your living space, adding extra comfort for your guests and family and overall value for your home.
4. Update your Laundry Room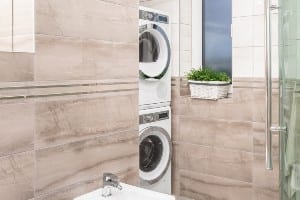 The laundry room is one of the more neglected areas of the home. It often performs its function of housing the washer and dryer, without looking very appealing. A remodel cannot only make your laundry room look better, but it can also help you maximize space with mounted appliances and additional storage. With allowing your home to become more environmentally friendly with integrated water recycling or greywater systems.
5. Livening up your Outdoor Living
One of the great joys of living in Walnut Creek, California is that the weather allows for outdoor living nearly all year long. However, if your outdoor space is uninspiring, you may not feel very inclined to spend time out there. You can extend your living space, the usability of your yard, and increase your curb appeal by updating your outdoor living space. Add a deck or patio, or an outdoor kitchen or fire pit for the ultimate outdoor entertaining experience. If you have a pool or hot-tub, new tiling, fencing or seating designs can freshen up the spaces around those amenities.
For more tips on the best remodel ideas in Walnut Creek, talk to Gordon Reese Design Build Firm today for quality remodeling advice.