The perfect bathroom lighting is all about creating the right mood. We have a wide variety of bathroom lights to suit your needs, with adjustable levels and finishes to match your décor.
We all know how important lighting is. It can set the mood, lend ambiance, enhance fine details, and soften harsh edges. The bathroom, in particular, is a pretty good example of space that depends heavily on lighting. Wrong light bulb choices or lighting arrangements can cast your face and body in shadow, making it difficult to perform simple routines like shaving or applying makeup.
If you're already renovating your bathroom, why not take this opportunity to study your current bathroom lights with a critical eye? Switching out your light bulbs for better, fresher options can still be considered home remodeling—and home remodeling is always worth investing in.
Here are a couple of tips to choosing the perfect bathroom lighting.
1. Distribute Light through Layering
One of the main reasons why remodelers are so particular about lighting is because it can make or break the beauty of the space. When light is evenly distributed, the best parts of a room are subtly but greatly enhanced.
The most common mistake homeowners make when picking out lighting options is sticking to one type of light per room. For instance, nothing but fluorescent lights for the living room, nothing but 150-watt bulbs for the bathroom, etc. Never mind that this setup is rarely flattering, but it also runs the risk of quickly becoming abrasive and repetitive.
The best home remodeling approach would be to use a number of different lights that work well with each other in order to optimize the visual appeal. This is called "layering," and many experts recommend using three layers of light for best results.
For instance, use elegant chandeliers or delicate pendants to provide ambient light that softens "task" lighting provided by simple fluorescent or incandescent lights (the kind you use to perform daily activities). Tie both layers together with clean, sophisticated accent lighting such as side sconces to highlight architectural features and decor.
2. Prioritize Natural Light When Possible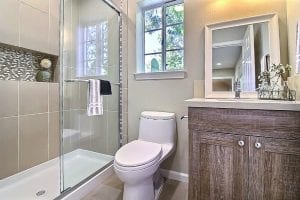 Natural light is still one of the best sources of lighting for any room. It's clean, it's beautiful, and it changes every day—perfect for mood lighting and selfies. During your home remodeling project, see if you can install more windows in your bathroom. Even smaller decorative windows can make all the difference.
Our top tip? Install windows facing north. A northern exposure creates a subtly diffused lighting effect that softens everything with an indirect glow.
3. Consider Space-Saving Sconces
A recent trend in home remodeling involves using unique, wall-mounted light fixtures—such as sconces—rather than typical ceiling sockets to create a more unique and versatile environment. Sconces are easy to install and easy to adjust. They're also unique, decorative, and highly functional.
Wall-mounted side sconces are perfect for when you need an evenly lit vanity area, you need to fill extra wall space, or you can't install ceiling lights (in the case of apartments or condominium units with concrete ceilings).
A few other things to note when choosing bathroom lighting; the size of your bathroom, your overarching theme or motif, and the bathroom's use value.
If you want your bathroom to feel elegant or palatial regardless of size, pendants and chandelier lights are a great choice. If you're aiming for a more cozy feeling, small art deco lamps or simple sconces are your best bet. Just remember; you don't need to sacrifice aesthetics for the sake of practicality—and vice versa. Great home remodeling is all about finding and striking that middle ground between fun and functional.